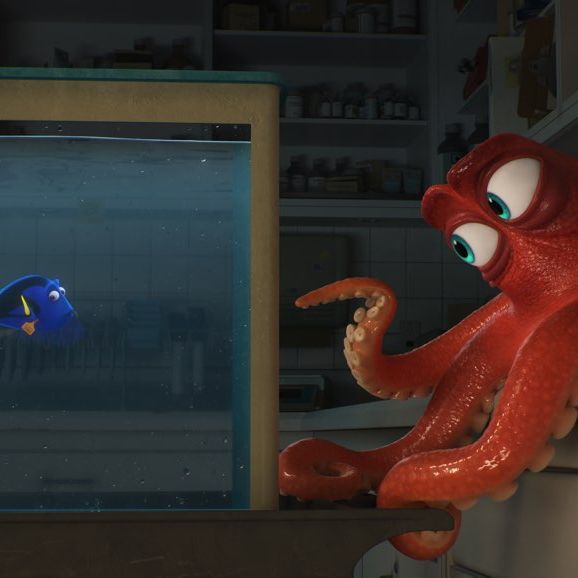 Over the weekend, Disney showed off some of the most-anticipated movies of the near-future at its mammoth D23 convention, and the studio's announcement of Star Wars–themed additions to two of its amusement parks sent shockwaves through the world of entertainment. But a few days later, we've got a handful of questions prompted by that dazzling lineup. Here are five things we can't help but wonder in D23's wake.
Is Disney Animation Outpacing Pixar?

A decade ago, when Walt Disney Animation Films was putting out forgettable products like Home on the Range and Chicken Little, it seemed the house that Walt built was destined to live in the shadow of creative upstart Pixar. How surprising, then, to watch as the Disney Animation films shown at this year's D23 got consistently better reactions than the slate of sequels that Pixar had to offer. Disney Animation brought clips and songs from a host of intriguing originals, including the clever Zootopia, the Polynesian fantasy Moana (which has Hamilton barnstormer Lin-Manuel Miranda on its talent roster), and Jack and the Beanstalk epic Gigantic, which can boast new songs from Oscar-winning Frozen duo Robert Lopez and Kristen Anderson-Lopez. Pixar, on the other hand, showed two flatly-received clips from Finding Dory, heavily teased Toy Story 4 — a sequel the studio once said it wouldn't make — and festooned the hallways with posters for other follow-ups like The Incredibles 2 and Cars 3. The one upside? Some gorgeous, touching footage from Pixar's winter entry The Good Dinosaur, a reminder that this studio is often at its best when it's not simply sequelizing.

Can Lupita Nyong'o Get a Decent Live-Action Role?

If a gorgeous, young white woman won an Oscar for her very first film, I find it hard to believe that she would have been relegated to voice roles and motion-capture characters for an entire year afterwards. And yet, that's what has happened to Nyong'o, who was at D23 touting The Jungle Book and Star Wars: The Force Awakens, two projects in which she's heard but not seen. Surely, Hollywood has more to offer this exciting black actress than roles where she can't use her face? Disney did trot Nyong'o out a third time to discuss her supporting part in the inspirational Queen of Katwe, but that live-action movie won't arrive in theaters until nearly three years after 12 Years a Slave put Nyong'o on every magazine cover around. Do better, directors.

Will Captain America: Civil War Stand Up to Batman v. Superman?

The big superhero films of 2016 have more than a few similarities: Both Batman v. Superman: Dawn of Justice and Captain America: Civil War grapple with whether superheroics ought to be government-regulated, and give us a lot of good guys grappling with each other. But while Batman v. Superman can boast the first screen-sharing exploits of those two massive superheroes, the trailer for Civil War (which premiered at D23) keeps it in the family, pivoting on fights between the Marvel characters we already know and love. When Captain America sends his group (which includes Scarlet Widow, Ant-Man, and the Winter Soldier) into battle with Iron Man's posse (featuring War Machine and Vision), there's a tension to exploit that's been building over several movies. "We're still friends, right?" Black Widow asks fellow Avenger Hawkeye, as the two of them exchange significant blows. (He's on Cap's side, while turncoat Black Widow is repping for Iron Man.) "Depends on how hard you hit me," replies her ally-turned-enemy.

When Will We See a Live-Action Frozen?

While Walt Disney Animation showed off several new movies based on original concepts, it was hard not to notice how many of the studio's live-action movies were based on their most famous cartoons. From Jon Favreau's live-action take on The Jungle Book, to Emma Watson starring in a songs-and-all redo of Beauty and the Beast, to a lightly glimpsed, live-action spin on Pete's Dragon, it started to seem like the studio wouldn't stop until it had redone every one of its classic properties in an attempt to wring more bucks from it. (Robust returns from previous attempts like Maleficent and Alice in Wonderland would seem to indicate that this trend is here to stay.) And while Disney chief Alan Horn told the audience that development on Frozen 2 was still proceeding apace, we couldn't help but wonder how long it would take before Disney decides to give that lucrative fairy tale a live-action spin, too. Place your bets on which preteen actress of today will be the live-action Elsa of tomorrow!

Can Disney Top Universal's New Record?

On the backs of properties like Jurassic World, Minions, Fifty Shades of Grey, and Pitch Perfect 2, Universal is tracking to hit $2 billion at the domestic box office this year faster than any other studio has done it. But by the end of the year, expect Disney to put up a fight for the final crown, with films like Star Wars: The Force Awakens and The Good Dinosaur likely to come on strong. As for future year-end laurels, forget it: Disney showed a slide that touted all of its coming properties from Lucasfilm, Pixar, Disney Animation, Marvel, and its live-action department; it's an embarrassment of literal riches. Over the years to come, that box-office crown may come equipped with mouse ears.