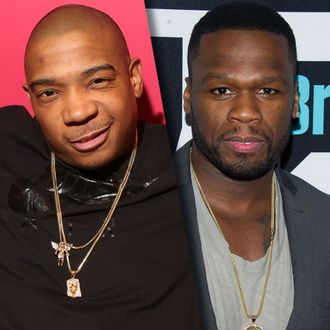 The fued that'll never die.
Photo: Getty Images
With Drake and Meek Mill in a never-ending cycle of meme beef, many rap fans have taken a stroll down hip-hop-feud memory lane. One of the best — and most public — involved 50 Cent and Ja Rule's war in the '00s, a rivalry that ultimately turned violent. Though the two Queens rappers never truly resolved the feud, they've remained peaceful on that front for years. That is, until Meek Mill name-checked their feud at the end of his Drake dis, inspiring both 50 Cent and Ja Rule to add some colorful commentary to the situation:
But you can always count on 50 to make things personal. Earlier today, he took a jab at Ja Rule on Instagram, calling him out for a passage in his 2014 memoir that alleges Ja beat 50 with a baseball bat: "Oh I herd [sic] what you said on the power 105 morning show, you fucking punk. Everybody know I put your ass to sleep."
Naturally, Ja Rule responded with an equal amount of pettiness: "How u doin… this ho has a lot of balls!!! Unfortunately she also has a pussy shut up before somebody put a dick in ya mouth… #WakeMe #StopLyingtothesegoodpeople #FollowtheRules #MavenxMadden #Magnises."
Just imagine if these two had had Instagram 15 years ago.