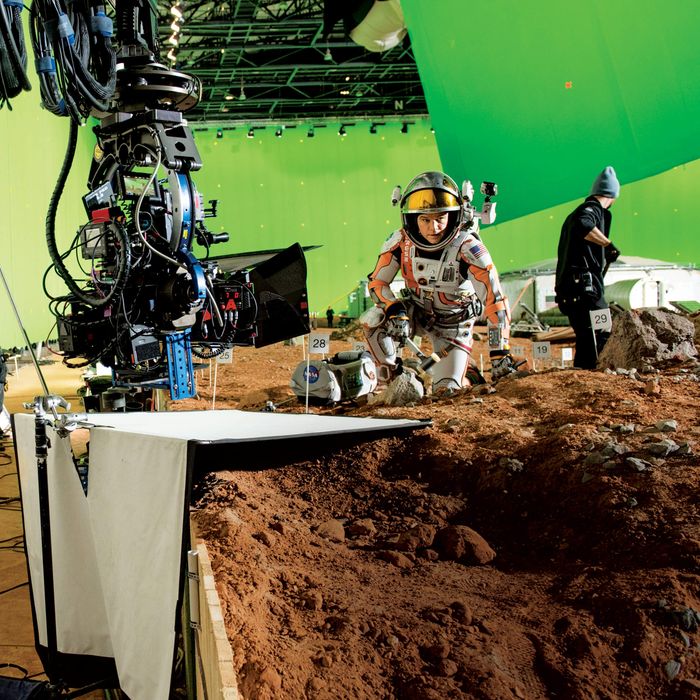 Matt Damon in The Martian.
Photo: Photo Credit: Peter Mountain/Twentieth Century Fox Film Corporation
Hopefully, you've had a few minutes to play around with our Fall Entertainment Generator. But if you're looking for straight and simple lists of things to look out for by medium, we'll be breaking them out separately. Here's a look at fall movies.
SEPTEMBER
9/2
A Walk in the Woods
Robert Redford ambles down the Appalachian Trail as travel writer Bill Bryson in Ken Kwapis's coming-of-old-age comedy.
9/4
The Transporter Refueled
Time to tank up on Russian kingpins, bank heists, femme fatales, and Game of Thrones vet Ed Skrein as a special-ops mercenary turned trafficker.
Dragon Blade
John Cusack is a Roman general (veni?), Adrian Brody a corrupt and patricidal consul (vidi …), and Jackie Chan a jacked warrior (vici!) in this Silk Road–era globalization battle epic that pits ancient China against the West.
Break Point
Jeremy Sisto and David Walton are estranged brothers — and former doubles-tennis partners — brought back together by an 11-year-old.
Heroes of Dirt
Joel Moody plays an aspiring BMX stunt rider who must mentor a wayward teen.
Steve Jobs: The Man in the Machine
Both Apple and Jobs's widow, Laurene Powell, declined to participate in Alex Gibney's latest behind-the-tech-curtain doc. Perhaps unsurprisingly, then, it turns out to be a searing take on Jobs's personal and professional life.
9/9
Time Out of Mind
Expect depressing but very serious acting in the latest from Oscar nominee Oren Moverman, with Richard Gere as a homeless and mentally ill man, Jena Malone as his estranged daughter, and Ben Vereen as a faded jazz musician.
9/11
The Perfect Guy
Gorgeous career woman (Sanaa Lathan) gets distracted by gorgeous, creepily perfect guy (Michael Ealy): violence, chaos, and stalking ensue.
The Visit
M. Night Shyamalan's self-financed comeback was filmed in and around his Pennsylvania home. Kathryn Hahn, a single mother, leaves her children with her parents, who become straight-up creepy after dark.
Sleeping With Other People
Jason Sudeikis and Alison Brie are New Yorkers who meet 12 years after a college hookup in Leslye Headland's follow-up to the deliciously foul Bachelorette.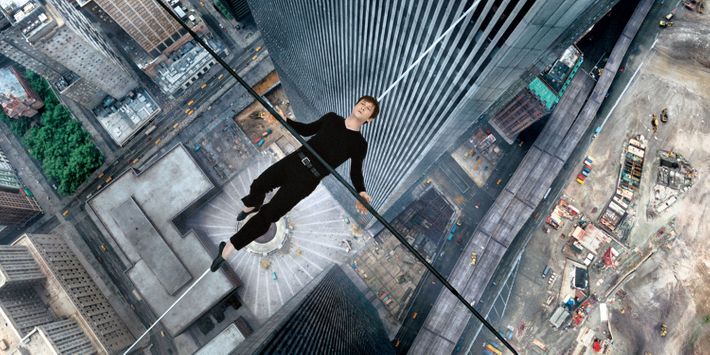 9/16
Pawn Sacrifice
Tobey Maguire plays anti-Semitic chess champ Bobby Fischer.
9/18
Scorch Trials
The second installment in the Maze Runner saga, with Aidan Gillen as Rat-Man. This time, will he get the cheese?
Sicario
Emily Blunt plays an FBI agent undergoing an existential crisis while tracking a Mexican drug lord; thank goodness Benicio Del Toro is around to mumble intriguingly.
Everest
Because it's there: Icelandic filmmaker Baltasar Kormákur has Jake Gyllenhaal and Jason Clarke leading expedition groups up the mountainside. Then, there are obstacles to overcome.
Captive
Based on a true story. Kate Mara stars as a single mother who turns to self-help lit when she's held hostage in her own home (but not by her kids, or her bad life decisions, or the banality of self-help lit itself).
Black Mass
Get ready for Johnny Depp in another wig, lots of silly-sexy '70s getups, and many attempts at Boston accents in Scott Cooper's long-awaited Whitey Bulger drama.
Cooties 
Elijah Wood is the hero of this gory comedy about an elementary school where the kids turn savage after a mysterious virus spreads.
9/25
Stonewall
Can the master of CGI catastrophe, Roland Emmerich, tell the story of the gay-rights rebellion that started in a small bar in the Village with only mascara and a few wigs at his disposal?
Mississippi Grind
Ryan Reynolds gambles his way down the Mississippi River in Anna Boden and Ryan Fleck's road-trip film.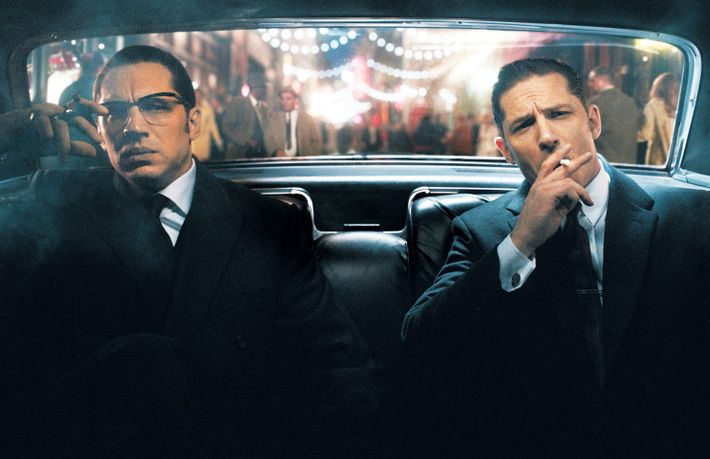 Hotel Transylvania 2
The animated monster romp returns with the voices of Mel Brooks, Selena Gomez, Steve Buscemi, and Adam Sandler.
The Intern
Robert De Niro stars as a 70-year-old widower interning for Anne Hathaway's fashion-website founder in Nancy Meyers's latest.
The Green Inferno
Eli Roth's version of the '80s Italian cult classic Cannibal Holocaust sounds appropriately bloody: In the Amazon jungle, New York activists are set upon by the natives they planned to "save."
99 Homes
Andrew Garfield evicts families from their houses in this 2008-financial-crisis pic.
Drunk, Stoned, Brilliant, Dead: The Story of the National Lampoon
A documentary about the 40-year history of the magazine and film company, with commentary from the likes of Judd Apatow, Kevin Bacon, and Chevy Chase.
9/30
The Walk
Joseph Gordon-Levitt stars as Philippe Petit, the French daredevil who walked a wire between the Twin Towers of the World Trade Center in 1974.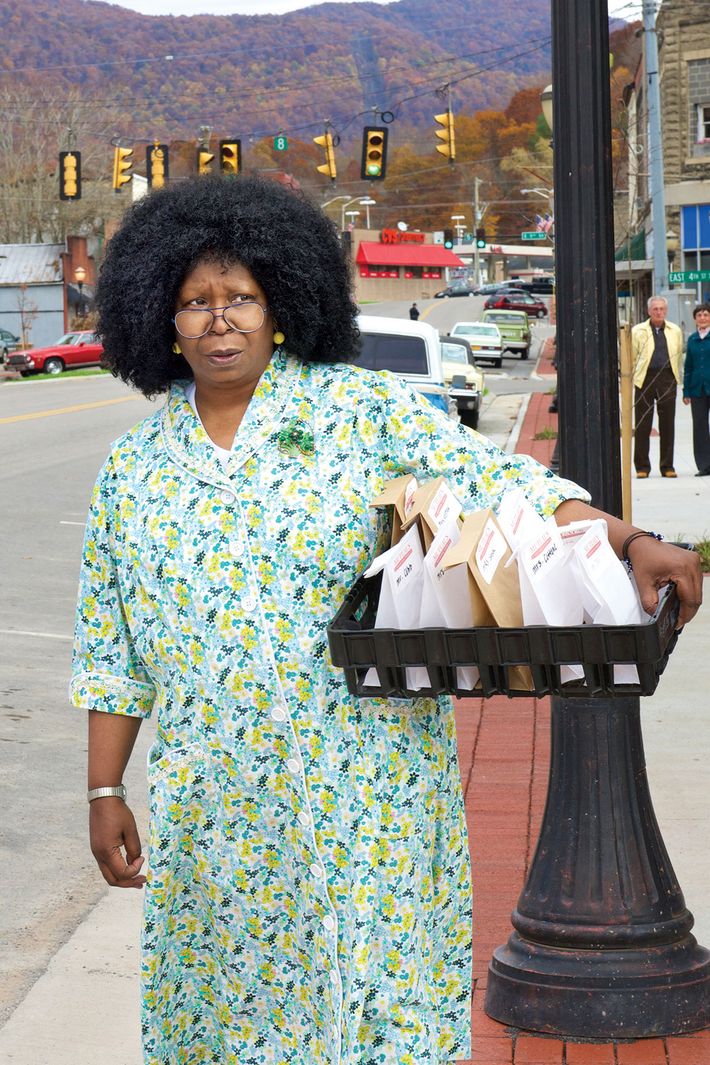 OCTOBER
10/2
Legend
Tom Hardy stars in this costume epic as both Ronnie and Reggie Kray, the notorious and charismatic Swinging '60s London-playboy-gangster twins.
The Martian
Ridley Scott's movie stars Matt Damon as an astronaut left behind on Mars.
Freeheld
Based on a true story. Julianne Moore plays a New Jersey cop whose domestic partner is denied pension benefits.
10/9
Pan
Clap if you believe we need another Peter Pan reboot! Rooney Mara is Tiger Lily, Garrett Hedlund is a young and very dashing Captain Hook, and Hugh Jackman is a walking twirly-mustache (a.k.a. Blackbeard).
Big Stone Gap
Ashley Judd plays a sassy single lady in Appalachia. Set to Rosanne Cash's music.
Steve Jobs
Aaron Sorkin and Danny Boyle's selective biopic with Michael Fassbender as Jobs and Kate Winslet as the brunette Eastern European–born marketing guru who speaks truth to his charismatic power.
10/16
Goosebumps
The iconic children's-book series comes to the screen: A teenage boy moves from the city to the country and falls in love with the neighbor girl, whose father just so happens to be Goosebumps author R. L. Stine Jack Black).
Crimson Peak
Guillermo del Toro's gothic romance set in a creepy U.K. country house. Tom Hiddleston, Jessica Chastain, and Mia Wasikowska are on hand, to be creepy or creeped out.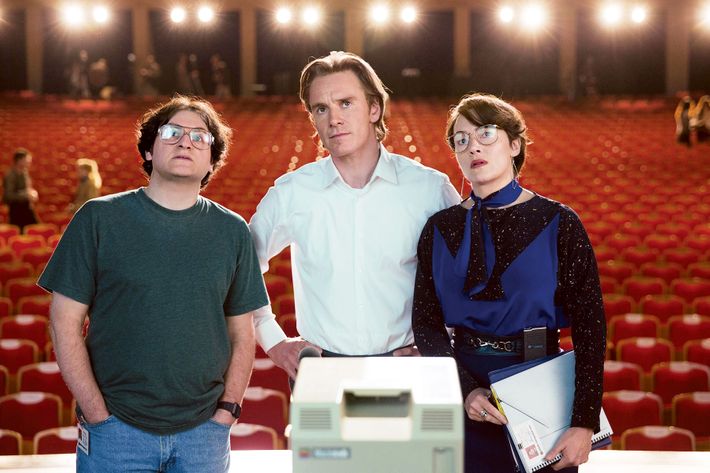 Experimenter
Peter Sarsgaard as Stanley Milgram, the Yale researcher who ordered test subjects to deliver shocks to a stranger, their semi-blind obedience suggesting the worst in human nature — as depicted by indie stalwart Michael Almereyda (Hamlet). —David Edelstein
Bridge of Spies
Steven Spielberg directs this Cold War drama (written by the Coen brothers) based on the true story of a Brooklyn insurance lawyer (played by Tom Hanks) who helped negotiate a spy swap with the Soviets; notorious pinko Mark Rylance plays said Soviet spy.
Room
The always quietly excellent Brie Larson gets her chance at stardom in this drama, written by novelist Emma Donoghue and based on her best seller about a young mom held in captivity with her 5-year-old son.
10/23
Burnt
Remember Kitchen Confidential? It was good! Bradley Cooper plays a debaucherous chef (again) who tries to regain his former glory in London.
Paranormal Activity: The Ghost Dimension
Take five in the undying franchise, involving the usual host of scary shadow figures, spooky chanting children, and, now, "spirit photography."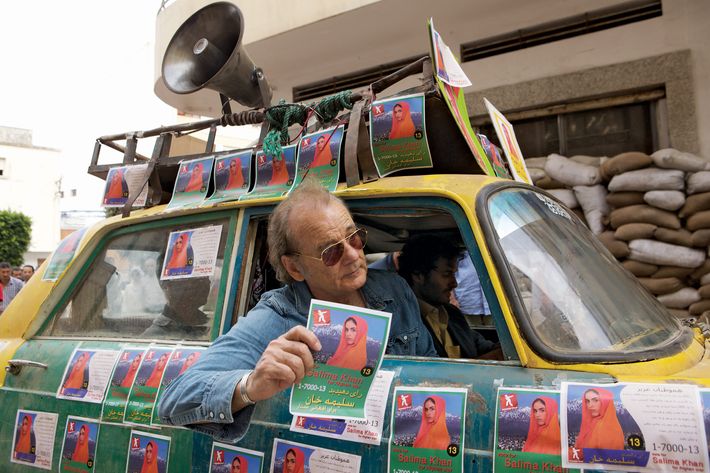 The Last Witch Hunter
Vin Diesel, donning furs and a dreadlocked beard, is joined by Elijah Wood and Michael Caine in Breck Eisner's bombastic witch-hunting fest.
Jem and the Holograms
The cult '80s girl-power animated series is back: A quartet of small-town sisters are catapulted from underground-video fame into global stardom. Adding to the retro flavor, Juliette Lewis and Molly Ringwald star in it, with Nashville's Aubrey Peeples as Jem.
Rock the Kasbah
A bandanna-clad Bill Murray plays a music manager whose client (Zooey Deschanel) strands him, passport-less and penniless, in Kabul — where he stumbles upon a teenage Afghan Next Big Thing.
Suffragette
Carey Mulligan, Meryl Streep, and Helena Bonham Carter fight for their rights in early-20th-century Britain.
10/30
Scouts Guide to the Zombie Apocalypse
Three Boy Scouts and a cocktail waitress against the world, with Patrick Schwarzenegger as a quarterback.
Collide
Badass old Brits in action: Anthony Hopkins is a drug lord and Ben Kingsley a gangster in Eran Creevy's drug-smuggler action thriller.
Our Brand Is Crisis
David Gordon Green directs a fictionalized version of one of the most penetrating docs of the aughts, Rachel Boynton's tragicomedy of a South American election warped by newfangled Yankee image manipulation. —D.E.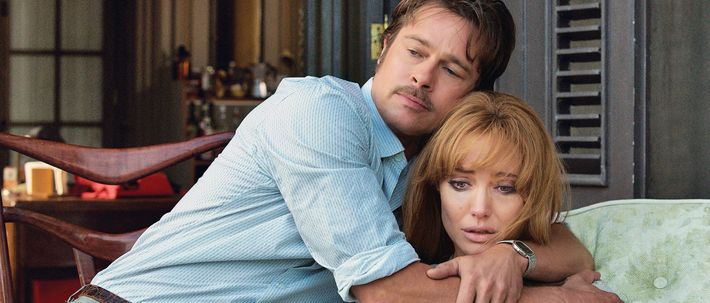 NOVEMBER
11/6
Brooklyn
Saoirse Ronan as an Irish immigrant in what's rumored to be an emotionally transporting portrait of a time and place — the Brooklyn of the '50s. —D.E.
Trumbo*
Bryan Cranston plays blacklisted screenwriter Dalton Trumbo.
Spectre
The 24th Bond film, with dashing, deadly Daniel Craig in a no-doubt-delightful array of snug suits and shades.
The Peanuts Movie
Snoopy and Charlie Brown in 3-D CGI! So real that when Lucy takes away that football you'll find yourself yelling, Augh! Right in the theater! It's so realistic that you'll even be able to smell Pigpen!
Spotlight
Thomas McCarthy (Win Win) directs the story of the Boston Globe's Pulitzer-winning exposé of the Catholic Church's sexual-abuse cover-up. With Michael Keaton, Mark Ruffalo, Billy Crudup, and Rachel McAdams.
11/13
The 33
Antonio Banderas stars in the miraculous story of the 2010 Chilean mining disaster.
By the Sea
Angelina Jolie directs herself and Brad Pitt as a slinky married couple on the rocks in 1970s France.
Entertainment
Gregg Turkington is a scruffy, washed-up comedian touring the desert: dark motel rooms, John C. Reilly as an enthusiastic farmer, and a Michael Cera cameo in a toilet scene you might wish you hadn't seen.
Rings
You would have thought it impossible, in the age of Netflix, to make another sequel to 2002's The Ring, a movie about a killer video tape, but no.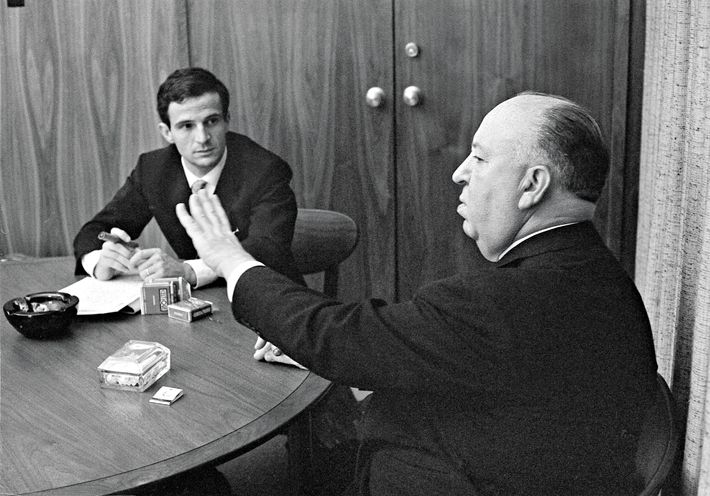 11/20
The Hunger Games: Mockingjay, Part 2
The series' bifurcated finale will burn through the box-office receipts, even in the corrupt, cynical Capitol, with the final showdown between Katniss and President Snow!
Secret in Their Eyes
Julia Roberts is an FBI investigator whose daughter is brutally murdered in this multilayered mystery based on the Argentine Oscar winner El Secreto de Sus Ojos.
11/25
The Good Dinosaur
Prepare to weep big, digital Pixar tears. Here's the setup: Dinosaurs never became extinct — but not in that played-out, corporate-greed Jurrassic World way — and Arlo the Apatosaurus must learn to face his fears.
Victor Frankenstein
James McAvoy is the young Dr. Frankenstein and Daniel Radcliffe his assistant in this boy-band retelling of Mary Shelley's classic.
Creed
Rocky (Sylvester Stallone) is back (was he ever gone?), training Adonis Johnson (Michael B. Jordan),a young boxer battling the ghost of his dead heavyweight father.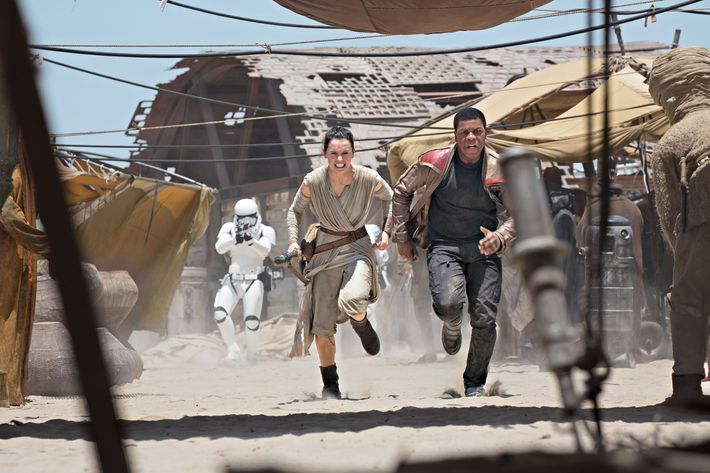 The Night Before
Three best friends (Seth Rogen, Joseph Gordon-Levitt, and Anthony Mackie) spend a wild Christmas Eve in New York.
11/27
I Saw the Light
Tom Hiddleston star as doomed country-music legend Hank Williams.
The Danish Girl
Eddie Redmayne books himself another ticket to the Oscars playing real-life transgender painter Lili Elbe.
DECEMBER
12/1
Hitchcock/Truffaut
Prepare ye, film geeks: a documentary on the lengthy 1962 interview between the auteur's poster boy and the French New Wave maestro, with Martin Scorsese, Wes Anderson, and David Fincher weighing in.
12/4
Krampus
Adam Scott and Toni Collette try to survive a Christmas plagued by Santa Claus's evil titular counterpart in Michael Dougherty's horror-comedy.
Youth
A retired composer, his daughter, and a filmmaker cross paths at a Swiss spa in this star-studded, male-meaning-of-life melodrama (with Michael Caine, Jane Fonda, Rachel Weisz, and Harvey Keitel).
12/11
In the Heart of the Sea
Is this Ron Howard's white whale? The director's latest explores the aftermath of the New England whaling-boat disaster that inspired Moby-Dick.
The Ridiculous Six
Netflix's Adam Sandler–produced (and –starring) Magnificent Seven spoof. Despite some early controversy, the master of bad taste has guaranteed it's "100 percent pro–American Indian."
12/18
Star Wars: The Force Awakens
Harrison Ford, Mark Hamill, and Carrie Fisher are back as Han, Luke, and Leia (along with newcomers like Oscar Isaac and Adam Driver) in J. J. Abrams's continuation of the tireless space epic, set 30 years after Return of the Jedi.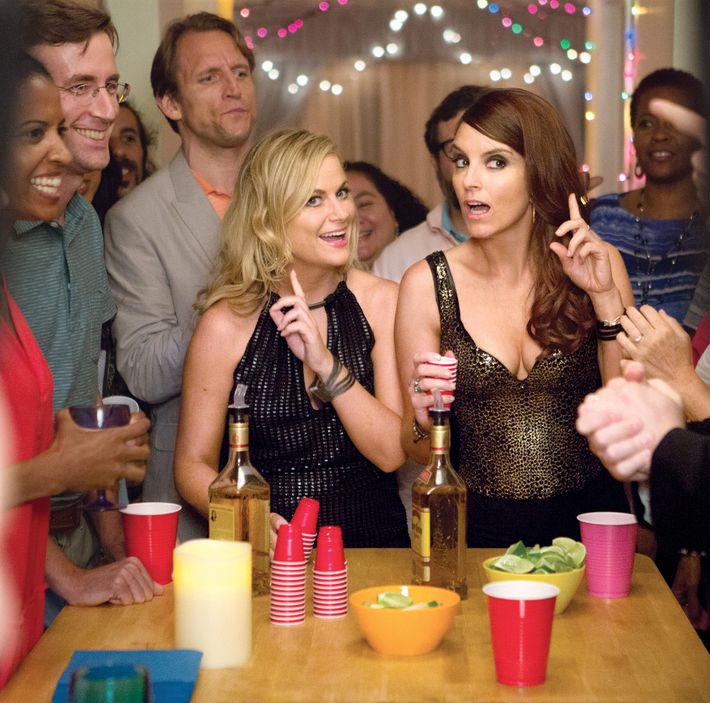 Sisters
Pitch Perfect's Jason Moore directs Tina Fey (the wild one) and Amy Poehler (her perfect, albeit recently divorced, sis), who throw the high-school party their parents never allowed when they reunite to clean out their childhood bedrooms.
12/25
The Revenant
Alejandro González Iñárritu directs Leonardo DiCaprio as an 1820s fur trapper (and bear-attack survivor) who walks 200 miles to take revenge on three men who robbed him.
Point Break
A remake of the 1991 Kathryn Bigelow extreme-sports-bank-robber original (which starred then-hunky Patrick Swayze and Keanu Reeves!). Nobody who will see this film was even born in 1991.
Daddy's Home
Uptight stepfather Will Ferrell competes with cool dad Mark Wahlberg to win the affection of his kids; Linda Cardellini is the mom caught between their tomfoolery.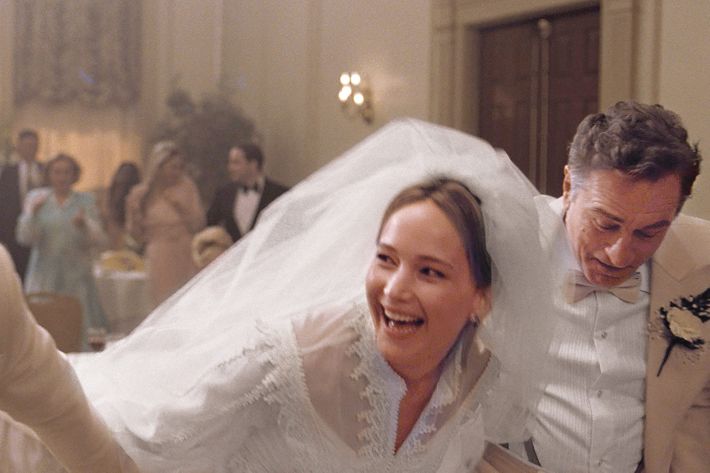 Joy
The title is the name of the heroine, who rises to become the matriarch of a family business in this dark, tumultuous comedy — and also my response on hearing that Jennifer Lawrence would reunite with writer-director David O. Russell. —D.E.
Snowden
Visionary-thug-maverick-iconoclast Oliver Stone will likely make up his own rules in telling the story of Edward Snowden (Joseph Gordon-Levitt), the traitor/savior who showed us the inner workings of our modern surveillance state. —D.E.
Concussion
Will Smith and Alec Baldwin star in this forensic-neuropathology drama (that's a thing now), based on Jeanne Marie Laskas's 2009 GQ article about what NFL playing does to your brain.
*This article appears in the August 24, 2015 issue of New York Magazine.