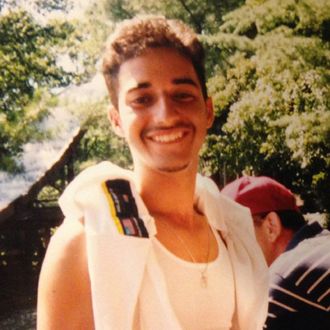 Adnan Syed.
Photo: Courtesy of Serial
Adnan Syed's defense attorney filed a motion to the court Monday officially challenging questionable cell-phone evidence used more than a decade ago to convict his client of murder. The Baltimore Sun reports that in the supplement, C. Justin Brown, whose firm represents the "Serial" podcast star and his post-conviction petition, cites an old AT&T fax cover sheet accompanying phone records that reads: "Outgoing calls only are reliable for location status. Any incoming calls will NOT be considered reliable information for location." The note is significant because the prosecution used only incoming calls as a method to place Syed with the body of his slain ex-girlfriend in 1999. "We feel that the fax cover sheet from AT&T is an extremely important piece of evidence and we are bringing it to the court's attention as quickly as possible," Brown told the Sun.
Brown reportedly believes this new evidence could enforce the case to overturn Syed's conviction because the phone data — a major facet of the prosecution's strategy, which was paired with acquaintance Jay Wilds's account of the event — should've been inadmissible. "The state argues, time and time again, that Jay Wilds' story is corroborated by the cellular tower evidence," Brown wrote in the filing. Brown adds this to the list of reasons why supporters believe Syed deserves to have a new trial, including the facts that alibi witness Asia McClain was never approached for testimony and that his former defense attorney might not have been fully competent during the trial. At time of publication, there was no word from the Attorney General's Office.