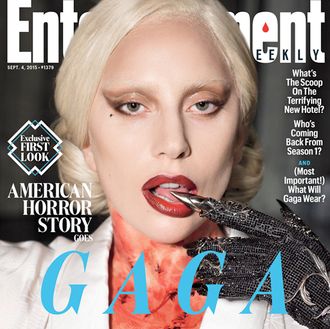 While details of the upcoming American Horror Story season, Hotel, have been ambiguous thus far, the most recent issue of Entertainment Weekly excavates some new information on the characters and the hotel. Expect plenty of blood and sex, often at the same time.
The titular building of this season, the Hotel Cortez, was built in 1930 by the psychotic James March (Evan Peters), who imbued the Art Deco edifice with unrepentant evil. The warren building is rife with labyrinthine corridors, trapdoors, secret rooms, mine shafts, death, and all kinds of decadent, depraved fun. Lady Gaga plays a countess who maintains her youthful vigor and beauty with a healthy diet of blood. But she's not a vampire, Ryan Murphy says: "I prefer the term 'ancient blood virus.' It's really a form of hemophilia, in a way." She acquires the Cortez in the present-day and engenders a macabre love triangle between Matt Bomer's similarly bloodlusting Donovan and Finn Wittrock's male model. Angela Bassett portrays one of the countess's former lovers, meaning this love triangle could acquire new corners and become a considerably less-sexy-sounding love square.
The Cortez's other visitors include Kathy Bates's Iris, Donovan's mother and the front-desk clerk; Denis O'Hare's cross-dresser; Sarah Paulson's Sally, a "junkie friend of the Countess"; Wes Bentley's detective; and something called the Addiction Demon, which kills people with "a nasty, conical drillbit dildo." So far, Hotel sounds like a commingling of Tony Scott's The Hunger, the Hyperion Hotel from Angel season two, and Brian De Palma's entire filmography.