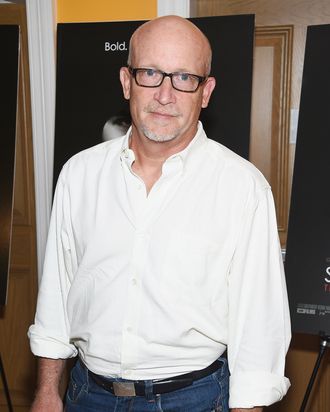 Going Clear's Alex Gibney wants some clarity.
Photo: Dimitrios Kambouris/Getty Images
While Tom Cruise is pretty open when it comes to his lip-syncing skills and impressive stunts, when it comes to his involvement with the Church of Scientology his lips are sealed. During the press tour for Mission: Impossible — Rogue Nation Cruise didn't answer a single question about his involvement with the church, even though the documentary Going Clear, released just a few months earlier, made it evident Cruise was the religion's poster boy, regularly trotted out for big events. Crash director Paul Haggis, who defected from the church and appears in Going Clear, recently blastedreporters for not asking Cruise the tough questions. Vulture caught up with the film's director, Alex Gibney at the screening of Steve Jobs: The Man The Machine, who agreed:
I think it's an outrage that nobody's asking questions, particularly because I know that Cruise's publicists are going out and saying, if you want Tom on your show, you can't ask him this. As journalists, where are we if we don't do our jobs? We might as well be working for Tom Cruise.
What would Gibney ask Cruise, if he could?
I would like to see him asked how he responds to the detailed accounts of human rights abuses in the organization that he singularly represents. He's the guy who draws people into the organization, so surely he has some comment on the abuses that have been so widely reported. I know he knows about them because his lawyer has detailed accounts of every one of them.
This is all gearing up to Cruise's next film, Mission: Impossible — Press Control.