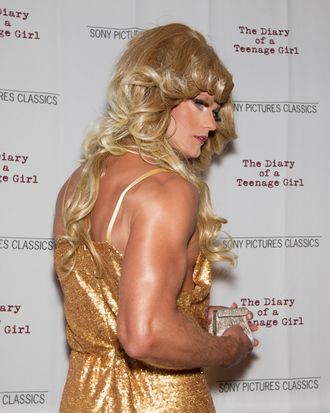 Photo: Miikka Skaffari/Getty Images
Alexander Skarsgard turned many bewigged heads earlier this week at the San Francisco premiere of The Diary of a Teenage Girl, when he arrived on the red carpet in a '70s-inspired drag look. Vulture caught up with the tall drink of lingonberry juice at the New York premiere of the film hosted by the Cinema Society at Sunshine Cinemas. Skarsgard was wearing a relatively sedate outfit — black jeans and a button-down — that prompted us to wonder: Why so underdressed?
You are considerably underdressed since the last time you promoted this movie.
I know, it feels weird not wearing a dress. It's uncomfortable. No makeup? What's wrong, like, it's weird.
What, New York's not worthy of drag?
Well, you know, I didn't know how to top last night, so …
How did that come about? Whose idea was it?
That was my idea. I thought, Well [shrugs] … Mari [Heller] is from the Bay Area, and she wanted to do a fun screening for the crew and for friends and family, and we had a lot of drag queens on the movie. Like, not only in the movie, but the first AD was Cousin Wonderlette — legendary drag queen — and Lady Bear was a casting director for extras, and we had Peaches Christ — a bunch of them. We all became friends on the movie. And so they hosted the screening, and they were going to do a little number from Rocky Horror Picture Show before the screening and [throwing] an after-party, and I felt like, "Well, I don't want to be excluded from all the fun. Can I join? Can I come in drag?" and they were nice enough to say yes.
You looked very striking.  
Ahhhh, agree to disagree.
But you went all out. You went drag on 10.
Well, you can't really hold back if you're gonna do it. You've gotta go full Farrah Fawcett or just don't even come, you know?