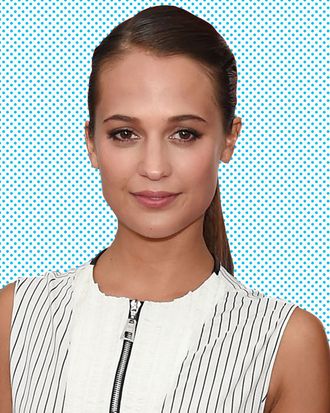 Photo: Jamie McCarthy/Getty Images
Is any actor having a better 2015 than Alicia Vikander? The 26-year-old Swede had made an impression in past films like Anna Karenina and A Royal Affair, but her work as the beguiling android in this year's Ex Machina introduced her to a whole new audience, and she's got plenty more high-profile films on the way over the next few months, including Burnt, The Danish Girl, Tulip Fever, and The Light Between Oceans. Next up for Hollywood's busiest ingenue is this weekend's The Man From U.N.C.L.E., where she plays a German mystery woman who joins up with spies played by Henry Cavill and Armie Hammer. We spoke with her this week about the Guy Ritchie–directed film and the one downside to her recent streak of big movies.
I love you in this film, and I love Elizabeth Debicki, who plays the villain. But I can't believe you didn't get to share much screen time with her.
I hear that a lot! Everyone keeps talking about how we have so many great female characters — which we do — but sadly, we didn't get to play together.

Is that par for the course with you? You've appeared in some terrific movies over the last year, like Ex Machina and Testament of Youth, but they're not exactly filled with female roles.
I did four films in over a year, and I was like the only woman in all of them. It was not until I did Tulip Fever, a film that's yet to come out, that I actually had scenes that were just me and another woman, Holliday Grainger. She's a terrific actress, and we both got a bit shocked while we were doing our scenes, like, "This is so rare!" How strange it is that it is so rare.

What do you make of that?
It's been interesting to do press for this film, because both Elizabeth and I have realized that most of the questions we get are about how unusual it is to have such strong female characters in this genre. It's just great that people seem to be so excited about it. Hopefully, we'll get over the point where people are surprised by it and it'll become a reality. You can sense that there's a feeling of change in the air, and even over the last couple of years, I think we're proving that you can have a female lead in those franchise movies and still have just as big of a success.

In your big centerpiece scene in Man From U.N.C.L.E., you get to dance with Armie Hammer and then slap him. I heard the slap was a suggestion from Guy Ritchie, and that it surprised Armie. What did you think when he gave you that note?
He wouldn't have let me not do it! With Guy, if someone has an idea, we'll try it, and if it doesn't work then it doesn't work. But it's funny, because we recently did Good Morning America, and Guy said, "I love a good slap!" I remember that in one of our absolute first rehearsals, it was me and Armie and the writer, Lionel, over at Guy's house. Guy had some sides but he put them away, and he said, "You know what it says on those sides. Let's just try something else." And he pulled out a chess set, the whiskey and vodka was poured, and the slap kind of came through that. It did end up being quite funny, giving Armie a slap. I mean, he's almost double my length, Mr. Hammer.

Did it feel different to work on a movie of this size after mostly doing smaller dramas?
I mean, they closed down the Spanish Steps in Rome! I was like, "Are you kidding?" I couldn't believe it! But that's what you're able to do when you have those budgets, and it was a huge gift to be able to experience that. I could walk out on the street and feel like I'd time-traveled, with 200 extras and all the shop frames changed to look like the '60s.

I was kind of living for those huge sunglasses you sport in the ads.
They were not actually meant to be worn! I found them during my dance sequence, when I ran into the other room and saw them with the props. Guy had said no to them because they were so crazy, so they were just sitting there on a table, and I loved them. I wore them during a take and played around with them, and Guy was like, "Oh. Those are big." But funnily enough, he asked for them to be worn again during the last scene in the film. I'm very happy that they made their way into that dance scene.

At Cannes this year, Harvey Weinstein said he was so enamored of you that he asked you to play a part in Bradley Cooper's chef movie, Burnt. What is it like to get that call from Harvey?
It was a very tight schedule, because I had to go off and do The Light Between Oceans, but first of all, I'm the biggest foodie imaginable. And I think they know that! As soon as I was able to work as a teenager, I saved up money to go to Barcelona and San Sebastian to go to restaurants. So I was thrilled because of that, and when they called me and asked me to come in for a few days, I was excited. It's a very, very tiny part, just two big scenes, but they're really good ones.

You're also starring in this winter's The Danish Girl, with Eddie Redmayne playing one of the world's first people to undergo a sex change. The movie was directed by Tom Hooper, who made Les Misérables. Did he keep the camera right in your face?
It was very intimate and very close. Actually, a big part of the film is just Eddie Redmayne's character and mine in two different flats, so you had to have a lot of trust and just let go. I'm not saying it was claustrophobic, but the intensity within those four walls was very strong. It's a very unique love story.

If I were Swedish, and someone asked me, "Do you know this other Swedish person?" I'd probably get tired of it. Except that you really did seem to grow up with every other famous Swede! What's the explanation for that?
It's because it's so dark and cold for so many months of the year, so people just stay in and get creative! But yeah, I grew up with five or six girlfriends in Sweden who were my best friends, and Tove Lo is one of those girls in our group. I even shared a flat a few years back with my friends from Icona Pop, and they're coming to the premiere tonight! And the other day, I saw a friend of mine, Rebecca Ferguson — another fellow Swede — in Mission: Impossible, and she was just kicking ass. She was extraordinary in that part.