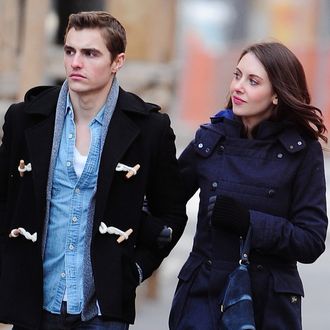 Like any Brooklyn couple.
Photo: Alo Ceballos/Getty Images
These summer months have raged against love, tearing asunder the most famous of couples. But there is still hope for young love that has not been besmirched by nannies or The Voice. Community's Alison Brie and James Franco's little brother Dave are engaged! The couple have been dating since 2012, and Brie confirmed the news when she flashed her engagement ring at the premiere of Sleeping With Other People, which, hopefully, will not happen to them! (Or maybe it will if that's what they're into!) Not only do their impending nuptials promise a new celebrity couple to grow old with (RIP, Ethan and Uma), it's one pregnant with the promise of many weird family functions involving kooky brothers-in-law.