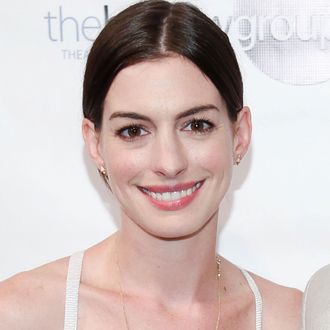 Is it too soon to be on #EGOT watch?
Photo: Rob Kim/Getty Images
Television is all grown up! Like Matthew McConaughey and Scarlett Johansson before her, Anne Hathaway will star in a limited TV series titled The Ambassador's Wife, based on the novel of the same name published less than a month ago. The Mark Gordon Company, which currently produces such shows as Ray Donovan and Grey's Anatomy, will finance and produce the adaptation of Jennifer Steil's book, which tells the story of a woman named Miranda, the wife of a diplomat, who's kidnapped in a fictional Middle Eastern country called Mazrooq. There's no network attached yet, but you best believe broadcasters will be clamoring for a TV series starring an Oscar winner at the height of her powers. If you think this will move her one step closer to her eventual EGOT, you're wrong! She already has an Emmy for a Simpsons voice-over performance, but she can always starting thinking about a double EGOT.