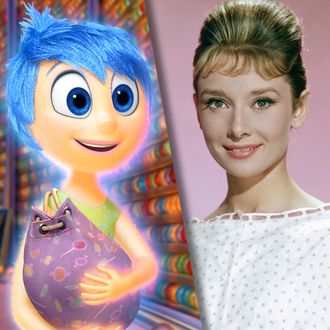 Joy (left), and Hepburn.
Photo: Pixar, Getty Images
On Tuesday at the computer-graphics convention Siggraph, The Hollywood Reporter writes, Pixar revealed the physical inspirations for Inside Out's team of anthropomorphic emotions. The film's character art director Albert Lozano told the crowd that the team (literally) drew from the looks of Hollywood icons both past and present. Amy Poehler's Joy, it turns out, was modeled on Audrey Hepburn and given the graceful movements of a gymnast. Sadness was originally drawn as sort of a living tear, but it gradually took on aspects of Rachel Dratch's Debbie Downer, as well as Wednesday Addams. For Disgust, the team took inspiration from Charlie and the Chocolate Factory's Veruca Salt and Poehler's Parks and Rec co-star Aubrey Plaza. Fear was always envisioned as having prominent eyes, like those of Don Knotts and Mr. Bean. And Anger, well, that was an easy one — he was just a square.