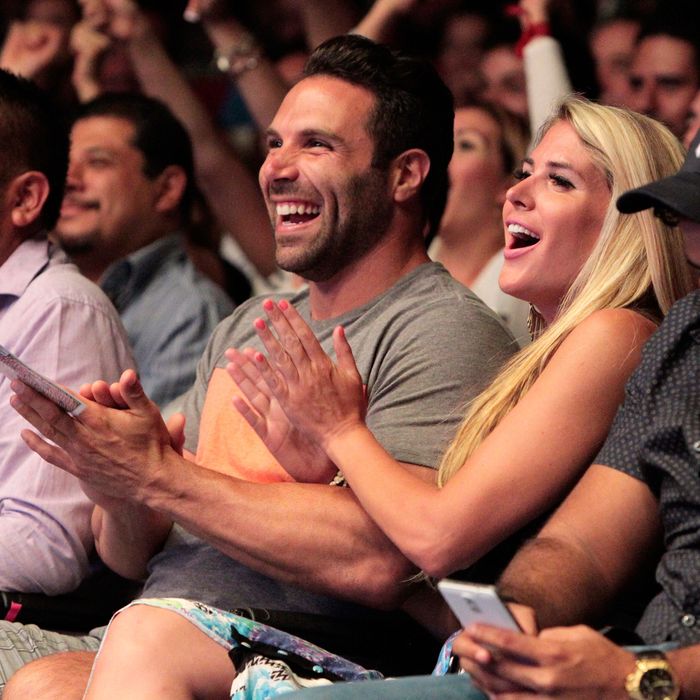 Encore!
Photo: Rick Rowell/American Broadcasting Companies, Inc. All rights reserved.
This was, without a single doubt, the best episode of Bachelor in Paradise so far. It will most likely be the best episode of the season. I heard a rumor that Alex Mak and Felix Chong, writers of Internal Affairs, the Hong Kong police drama upon which The Departed is based, came on as producers for this episode. That's the only reason we got such spectacular twists and turns and reveals and emotions and lurking crabs.
I'm going to Tarantino a few things, and then we'll go back to the beginning and figure out how we ended up where we did. By the end of this episode: Juelia has a new suitor, Joe ends up alone, and JJ walks away a noble romantic hero. He was such the triumphant figure that I found myself attracted to him. I was just as surprised watching as you are reading this. To the beginning …
After the lady bangtestants defeat a gang of invading crabs that are rushing their bedroom (surprisingly not a metaphor), we find J "I've been in plenty of fights … with my brothers" J being calmed down by Jared. Dan tells everyone what happened when the other J-men attempted to confront Joe. It went poorly. Joe bonds with Jorge (who also appears in the opening credits) and explains that Joe made J "Boat shoes have great arch support" J his bitch, and no one realizes that Samantha knew what Joe was doing. She knew. She knew everything. And as we'll find out — she was keeping her own secrets from Joe. But more on that later …
Juelia comforts herself by saying, "I'm a really good person, a good catch, and would make a good wife. I'm a good mom. I will make somebody really happy."
Juelia, can I talk to you for a moment? Juelia. Juelia. Sweetie. You're a 30-year-old, able-bodied white blonde woman. You will be fine. You will be ABSOLUTELY fine. Being on a TV show where animals are given subtitles and they try to convince women to touch men's dicks is not your last chance for love. You would think that she was being sent off to Nonnberg Abbey, in Salzburg, Austria, to live out her days with Maria von Trapp and the Mother Abbess singing "Climb Ev'ry Mountain" until she gently passes into the next life.
The cocktail party features a formal deposition of Joe and Samantha about Jueliagate. Joe says he's going to step up to the plate and admit to sliding into her DMs, and they just talked about being on The Bachelor. Sure. Sure, Joe. Juelia demands satisfaction from Samantha because Juelia and Samantha have been on vacation together and have been close since Chris's season ended. Samantha basically says, "New phone, who dis?" to the entire situation.
Ashley I. tries to talk to Jared but forgets how to mouth good. She's also wearing a knockoff Heart of the Ocean necklace because of course she owns one.
Juelia sneaks off into the rain forest to find Host Chris and ask if there's any way for Mikey to come back or something because she doesn't want a pity rose, but she does want to stay in the competition because we should feel bad for her. Joe robbed her the opportunity to find love. Tone it all the way down. Also, what happened to Jonathon?
It's time for the Rose Ceremony. There's all the expected and secure couples: Tanner and Jade, Carly and Kirk, Joshua and Tenley. Jared gives his rose to Ashley I. because he's a masochist. Now it's J "This tattoo is a Japanese symbol for honor" J's turn. No one knows what he's going to do. He could save Juelia, see where things go with Megan, or give his rose to — he's not gonna give his rose to Clare. We all knew that, right?
He looks distressed. Fearful. Worried. He gives his rose to … ASHLEY S. PRAISE BE.
J "I take all the bitches to P.F. Chang's. Bitches love P.F. Chang's" J says he's in love with the woman he broke up with to come on the show, so he wants to go back and try to make things work with her. Then he delivers a monologue of honor and true valor. It was so long and so rambling that I'm just going to let JJ (that's right, no final nickname out of respect) speak for himself.
"I never thought I would feel love, my heart was calcified, you don't know broken until you've walked in my shoes, didn't find love on Bachelor in Paradise on Bachelorette, but I found myself, and these girls all think I'm awesome, that excites me, the rubber meets the road, time is of the essence, roll the dice, spent time with some of the most beautiful, but my heart is back with a girl back in Denver, making a very grown-up decision impacts the rest of my life, beg, plead grovel for her to take me back, I hope she says yes, otherwise I'm gonna feel dumb, I didn't say anything stupid."
I will be performing that monologue at auditions in the future. Everyone wants JJ to go home and find love. He's a genius. Dan gives his rose to Amber. Who cares?
Megan is going home, Clare is going home,and Juelia is goin— WAIT! Mikey comes out of an SVU and Juelia and Mikey walk back to the Paradise compound to triumphantly rejoin the bangestants!
We have to get through some cursory business here: Jade and Tanner go on a date to Tequila, Mexico, and declare their love. Ashley S. gets drunk and makes out in a hot tub with new arrival Nick. Jared breaks up with Ashley I. and she has a breakdown.
When Nick arrives in the Paradise compound, he tells Host Chris that before the season started, he had been talking to Samantha for about a month. Hold the phone. This is RICH. Nick was instructed to ask Samantha out on a date when he arrived, and you can see the low-level terror in Joe and Samantha's eyes. It's two very different kinds of terror, but OH BOY.
Meanwhile, Joe is being set up by the editors for his fall from what little grace he had left. Going on about how Samantha is the perfect woman and he can't believe that she would ever go for someone like him. Samantha is beginning the expertly crafted manipulation scheme against Joe. "If you say you're this great guy, why is all this drama following you around?" Following him around? Naw, bitch. All of this was your idea, and you've been doing it to an untold number of men. "I just don't have drama in my life, so I don't know how I feel." GIRL WHAT. This was YOUR IDEA. If you created several layers and types of deceit to create drama, you can't say you don't have drama in your life. She breaks up with Joe on his birthday. TUH-WIST! She told him to take responsibility so the drama would go away, she crafted all the lies, she reaped all the benefits, and then she dumped the hell outta him and his heart.
Samantha is what those Pretty Little Liars girls will turn into once they grow up. She's evil. She's diabolical.
She's a masterpiece.
Tonight: the return of Faux Tom Hardy, and Joe has receipts.