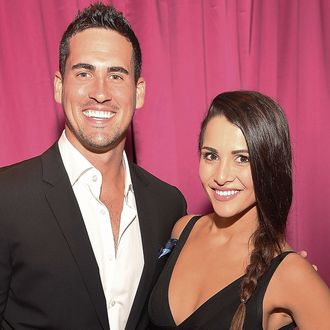 Photo: Paras Griffin/Getty Images
The Bachelorette isn't normally cited for its literary qualities, but one woman might change that: Andi Dorfman, star of the much-watched matchmaking show's tenth season, is penning a book called It's Not Okay that will detail her experiences in the wake of her successful Bachelorette stint. According to People, the book will allegedly possess a tongue-in-cheek quality, a sort of satirical self-help book for women who aspire to marry a man for his money, then write a book about it.
"I didn't share a lot of stuff and I feel like we, as women, don't share a lot of bad emotions that are associated with breakups and this book kind of defies that," she told People. "It's like, you know what? I did it. I did every good, bad, ugly, sad, crazy, psychotic thing that women do. I'm like, here it is — we all do it. I am proof that we all do it."
Dorfman got engaged to Josh Murray in May of last year. They separated in January of this year. You can read all of her relationship advice in spring of next year.