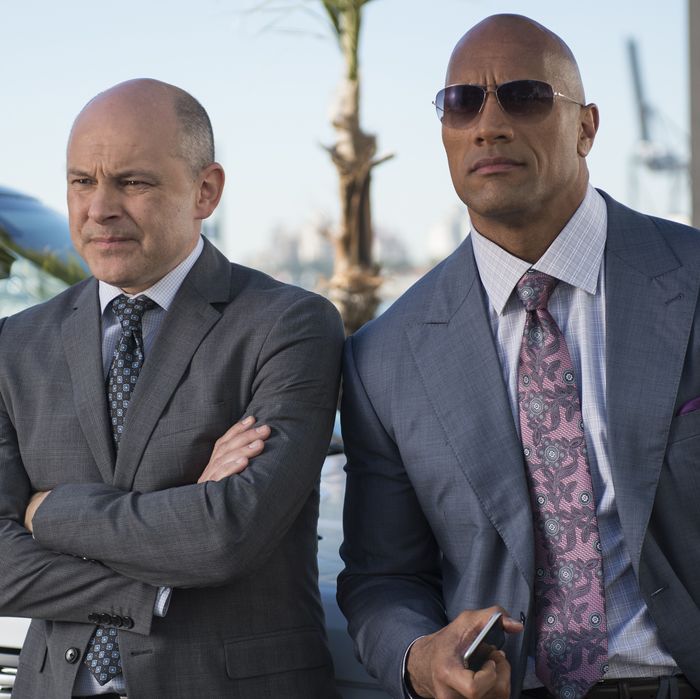 It's official: Ballers is Entourage for guys with NFL Sunday Ticket packages.
After nine weeks of giving this show the benefit of the doubt, Ballers' full transformation into an Entourage clone took place during its season finale, "Flamingos" — and I'm kinda pissed off about it. I thought Mark Wahlberg, Stephen Levinson, and the Entourage brain trust behind this show might've learned from their past mistakes in order to give audiences a view of the professional sports world that wasn't another bro-tastic, orgiastic spectacle. But considering how the show ended on an appallingly high note, practically erasing all the conflict that existed throughout the season with one mighty wipe, Ballers unfortunately showed its true, extravagant colors.
Let's start with Spencer and Joe. For a minute there, the show made us believe that their partnership would end quite messily. Even though Old Man Anderson has gone on record saying he couldn't care less about having a sports-management division, as well as admitting to Spencer that he didn't want him working for him in the first place, Anderson nonetheless dumped $5 million in the department and promoted Spencer, giving him an office with a view, a 39-foot speedboat, and a flirtatious black receptionist named Virginia. Unfortunately, Anderson also kicked Joe to the curb, which prompted Joe to respond to this decision by trashing his office.
Despite Joe's meltdown, it finally gives him the freedom to start up his own business in Coral Gables, which he nonchalantly tries to convince Spencer to go half on. Unfortunately, the skeptical (and kinda broke) Spencer, who seems to have taken to the top-floor life quite well (he already broke in the office by having a nooner with ex turned friend with benefits Tracy), had to tell his boy he couldn't join him. But Spencer, being the loyal softie he is, couldn't let his friend fade off into the great unknown like that. So, he shows up at Anderson's door to persuade him to take Joe back, even though Joe left the place in a mess and told Anderson he "threatened to shit down my throat until I choked to death." Nevertheless, if there's anything Ballers has taught us, it's that Strasmore (and Dwayne Johnson) is excellent at giving convincing speeches, which is what Spencer laid on Anderson.
I don't know how he did it, but Spencer convinced Anderson to rehire Joe. Spencer later breaks the news to Joe, who, after a few brief moments of giving Spencer grief about being wrongfully terminated ("Plus, I stopped drinking for 36 hours, man!"), comes back into the fold. Spencer even gives Joe the keys to the speedboat and everything.
But Spencer and Joe's reunion wasn't the only thing that was a cause for celebration. The whole episode ends with a lavish dinner blowout with everyone — Spencer, Joe, Vernon, Jason, Reggie — celebrating Vernon becoming a Dallas Cowboy and getting greeted with an $18 million check. When I saw this whole scene, I was like, Is this happening? Hell, even Reggie, who acted like a dick the whole season, suddenly went 180 and became a decent human being, apologizing to Spencer for bringing up being adopted at the mixer. I guess when a huge payday comes in, everyone lets bygones be bygones.
As for Ricky and Charles, the resolutions to their story lines almost seemed like afterthoughts. After he spends a day entertaining kids from his Ricky's Runts charity, Ricky gets a visit from his old man (The Wire's Robert Wisdom). Of course, Ricky isn't pleased to see his slick-ass deadbeat dad, who's kind of sore about the choice words Ricky had for him during his TV interview a few weeks back. But even when they have a sit-down and Ricky tells him how he was never there for him, his father lets him know that was his intention all along. "I put that chip on your shoulder, boy!" he says. "I gave you that fire in your heart!"
This has got to be the most bullshit, backwards attempt for an absentee dad to convince his son (and himself) he was a strong influence on his son's life that I've ever heard. Ricky must believe this, too, since he gets to training camp (showing up on a camel, no less!) and sees his beloved 18 jersey hanging up for him, only to end up giving it back to former rival/son of former sidepiece Alonzo. This definitely puts a smile on the face of general manager Seifert, who informs coach Larry Csonka (whom I incorrectly thought was in that celebratory video Ricky and TTD made for Charles last week) that the boy definitely has something to prove this season.
Charles also shows up to camp as well, after getting the good news from Seifert that he didn't suck as hard as thought he did in last week's episode. After briefly vomiting behind his car before heading into camp, he gets on the field and shows some young, shit-talking rookie he's still got it, inciting his pal Ricky to rave on his skills. (Oddly enough, this is the only interaction the usually-joined-at-the-hip pair had with each other the whole episode.)
So, all's well that ends well for Ballers this season. The bond between these men is now stronger than ever, and it seems everything worked out just fine. If that sounds familiar, that's because that's what happened to Vince and the rest of the gang on Entourage at the end of every season! I was hoping the season wouldn't end in a tidy, almost cowardly way, but there were signs. Hell, when Spencer admitted to Balsamo last week about purposely (and permanently) injuring him, some people thought the show was letting its hero off the hook when Balsamo admitted he was always a mediocre player and Spencer did him a favor. But at least it had Spencer admitting his flaws and taking responsibility for his actions. The finale was just a half hour of the show rewarding Spencer and company because, well, they're ballers!
It's very likely the show's writers and producers thought this was a one-time deal and they might as well just wrap everything up in a nice, uplifting bow. After all, the show does have a bona fide movie star in its cast. It wouldn't seem that odd for him to move on from this thing and go back to making Fast & Furious sequels. But the show has been picked up for a second season, which means Johnson and everyone will be back to do this all over again next year. However, if they really want to keep Ballers interesting, they shouldn't be afraid to show people fumbling once in a while.