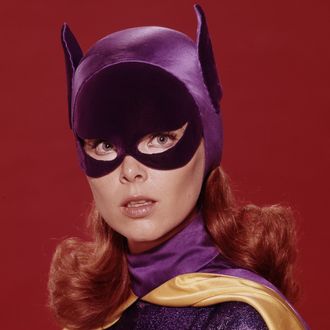 Yvonne Craig as Batgirl.
Photo: ABC Photo Archives/ABC via Getty Images
Yvonne Craig, the badass actress who played the first-ever onscreen Batgirl and paved the way for silver-screen superheroes after her, died Monday night at her Pacific Palisades home after a long battle with breast cancer, according to her family. She was 78. "She had been in chemo almost continuously for the past two plus years since being diagnosed and that had weakened her immune system as well as her body," her family said in a statement released to CNN late Tuesday. "This didn't dampen her sense of humor or her spirit, she intended to fight and win this battle. In the end, her mind still wanted to fight but her body had given up."
Craig was born in Taylorville, Illinois, and got her acting start as a teen in the Ballet Russe de Monte Carlo, according to THR. What followed was a handful of early movie roles (including the Elvis Presley–starring It Happened at the World's Fair and Kissin' Cousins), as well as an impressive TV résumé that boasts more than 150 guest credits (including The Man From U.N.C.L.E., Fantasy Island, The Six Million Dollar Man, Kojak, and Mod Squad). In this time, she made a memorable appearance on Star Trek as a green alien who wanted to kill William Shatner's Captain Kirk. 
In 1967, Craig joined ABC's Batman series with Adam West for its last season, playing both the superhero and her alter ego, librarian Barbara Gordon. "They were adding Batgirl to the show because they needed someone who could encourage an over-40 male audi­ence and a prepubescent female audience," she recalled in an interview on her website. "That's the real reason why they hired me!" She proved to be a valuable acquisition, wowing viewers by doing all her stunts on the show and gaining the respect of women and other superheroes-to-be by setting a mainstream, onscreen precedent as a female crimefighter. "I hear from women that I was their role model," Craig told CNN earlier this year. "'When I was a little girl, I realized that girls could kick butt just like guys,' [they'd say]."
Near the latter half of her career, Craig worked as a real-estate broker and voice-over actress for Nickelodeon, according to her website. She also recalled her acting journey in a 2000 memoir titled From Ballet to the Batcave and Beyond and worked as a public voice to support equal pay for women and free mammograms for women who couldn't afford them. She is survived by her husband, sister, and nephews.