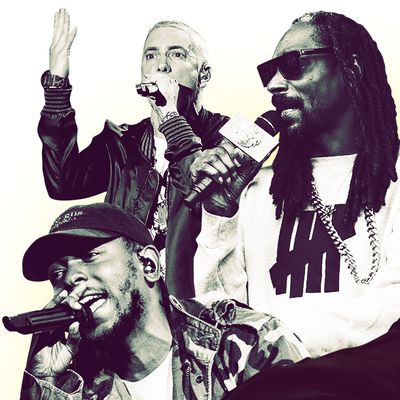 Photo: Illustration: Maya Robinson and Photos by Getty
There's no getting around the fact that Dr. Dre's legacy has endured for all these years thanks in large part to his ability to identify talent in other artists, extract from them their best work in the studio, and launch their careers ("Still got Eminem checks I ain't opened yet," Dre reminds us on "Talk About It"). There are 16 guests credited on Dre's new Straight Outta Compton companion piece, Compton: A Soundtrack by Dr. Dre, including R&B vocals from Jill Scott and Marsha Ambrosius. But it is with particular interest that we listen to the features from other rappers because that's where Dre's genius behind the board shines through the most.
With Dre sitting back comfortably in the producer's chair, protégés like Kendrick Lamar and Snoop Dogg provide the album with fuel, newcomers like King Mez and Jon Connor enjoy their first real taste of the spotlight, and old comrades come out to pay their respects. Here are the contributions that ended up standing out the most.
9. Xzibit, "Loose Cannon"
Setting aside the fact that a woman gets murdered at the end of this song, Xzibit, the jovial emcee responsible for one of the greatest Cribs episodes ever, used his feature to remind us that in addition to being the host of Pimp My Ride, he also has bars.
8. Snoop Dogg, "One Shot Kill"
Snoop Dogg has so many albums he has a hard time remembering which is which. The important thing, he says, is to remain consistent, prolific, and nimble. Dre's former protégé is at ease here in his mentor's hands, perfectly gliding into his best form on "One Shot Kill," a daring track that opens with a distorted electric-guitar riff followed by Snoop's squirrelly flow.
7. Jon Connor "For the Love of Money"
This Flint, Michigan, native has been lying low ever since he signed to Aftermath in 2013. He makes the most of his feature by forcefully repping his city and confirming his cred, rapping with sustained bravado, "Ain't no fake shit around here/ Cause my nigga my city is really as real as the fuck I be killing this and not giving a fuck/ You laugh at a bitch, she get hid in the trunk/ You think this sound crazy, that's how I grew up/ So this for my people who still in the cut."
6. The Game, "Just Another Day"
The Game provides the album's most detailed and palpable visual description of Compton, from its sprawling swap meets to its main artery down Rosecrans Avenue. Dre's voice remains absent on this track, as his fellow California rap progenitor breathlessly leads us on an intimate tour of his hometown.
5. Kendrick Lamar, "Genocide"
"Fuck your blessing, fuck your life/ Fuck your hope, fuck your mama/ Fuck your daddy, fuck you dead homie/ Fuck the world up when we came up, that's Compton homie," Lamar growls while a cavernous beat barrels from up above. The verse reads like an edict meant to further establish Compton as California's epicenter for rap heavyweights. It's one of Lamar's finest ride-or-die moments for his hometown.
4. Eminem, "Medicine Man"
His lyrical dexterity is as breathless as ever. Em lashes at critics one by one on this track, his vocal energy escalating steadily as he sets the stage for Dre's final verses on the album's coda.
3. King Mez, "Satisfiction"
The 25-year-old emcee and producer from Raleigh wrote most of the music on Compton in collaboration with Dre. Like Kendrick, he has three features on the album. Here, he puts hype beasts on notice with his cool confidence, rapping, "I know you think you're a star cause followers clickin'/ Guess your ambition is to keep up with social tradition/ Like sneaker shoppin' summer you niggas are fuckin' sickenin'/ Cause you'll take your soul out, just so you can fit in."
2. Kendrick Lamar, "Darkside Gone"
Lamar made his thoughts known about ghostwriting on "King Kunta," the To Pimp a Butterfly standout rumored to be about Drake. "Darkside Gone" adds to this theory. "Still I got enemies giving me energy I wanna fight now/ Subliminally sent to me all of this hate I thought I was holding the mike down," Lamar raps, referencing "Energy." This could be his most direct jab at Drizzy so far — and it's a nasty one.
1. Kendrick Lamar, "Deep Water"
A verse that belongs right up there with K Dot's finest, from "Control" to "m.A.A.d city." Lamar's rhymes continue to grow more sophisticated over time, but he's still a lyrical tactician ready to slay the competition with plainspoken, direct, and ultimately penetrating barbs.