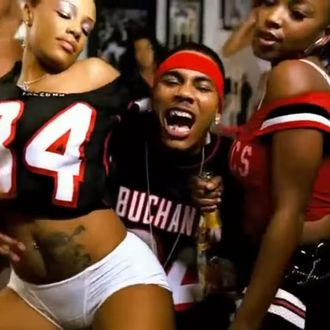 The rumors are true: After nine years, BET will revive its controversial late-night music-video show Uncut starting August 11. Though the network initially denied reports of the show's comeback last month, it announced the news Wednesday during the series finale of The Game. The show, which began in 2001, was canceled in 2006 following years of backlash over its racy content. During its original run, Uncut aired at the 3 a.m. EST time slot three nights a week with a TV-MA rating for often featuring explicit rap videos (mostly low-budget) many critics likened to amateur soft-core porn that the network couldn't show on its recently canceled daytime countdown show 106 & Park.
For instance, long before anyone petitioned to ban Robin Thicke's "Blurred Lines" video, BET caught unprecedented flak for airing a NSFW video from Nelly in 2003 on Uncut. The controversial video came from a remix to a song called "E.I." — known only to fans today as "Tip Drill" — which featured an all-out orgy with topless and bikini-clad women gyrating, twerking, and bathing together as Nelly and his pals threw cash and nibbled on their thong straps. In 2015, the video hardly seems egregious, but a decade ago the sight of Nelly sliding a credit card down a woman's butt crack — reducing her body to property for sale — was more than enough to trigger the outrage machine. Relentless protests forced Nelly to cancel an appearance at a 2004 bone marrow drive at Spelman College for his late sister (a move Nelly said in 2013 made him want to "kick somebody's ass"), and BET never fully recovered from arguments that it was providing a public platform for misogyny.
When Uncut returns, it'll re-join an industry even number to NSFW content that's so readily available on social media and streaming sites. And BET won't try to feign shock value: Uncut will now air weeknights at 11 p.m. EST, piggybacking its prime-time programming instead of going back to its after-dark hours. But what could BET possibly show viewers that they can't already access on YouTube on their lunch break? That'll likely be the Uncut reboot's biggest challenge, but judging by the single artwork for Nelly's new song "The Fix" with Jeremih, he might be back to trip up the censors once more.