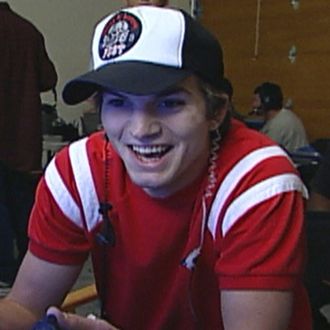 This is still a thing.
Photo: MTV
Last week, BET announced it was rebooting its NSFW music-video show, Uncut, after a nine-year hiatus. The timing seemed odd: The original aired at 3 a.m. EST, but this version would run at 11 p.m. A sign of the times, most assumed. Audiences tuned in Tuesday night for the show's supposed premiere hoping to see a director's cut of Nicki Minaj's "Anaconda" or whatever BET's answer to PornHub might look like. Instead, they were victims of the worst kind of trolling. After duping fans with Uncut's original intro and a disclaimer, BET quickly revealed that it was all a ruse. "Got 'em!" interrupted Vine star Andrew Bachelor and YouTube star DeStorm Power — Uncut's alleged new hosts — with the announcement that we'd all just been punk'd.
But they weren't just referencing decade-old slang: It turns out faking Uncut's return was just one giant (and ethically questionable) marketing scheme to promote the return of Ashton Kutcher's hit MTV prank show, a reboot BET had previously announced in April. Simultaneously on Twitter, Stephen Hill, the show's programming director (at whom Rihanna recently threw a wad of cash), further spat in our faces:
The network's shenanigans continued not with the actual premiere of its new Punk'd, but with a block of old reruns from both the original series and its failed 2012 reboot. BET's Punk'd, hosted by Bachelor and Power, will instead debut August 18. But if BET's at all interested in redeeming itself on Black Twitter, we'd advise reviving College Hill instead.