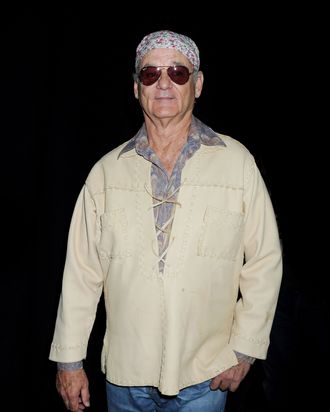 Bill Murray at Comic-Con.
Photo: Splash News/Corbis
For a long time, it seemed like Bill Murray was done with the Ghostbusters franchise. After a successful sequel in 1989, Murray dragged his feet on reprising the role of Peter Venkman for a potential Ghostbusters 3. His years-long hesitation eventually scuttled the notion of a direct sequel, paving the way for next year's series reboot, directed by Paul Feig. It came as a surprise, then, when reports broke weeks ago that Murray had actually taken a part in Feig's new film. Instead of playing Venkman, it's rumored that Murray will appear as a character out to debunk the new Ghostbusters crew, played by Kristen Wiig, Melissa McCarthy, Kate McKinnon, and Leslie Jones. When we caught up with Murray at this weekend's screening of his new film, Rock the Kasbah, presented by Peggy Siegal in East Hampton, we coaxed him to reveal how the role had come about.
"You know, they were incredibly nice to ask me, and I really enjoyed being there," Murray said. "They have such a jolly group, and they are going to have great success with this project. I didn't want to overshadow [them] or anything, and I feel really good about it."

But hadn't Murray maintained for a long time that he wasn't interested in donning that proton pack again? "That's true, I wasn't," Murray admitted, though the addition of actresses like Wiig and McCarthy — who he called "a great hope" — changed his mind. "I like those girls a lot," he said. "I mean, I really do. They are tough to say no to. And Paul is a real nice fellow."

That's not to say that Murray's reversal came easily. "I thought about it for a very long time," he said. "Like, many, many months. No, that's not right. I was seriously thinking about this for years, really … It kept eating at me, and I really respect those girls. And then I started to feel like if I didn't do this movie, maybe somebody would write a bad review or something, thinking there was some sort of disapproval [on my part]."

But we couldn't let Murray go without asking him about a potential collaboration with another funny lady, Jennifer Lawrence. The Hunger Games star made headlines this summer when she ran into Murray at Comic-Con and divulged to Vulture that they want to work on a project together. "That would be great," said Murray. "I really like her. I mean, I only know her a little bit, but I'd love to work with her." So what have the two of them got in mind? Murray simply grinned: "I can't say just yet."