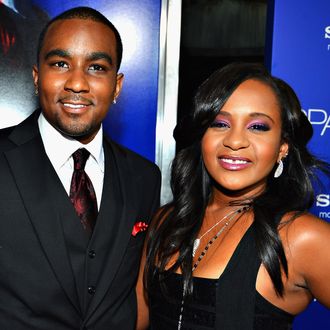 Gordon and Brown.
Photo: Frazer Harrison/Getty Images
Although Bobbi Kristina Brown has gone, the controversy surrounding her tragic death intensifies. The young TV personality's conservator fired off an amended complaint at the end of the week that accuses Nick Gordon, already embroiled in a lawsuit over alleged abuse and financial impropriety, now of wrongful death. (You can read the updated filing, in full, here.) "I am deeply saddened by the recent death of Bobbi Kristina Brown. I extend my sincerest condolences to all of her family. Consistent with and to the letter of the civil action I initially filed on behalf of Bobbi Kristina, we will continue to pursue justice for her," Bedelia C. Hargrove, Brown's conservator, said in a statement released to the media. "I have filed today an amended complaint against Nicholas Gordon adding a count for wrongful death and for pain and suffering. We will leave no stone unturned in seeking justice for Bobbi Kristina Brown." 

The suit's addendum attempts to paint a clearer picture of what Hargrove thinks happened the night before Brown's trip to the hospital: Gordon — who has been described as Brown's longtime boyfriend and partner — supposedly came home at around 6 a.m. on January 31, after partying all night. He allegedly got into a "loud argument" with Brown that abruptly ended because, as Hargrove puts it, Gordon gave Brown a "toxic cocktail" that knocked her out. That's when, Hargrove's docs contend, Gordon put Brown facedown in a tub of cold water. "[Gordon]'s violent attack on Bobbi Kristina and associated reckless and toxic cocktail caused her to sustain a profound brain injury, which ultimately caused her death," the suit reads. Gordon's lawyers responded thus:
The recent lawsuit against Nick is slanderous and meritless. Nick has been heartbroken and destroyed over the loss of his love and it's shameful that such baseless allegations have been presented publicly. Nick has engaged civil counsel and intends to defend the lawsuit vigorously and expose it for what it is: a fictitious assault against the person who loved Krissy most.
Although the lawsuit does provide what seems like new information about Brown's mysterious medical circumstances, the Atlanta Journal Constitution points out that the conservator and her suit do not specify any sources. No criminal charges have been filed. An initial autopsy report on Brown revealed no cause of death; medical authorities said they needed more time to figure out exactly what it was that initially sent her to her deathbed. That case is still under investigation.