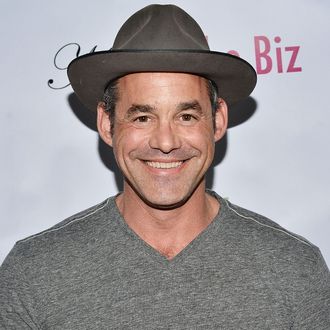 Saying no to Dr. Phil.
Photo: Araya Diaz/Getty Images
Nicholas Brendon has been having a rough go of it. The actor best known as Xander on Buffy the Vampire Slayer has had multiple run-ins with the law in the past year, and got arrested various times for trashing hotel property and causing a public ruckus. The police reports often stated that Brendon was under the influence of alcohol and pills when the incidents happened.
In a very public rehabilitation, Brendon agreed to go on Dr. Phil to talk about his problems. However, as the episode was taping, Brendon walked out. "When I was in that seat, I felt that Dr. Phil went for the jugular, talking about some of my recent mistakes, with no build up," Brendon wrote on Facebook. "I felt that he wanted me to lay the darkest parts of myself on national TV right from the start, and I'm not willing to do that." He said that he would say more but can't because of "contractual obligations" to Dr. Phil. Instead, Brendon says that he's in private treatment so that he can "live a long and happy life."
Update: A spokesperson for Dr. Phil released the following statement about the walkout, saying that it was "respectful" and that the episode itself was "completed as scheduled" and will air at a later date:
Nicholas Brendon appeared on Dr. Phil yesterday. Unfortunately, he chose to disengage before a dialogue with Dr. Phil ever began.  There was no drama, he simply chose to leave and did so in a respectful manner.  His family and associates remained and participated fully and productively.  Dr. Phil has nothing but the highest respect for Nicholas and wishes him the best in his quest for physical/mental health and sobriety, and stands ready to assist him in any way possible. The episode was completed as scheduled. An airdate will be announced in the future.