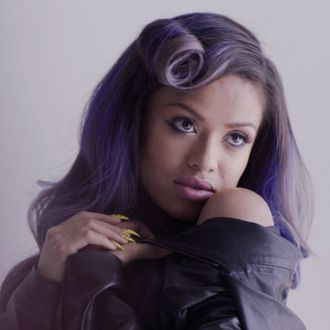 From Beyond the Lights.
Photo: Blackbird Productions
Beyond the Lights capped off 2014 as one of the year's most critically acclaimed films you probably didn't hear about. It didn't come up in many Oscar-race discussions outside of Best Original Song (for which it was nominated), and never made much noise offline. It sounds like a remarkable oversight given that its director, Gina Prince-Bythewood, is responsible for Love & Basketball, which is regarded as one of the best love stories about black love of its time. That racial qualifier, though, is what Prince-Bythewood now says has allowed the movie industry to keep art made by black artists in a corner. In a series of tweets, the director has specifically called out Netflix for the long-criticized algorithm used for its "More Like This" tab. Instead of recommending what to watch next based on what should be racially ambiguous devices like story and genre, Prince-Bythewood argues that if you watch something starring black people, then that's all Netflix thinks you'll ever want to watch.
To prove her point about Netflix's sweeping generalizations, she's put her own movie, Beyond the Lights, to the test. (The film was added to Netflix streaming in June.) A love story about as generic as they come, the movie brings together a rising pop star struggling with a cocktail of depression and the pitfalls of fame and a do-gooder cop with political aspirations regarded as the portrait of stability. When their two very opposite worlds collide one night, they experience an emotional journey that teaches them how to fall in love — with both themselves and each other. Despite all those universal themes, all you'll be told to watch afterward are shows like The Game and Tyler Perry movies, no matter their irrelevance. Prince-Bythewood wonders why you aren't instead told to watch movies like The Notebook and Notting Hill; both of which, regardless of race, share more with Beyond the Lights than, say, Braxton Family Values. 
The problem, she argues, is that Netflix behaves with the same mentality as the rest of Hollywood — stereotyping black consumers as a low-brow audience that can't enjoy both Empire and Mad Men, and treating black art as a medium undeserving of placement beside its white counterparts. But as Prince-Bythewood notes, she sees that trickle-down effect in more than her own work: Complex and emotionally dense films like Fruitvale Station, Middle of Nowhere, and Girlhood all generate a random selection of movies and shows to watch next with only one common denominator: blackness. Netflix's racialized recommendations aren't just exclusive to "black" art; stream Y Tu Mamá También, and you're told you'll like anything else with Latino stars. Or, if you look for Brokeback Mountain, they'll suggest other gay romances, not other Westerns. Watch Coffee Prince, and Netflix will pull up every other piece of Korean programming it can find — and when that search quickly hits a wall, you get Japanese manga instead. As Prince-Bythewood puts it plainly: "[It's] got to stop."
Members of Vulture's staff tested this and when they chose "More Like This" for Beyond the Lights, almost everyone received The Coalition, the Being Mary Jane movie,  My Favorite Five, and Mysterious Ways, confirming Prince-Bythewood's assessment. However, one editor was given One Tree Hill, Blue Crush, Meet the Browns, and A Different World. As of publication, Netflix's representatives have yet to respond to Vulture's request for comment.