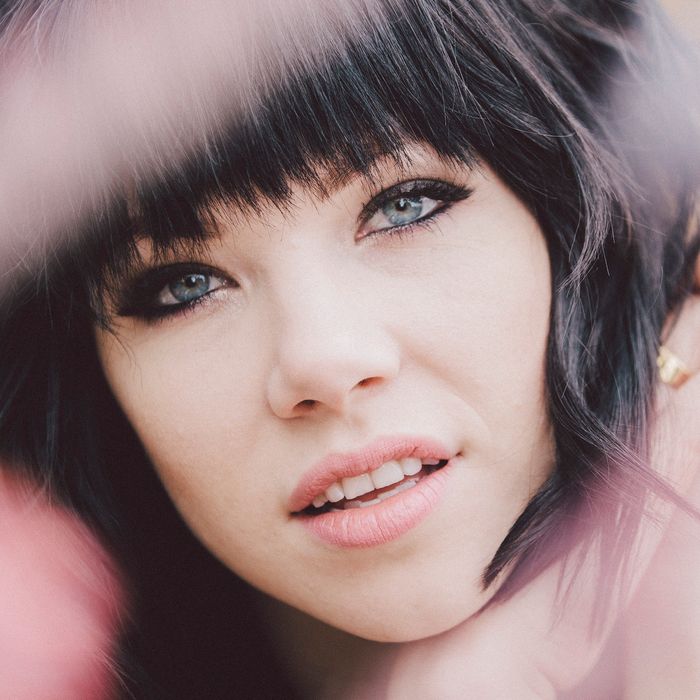 Photo: Elizabeth Weinberg/The New York Times/Redux
Carly Rae Jepsen doesn't stand out. Walking into the Burger Joint at Le Parker Meridien Hotel, a soft-lit gem tucked away in midtown Manhattan, she blends right in with the summer lunchtime bustle of tourists and brave — or dedicated — locals. She's even harder to recognize with her jet-black bob, the result of an impulsive chop-and-dye job she did in June. "I needed the dark hair to match my mood," she jokes about the exhausting press cycle that has brought her to New York City in support of her third album, Emotion, out this week.
Adding to that weariness are her plans for that evening: Jepsen, 29, is also in town to induct Cyndi Lauper into the Songwriters Hall of Fame, where in just a few hours she'll have to perform "Time After Time" in front of her idol. "I might cry while I do it," she lets out a nervous laugh, her crystal-blue eyes framed by a tousled fringe.

If an aura of anxiety shrouds Jepsen, it's understandable: These next few months are make-or-break for her. Most of the world, especially the music business, had written her off as a one-hit wonder following 2012's monster "Call Me Maybe." With Emotion, Jepsen is challenging naysayers to give her some credit while she navigates what she calls the "scary, brave new world" of life after a colossal hit. At the same time, the album is an attempt to grow as an artist, in the process shedding any personal limitations that could prevent her from establishing a legacy. Three years after having a massive pop hit and stumbling on an immediate follow-up, Jepsen's trying to reclaim her career — while also reinventing what it means to be a modern pop star.
The last four years have changed Jepsen's life both barely and completely. Before 2011, the only people who'd heard of the British Columbia native were fans of Canadian Idol, on which she placed third, and anyone who listened to her debut album, the Colbie Caillat–sounding Tug of War, released in 2008 to little fanfare. Jepsen grew up in Mission, and studied musical theater at the Canadian College of Performing Arts before deciding to become a professional singer post-college. Then, in her mid-20s, a "wonderful problem" fell into her lap: While Jepsen was on tour in 2011 with her longtime guitarist Tavish Crowe, the two struck songwriting gold with "Call Me Maybe." Once they added producer Josh Ramsay's pop sensibilities, it took less than four months for tween-pop royalty Justin Bieber to tweet about the song and upload a video with Selena Gomez lip-syncing the shameless pickup line.
By early 2012, the song experienced an aggressive push that made it one of the biggest hits of the decade. To date, it's the 25th-most-watched video on YouTube and has sold more than 18 million singles globally. Bieber soon urged his manager, Scooter Braun, to sign Jepsen to School Boy Records, Braun's label. Two months later, Jepsen says she was told to hand in her sophomore album. "Whatever I wrote had to work," she remembers of the stressful learning curve. With "Maybe," the undisputed Song of Summer that year (it spent nine weeks at No. 1), projections for Jepsen's sophomore album were off the charts. But when she put out the resulting album, Kiss, in September, it tanked, selling 46,000 copies its first week despite online acclaim.
So Jepsen disappeared — as did Kiss, at least by pop-star standards. To date, its sales have plateaued at fewer than 300,000 copies.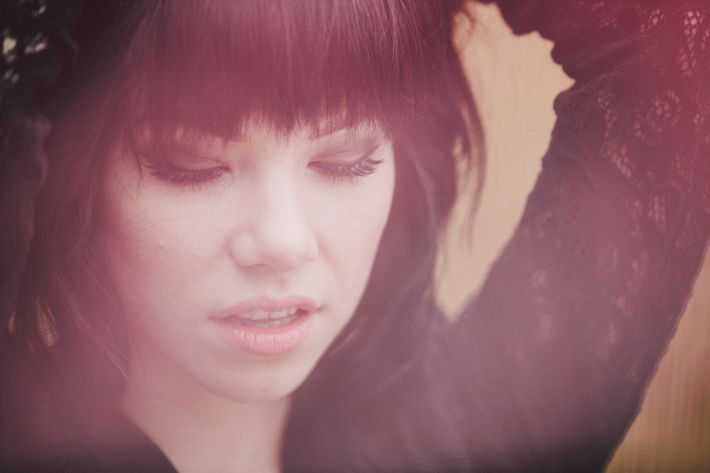 As Jepsen munches on fries, the tourists filling up the cramped burger bar continue to pay her no mind. Though "Call Me Maybe" was 2012's most ubiquitous hit, its rise didn't exactly translate into mob-inducing recognition for its singer. When the novelty of its middle-school nostalgia wore off after near-constant airplay, Jepsen struggled to come up with reasons to keep her name in the headlines. She inevitably wound up in pop's dark D-list abyss, where her fashion choices were badmouthed until the jokes ran out.
"With 'Call Me Maybe' and everything that happened, everyone was telling me I had to move to L.A., I had to do this," she says. "The year that followed was a lot of thank yous versus steering [my fame] in a direction that felt like mine."
As the next few Kiss singles struggled to take off, Jepsen spent six months regrouping before returning to work in 2014 with an unexpected passion project: a role in the Broadway production of Cinderella. "I didn't think I'd get another opportunity to do something like that," she explains of her decision to play the Disney princess on Broadway for six months, a move many perceived as Jepsen admitting one-hit-wonder defeat. But she never saw revisiting her musical-theater upbringing as a career blip or cry for help: "The little girl inside me was just like, 'I can't not do it.'"
All the while, Jepsen never stopped writing songs. Before she committed to channeling '80s pop for Emotion — a direction she credits to getting hooked on Cyndi Lauper's "playful girl anthems" and jogs in New York listening to Prince — she even scrapped an entire indie-pop album. "Eternal Summer," a song from her indie effort that she found particularly hard to abandon (and Emotion's original title), might resurface someday: "I want it to be right, so if it means the next album, I'll wait."
When meetings set up by her label with a revolving door of big-name songwriters and producers failed to produce quality over quantity, Jepsen decided — in the middle of her Cinderella run — to handle her own A&R, alongside trusted guitarist Crowe. She emailed artists in New York, L.A., and Sweden whom she admired, including Tegan & Sara, Vampire Weekend's Rostam Batmanglij, and Shellback, to see if they were interested in collaborating. In no time, she'd assembled a dream team of proven hitmakers all over the pop spectrum.

"What you're hearing is what she wants people to hear," says Dev Hynes, who, alongside Ariel Rechtshaid, wrote and produced Emotion's slow jam "All That," which is just aching to be used during a John Hughes prom scene. "She even produced her own vocals."
Initially, Jepsen feared she might betray her "Call Me Maybe" following with songs like the breathy, Jessie Ware–esque "Warm Blood," which has a darker mood. "She didn't wanna sabotage everything that she had built," Braun remembers Jepsen saying. Once he reassured her that she "had the complete freedom to make the album she wanted," Jepsen played him "I Really Like You," a "Maybe" for 2015. The song was enough to make Braun confident that releasing Emotion two months early in Japan, where Jepsen has her largest fan base, would get the album to No. 1. He was right.
"Now we know that singles aren't gonna drive sales, so we're not worried about selling the most albums in the first week," Braun explains. "Let's just really make it about critical acclaim, and push people to look past their preconceived notions of Carly. If they do that, I think their impression of who Carly Rae Jepsen is is gonna change drastically."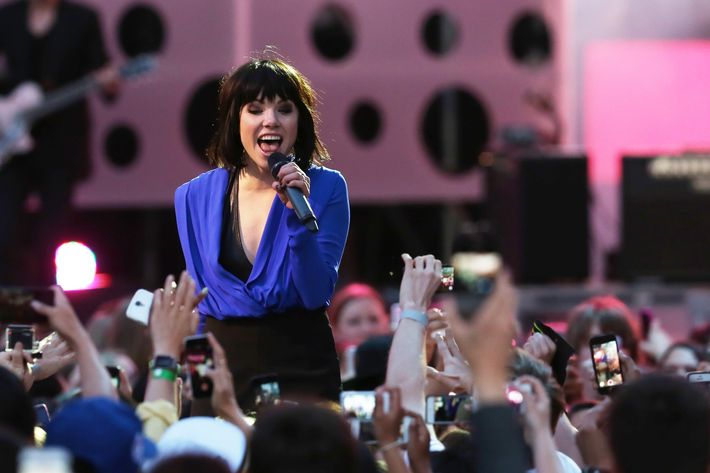 As much acclaim as Emotion has already won, Jepsen can't please everyone. One criticism lobbed against her is that she's ordinary to a fault. "There's an unshakeable vagueness to her," read Pitchfork's Emotion review, citing Jepsen's lack of "personality" as part of the reason she's failed to fully saturate the Zeitgeist. Jepsen had a hunch about this three years ago: "You know those little games of shapes, where there's a triangle that fits into the triangle? I was feeling quite like a square, like I don't know how I get in there."
Whereas another Canadian on the cusp of pop's upper echelon, male star the Weeknd, has benefited greatly from leaving much to the imagination (besides his explicit songs), Jepsen is perceived as out of synch with the aspirational meme-ability of Rihanna, Katy Perry, and Taylor Swift. Female pop stars are expected to cultivate, via curated-to-look-casual social media and over-the-top personas that come to life live, fantasy versions of themselves. One look at Jepsen's promotion-oriented Twitter feed affirms that she's not interested in playing that game.
The longer Jepsen remains defiantly uncool — casting Tom Hanks in a video, starting Emotion with a so-cheesy-it's-almost-good sax solo ("It was a big decision to go there"), and making her music her only talking point — the lower she falls in pop-star power rankings. On Emotion highlight "L.A. Hallucinations," where Jepsen describes the media pressure-cooker she experienced at the peak of "Maybe"'s run, she asks, "What can I say that you don't already know?" What she's really asking is, why can't a pop star be genuinely down-to-earth and not ashamed of it?
Not that any of it really matters to the woman who made one of the year's best albums, and who's plenty accustomed to going unnoticed. "I'm a little less afraid to piss some people off," she says. "I can just be like: Here's the album, this is the sound, this is my age, this is what I'm going for, this is way more me, and do you mind if I don't wear the fuzzy pink sweater?"