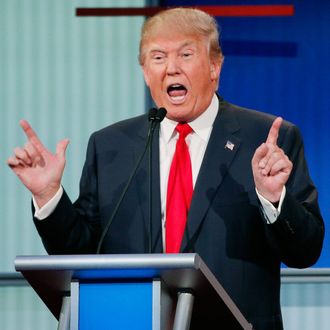 Trump.
Photo: BRIAN SNYDER/Corbis
If you've ever wanted to yell Donald Trump's most famous line back at him, now is as good a time as any. Talking to TV reporters at TCA on Thursday, NBC Entertainment chairman Bob Greenblatt laid out a forecast for Celebrity Apprentice: The show will return sometime in the future (just not next season), and it will have a big-personality host (just definitely not the Donald). This is one of the by-products of Trump's divorce from NBC, which was announced at the end of June, near the beginning of his recent uptick in politically incorrect misfires and after he had announced his intent to take over the White House. According to Variety, Greenblatt confirmed that NBC was "almost done" severing the connection between the Trump Organization and Apprentice.
But then Greenblatt said this: "I don't think somebody who is running for president, and might possibly be the next leader of the free world, should be banned from activity with NBC." And this, according to the AP: "He is a lovely guy. He was very much a collaborator and worked with us closely on Celebrity Apprentice, and, you know, there's a really effusive great guy. We weren't in any sort of adversarial position." And Greenblatt also called him a star and lauded him for speaking his mind. (So even though Trump's said some really bad things, he is still lovely and great. This is now playing out like one of those breakups where both parties say, "Hey, let's still be friends.")
For his part in the matter, first Trump was busy trying to campaign or something:
Then he chimed in:
It's kind of love-hate-y on both ends, right? Which one is Tim Riggins, and which one is Tyra Collette? The good people at TCA were evidently (and understandably) a little confused by NBC's wishy-washy stance on what was going on, so thankfully Greenblatt was asked to clarify if Trump ever had a shot at coming back to Apprentice. He used two words to tattoo that answer on the internet: absolutely and not. In that order. So, say the line if you want. Just be prepared for angry tweets, because it's complicated.