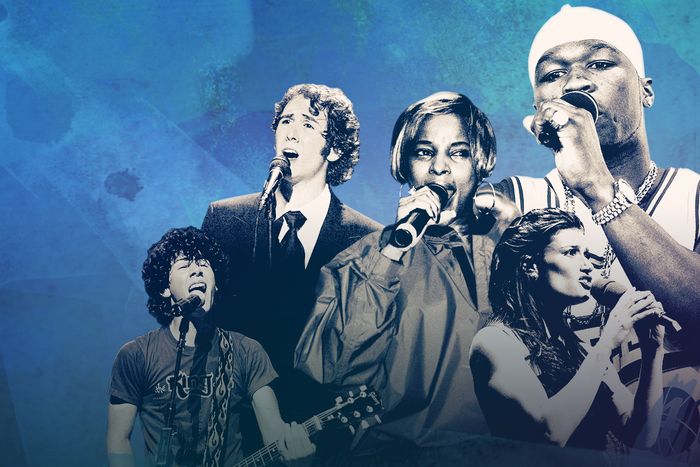 Photo: Photo Illustration: Kelly Chiello and Images by Getty Images
Hopefully summer 2015 brought you endless musical joy in the form of new songs, surprise album releases, and — mainly because the weather's nice — live shows. Do you remember the first concert you ever attended? For a while now, we at Vulture have been asking celebs to catalogue their earliest concert memories so we can vicariously relive the joys of a first live show during the grueling months of not-summer. Sad, but true. Mourn the end of summer by recalling your favorite concert memories, and then peruse those of more than five dozen celebs. Until next summer, enjoy!
Michael K. Williams
"My first concert was the Jackson 5. It was surreal. I had to be, like, 9, 10. It was at the Garden, and I remember they performed 'Dancing Machine.' They put these strobe lights on [Michael] and his brothers, and it looked like they were moving in slow motion. I'd never seen a strobe light before, and I was like, [wide-eyed, staring with an open mouth]. That blew my mind. I didn't know what the hell was going on. Like, He's moving in slow motion! How is he doing this?!"
Neil Patrick Harris
"The first concert I ever saw was Billy Joel in Los Angeles. I was a big Billy Joel fan. I liked his unbridled passion. He didn't have a guitar, but the way he would destroy a piano, it was he was like in a fight with the keys, and he was winning! It was amazing to witness that level of mastery. I was probably 13, 14, and I was with my parents."
Lizzy Caplan
"It was Weezer — The Blue Album. I was 12 or 13, at the Palladium in L.A. I went with a girl and two boys; it was like a double date, and one of the boys' mothers came with us. I didn't kiss him because someone's dad or mom was there watching us. I mean, we were 12. It was a little scary and exciting, but exhilarating."
Adam Levine
"My dad took me to go see Warrant when I was 11 years old, at the Santa Monica Pacific Auditorium. It was awesome. I remember I sat on his shoulders and there were a bunch of crazy people. It was the '80s and it was Warrant, so there was a lot of hairspray and boobs. I was 11 years old, I didn't know what was going on, but my dad was there to protect me, so it was good."
Nick Jonas
"It was Switchfoot at Irving Plaza, and I was like 10 or 11. My emotions were overwhelmed. I just wanted to get up and sing myself. Really inspiring. It helped me fall in love with music."
Yoko Ono
"Do you mean when I was 2½ years old? The reason I say 2½ years old is that I remember it! We were in San Francisco, my mother and I were visiting my father, and there was a stage. Nobody was there. People were just having tea or something. And I just got on the stage and started to sing songs! I started to sing many, many songs, just sort of Japanese songs. And I came down, and there was this very kind lady, typical San Francisco upper-crust lady, and she said, 'I want to show you how to do paper-folding. Origami.' And while we were doing that, she said, 'You were very good on the stage.' 'Oh, thank you!' At the time, Golden Gate Bridge was not finished yet, and then when they finished it there was a big marching parade, and everybody was singing, 'San Francisco, here I come …' That was my first concert, and I was very impressed with that! You never heard that story before? You didn't ask, that's why!"
Haim
Alana: My first concert was pretty weird: I went to an Eagles concert. My parents drove us down to San Diego and we saw the Eagles play.
Danielle: Yeah, it was amazing.
Alana: Somehow my parents figured out, like, they had a friend that played backup keyboard for the Eagles, and he got us onstage for "Life's Been Good." Like, Joe Walsh is playing "Life's Been Good."
Este: Freaked out!
Alana: I think I was like 7 or 8.
Este: Freaking out!
Alana: And that was the first time where I was like, This is a job? People can do this as a job? You can play to people and they freak out as a job? And I was like, I need to do this. I was like, I want to do this for forever and ever and ever. So Joe Walsh is basically the reason why I want to play music.
50 Cent
"I think it was LL Cool J. I forgot how old I was. He came out of a radio, a big radio — the radio just opened up. That was the set. It was the coolest thing in the world at that point. I didn't actually want to be an artist at that point. I still was just, from a fan perspective, just enjoying it."
Nelly
"It was at Fresh Fest: Run DMC, LL Cool J — way back, like '87. I was really too young to be at that. I was 13. It made me become a rapper. I just saw LL. You know LL came out with this big-ass radio, and it the dopest thing I'd ever seen, and I wanted to do that. I haven't done that yet."
Sting
"I went to see Jimi Hendrix. I was 14. Well, I'd never seen a black man before, or ever seen anyone play a left-handed guitar before, and it completely blew my mind. It blew my worldview away. And it's why I'm a musician. It was in my hometown in Newcastle, in the north of England, a little club called the Club of Gogo, tiny room. I was right next to the stage, completely in awe. He was like an alien from another planet. Maybe he was."
Fergie
"Madonna, 'Like a Virgin.' I was 10 years old, I was with my mom. She took me with my friend, my BFF at the time. I was in fourth grade, and I saw her [acting] sexual, in a lace dress on the floor, so I completely took inspiration from that. I will always rule the floor at every one of my concerts — all the time."
Ziggy Marley
"[My first show was seeing] my father. It was excitement. Sheer excitement."

The Beastie Boys' Mike D
"My first concert would be the Clash, at the Palladium on 14th Street. I was 12 or 13. One of the best shows I've ever seen. Well, they're one of the best bands ever. I just wanted to see the music. I was only focused on the music. They were, at the time, as far as I was concerned, the best band in the world. So I was really happy to see them. I was a little kid, so I went with my older brothers."
David Byrne
"It was — I'm dating myself — when my dad took me to see Ravi Shankar. This is, like, late-'60s, Baltimore. They played Symphony Hall in Baltimore, and I was 16. Obviously, I couldn't go myself. It was another world, another musical world. And after then, I started to go to things myself. Yeah. Pretty cool for Dad, though."
Boy George
"My first-ever concert was the most powerful one: It was Ziggy Stardust in 1973. I was 11 and 11 months — it was just before my 12th birthday. I don't know how I managed to get a ticket for that gig, or how I persuaded my parents to let me go. It was quite a feat to get that to happen. It really changed my life. That concert was the beginning of everything for me, because it was the beginning of me saying, 'I'm not the only weirdo on the planet. There are others. I want to be a musician. I want to be like my idol, David Bowie.' That was the beginning for me. A big, big, big moment for me."
Kylie Minogue
"Actually, it was Culture Club. Boy George. I think I was 14?"
Mary J. Blige
"Mine was New Edition and Al B. Sure! I went with one of my girlfriends, and it was crazy. That's all I can say. I was probably 16 when I went to see them."
Kacey Musgraves
"My first concert was LeAnn Rimes. My younger sister and I got tickets and we got to go. We were, like, freaking out, and it was when LeAnn first came onto the scene and she was massive. I was like, 10? My parents came — we didn't steal the car or anything."
Greta Gerwig
"It was Sugar Ray and 311. I heard kids at school talking about it, and I thought that going to a concert was a thing to do. So I had my mom drive me downtown and buy one ticket, and I went alone, and everyone who saw me there said, 'Are you here alone?' and I said, 'Uh, no, I'm just here,' but then I had a great time. I just loved Sugar Ray and 311. I was probably 13. I realized that I didn't enjoy standing that much. I like dancing and I like walking and I like sitting, but standing is really hard. I was prematurely old, and I wanted a seat, but I was in the mosh-pit area. It was in the '90s; there were lots of awkward white people dancing."
John Cameron Mitchell
"It was America. I saw them in Manhattan, Kansas. I have a joke about the band in Hedwig. The next one I saw was Chicago, which was another band named after another place! I was probably 14. I didn't really learn about more interesting, non-pop music until later. I was into Bob Fosse–type musicals, and Noel Coward, because I was a weirdo nerd, and then it was actually after coming out that I discovered punk rock, David Bowie, goth —  all that was very freeing. The whole world was my oyster, and it was a little bit subversive. It was a dark time: AIDS had just hit when I came out, so it was life and death."
James Marsden
"I can't give this out, because it's like a password question on my email account for if I ever lose my password. I can't give it out. I could lie to you, I guess. I'll tell you one of the first: Remember the '80s rock band Warrant? 'She's my Cherry Pie.' Oklahoma City. It was fun. I've never been that big of a concertgoer. It's kind of like you put a CD on in your car and then you crawl into your trunk to listen to it."
Janeane Garofalo
"It was at the Meadowlands, which was the Brendan Byrne Arena in New Jersey, and it's now called some corporate name [Ed. note: MetLife Stadium]. It was Poco, the Marshall Tucker Band, and Heart on a triple bill. I was probably 13? Fourteen? I went with my brother and sister. I was not into Marshall Tucker Band as much. Poco, a bit more. Heart, definitely. It was just one of those things where my brother took my sister, and I had never been to a concert before. A lot of times, when people ask me that, they say that they've never heard of Poco and Marshall Tucker Band. If you heard some of their songs, you would know some of their main hits, because they're still played on easy radio today. And Heart, you know. They've been around for a very long time. Unfortunately, as much as I love Heart and respect Poco and Marshall Tucker Band, it did not have an impact on me. Don't tell them. Or if you do write it, say 'no offense,' if you would be so kind."
Matthew Morrison
"My first concert experience was in high school. My high-school sweetheart dragged me to see Celine Dion in concert, and that turned out to be a pretty great night. She's a pretty phenomenal performer with a powerful voice."
Michael Shannon
"I saw Bob Dylan at the Kentucky State Fair. He was playing with G. E. Smith from the Saturday Night Live band. It was amazing. I was like 10 or 11. My mom and my siblings — we were at the fair, and we stuck around for the show. I wasn't familiar with his music at the time, so I didn't really know what I was listening to."
Allison Wright
"It was Five Star. They were the British version of the Jacksons. I went with my poor older brother. He was like, Get me out of here! I lied to everyone at school the next day: I said that my program had been personally signed by the group. We were so young that my classmates were like, Oh, okay."
Esperanza Spalding
"It would have been the Oregon Symphony, conducted by James DePreist. I don't remember what they played; I was probably like 10 or something. It was probably like, I'm in this music program and the director worked really hard to get us some free tickets. 'So you all better be grateful and show respect, and don't make any damn noise, and enjoy it.' Symphonic music in the headphones is one thing, but actually being there is very powerful. I also saw the Ray Brown Trio play when I was 16, and that really blew my mind. It was in Portland. I brought my classical-bass teacher to hear this jazz-bass player. And my classical-bass teacher used to always kind of dis on jazz musicians. He really dug it, and I felt so grateful to be present for that moment and to hear Ray Brown, because he passed away two weeks after that."
Keira Knightley
"Do you know, the funny thing about my doing Begin Again is that I've never really been into music. I wouldn't know anything. I think the first album I would have bought — maybe I was, like, 11 — would have been Michael Jackson. I think it was History. And then I remember really loving Nirvana. That was, like, the one and only band that I had a real thing for. But I must have been, like, 7, maybe 9, when [Kurt Cobain] died. I had [Rage Against the Machine] on tape. I was kind of into grunge when I was 8 or 9."
Brian Williams
"Probably 'Philadelphia Freedom,' Elton John, Madison Square Garden, 1976. I was in high school. I went with a bunch of people from New Jersey. I also saw Bruce at the Stone Pony in '75."
Dev Hynes
"It was NOFX, in Essex, in England. It was some huge punk festival. It was them, Mighty Bosstones. All those bands. I was a young suburban skateboarder in England. It was incredible. I lied to my parents so I could go. A habit that formed soon after. I didn't get caught that time. I got caught when I went to see the Smashing Pumpkins. They called the person's house and I wasn't there. It was classic."
Josh Groban
"I was in third grade. It was New Kids on the Block, their big concert at the Great Western Forum in Los Angeles. It was really loud, and I couldn't sleep all night. I went with my dad. When I saw the show, I was thinking, This is really fun, and my adrenaline was going, and I wanted to go see more concerts. But it wasn't until I saw great theater, until my parents introduced me to it, that I thought, Okay, that concert was fun, but this is really what I want to do with my life. I was more inspired by the theater aspect. Ironically, then I started playing arenas as kind of a pop artist, but my heart's still in theater."
Iman
"It was in Egypt, and it was an Egyptian singer, none of you guys would know. The name was Oum Kalthoum [a.k.a. Umm Kulthum]. It was by the pyramids, so it wasn't just the music, it was the environment. I was 16."
Idina Menzel
"Diana Ross. The Westbury Music Fair, out in Long Island. I think I was 10 years old. I thought, I don't want to change clothes as many times as she did."
AnnaSophia Robb
"It was an ABBA tribute band, with my parents, at Red Rocks. I think I was 13. It was a bunch of 50-year-olds smoking pot and singing ABBA."
Queen Latifah
"For me it was when Doug E. Fresh and Slick Rick came to East Orange, New Jersey, and played Martens Stadium. I was about 15 or 16, and they killed it. And I was like, That's what I'm talking about, that's what I want!"
Matthew Modine
"Blondie, when I was 15. I climbed over the fence because I didn't have a ticket. I sneaked all the way backstage, and I got to shake hands with Blondie. I was by myself because I had to sneak in. It was in San Diego. I just knew that I was going to get to that concert, and I was going to get in. I had no idea that I would meet Blondie. Deborah Harry, I should say. When you want to accomplish something, if you are determined, you will succeed."
Patti Scialfa
"Jefferson Airplane at Asbury Park Convention Hall. [Singing] 'When the truth found to be lies!' Ah, it's all Grace Slick! I went with two of my friends. And the funny thing is that now we rehearse there all the time. Like, when we start a tour, we rehearse in the same convention hall. When I'm rehearsing with the E Street Band and I look up at the little seat, I remember the exact seat I sat in when I was 16. I wanted to go up there. Those huge amps! I was in such awe."
James Taylor
"A North Carolina Symphony Orchestra concert in Chapel Hill, North Carolina, in the early 1950s. And Peter, Paul and Mary in North Carolina. My friend's family took me along. Well, I didn't know until some years later that music would be my main chance for finding a place in this world. I was just impressed. It's what you get from a concert with live music. These days, music is ubiquitous and in the background, but when you go to a concert with like-minded people, it sweeps you away and creates an instant community."
Mark Ronson
"Probably it was, like, Billy Squier, who was, like, this late-'70s, early '80s rock guy. I think he was friends with my mother. Maybe a Rod Stewart concert, too. I don't know. I was probably about 4. And then my stepdad was in Foreigner, so I saw a lot of Foreigner concerts as a kid. I remember being really excited to see the Beastie Boys and Cypress Hill at the Building in, like, '92. I think it was the first time I smoked weed, and I fell over and got trampled before the Beastie Boys started. But I did see a lot of Beastie Boys shows as a kid. I used to go to Hammerstein Ballroom, Roseland, all those places all the time. Irving Plaza, all that stuff."
Ray Kelly
"I wish it was the Rolling Stones, but it wasn't. I worked the Beatles concert at Shea Stadium as a police officer. That probably was my first. In '67. I was in the police academy, I was just assigned to it. I was actually not inside the stadium; I was outside, but I could hear it. And the Beatles were huge — I was a Beatles fan. I like the album Beatles 65. That was, I think, their best, and they played a lot of it. It was an interesting experience. I'm a big music fan, but I haven't gone to many where I'm actually inside the stadium. Always outside, looking in."
Estelle
"D'Angelo, in London, when I was about 19. I was a performer, but my mom wouldn't let me go to shows. But D'Angelo in London, when I was at Brixton Academy — amazing. The Voodoo era. He did press-ups, and then I fainted. My first-ever fainting at a concert, as well. I went with friends. At the start we were at least ten rows back, but by the time we finished we were front row. That solidified it. I was already a musician, but that solidified it."
Karen Elson
"Kylie Minogue. I was 6, and I was in her fan club. I had her videos, like, a VHS tape of all her videos, and it said to join her fan club, write a letter. So I wrote a letter. It was my Christmas present to join the fan club. I was in deep. It was in Birmingham, England, and we drove down and we sat two rows from the front, and it was heaven, heaven, heaven."
Sophia Bush
"My first concert was OutKast, with Lauryn Hill. She's still killing me softly after all these years. I went with ten of my best girlfriends. I went to an all-girls school. I just remember being so struck by the talent of all the artists."
Betty Who
"It was a classical concert, because I was playing cello by the time I was 4. Yeah, my parents took me to the symphony all the time when I was a kid. First pop concert was Spice Girls. I was the No. 1 — numero uno — Spice Girls fan. I mean, that concert was a really big day for me!"
Charlotte Ross
"Oh my gosh, it's so funny: Rod Stewart. I went with friends. I just remember thinking that he was really sexy. Yeah. I can't believe I thought Rod Stewart was so sexy! But it's all about charisma and how talented you are. And he, like, swung his hips. Yeah! I know. I think I had, like, dreams about him."
Sara Bareilles
"Huey Lewis and the News. I was probably 9 years old, and I was on my dad's shoulders. We were in Sacramento at the California State Fair. I loved every minute. I love Huey Lewis."
Marc Shaiman and Scott Wittman
Marc Shaiman: My first concert was a rock concert; it was the Allman Brothers Band. I might have smoked close to my first joint. I was friends with all the freaky kids in junior high, and we all somehow got tickets, and none of us told our parents we were going. I still think about it every time I hear "Ramblin Man." But then Bette Midler was my first entertainment concert.
Scott Wittman: Yeah, I think my first concert was Bette Midler in Boston.
MS: When she hadn't yet become a star.
SW: Yeah, when she was doing smaller places. And I thought, Wow, this was fun! I like that.
Megan Hilty
"It might have been Blues Traveler, or … oh, this is so funny, who did the 'Rump Shaker' song? Wreckx-N-Effect? I saw them in concert when I was very young. I loved them!"
Laura Bell Bundy
"Well, my first — actually, this isn't considered a concert — was Teenage Mutant Ninja Turtles at Radio City Music Hall. My first actual concert was Liza Minnelli at Radio City Music Hall. I got the music from the show on CD, and I would listen to it all the time. I was 9, and I had just done Radio City Music Hall's Christmas Spectacular. The place where I had a dressing room, because I was a principal kid, was Liza's dressing room. I got to meet her, because her musical director was the musical director for that. He brought me up to meet her and you know what I said to her? 'Oh, you're in my dressing room!' That's what I said to Liza Minnelli. My mom was like, 'Oh, shut up!, She's so southern, my mom was appalled. She was like, 'That's Judy Garland's daughter!'"
Jonathan Batiste
"Wow, seeing my family play. I was a baby, very young. I remember seeing my father and my uncles. It was like a tribe, like a communal — everybody onstage, the cousins, the uncles, my dad, the nephews, the nieces singing — it was, like, at least 15 people in my family. It was somewhere in the French Quarter. It was very soulful, tribal, communal."
Wynton Marsalis
"James Brown, 1967, Municipal Auditorium, New Orleans, Louisiana. I was 6. I remember some black shoes I had on, and I remember dancing to the songs they were playing. Whatever he was playing in 1967."
Fab 5 Freddy
"My very first concert as a young lad coming up in Brooklyn was the Sly Stone concert at Madison Square Garden. I was probably like 13, 12. I was sitting way up top, the audience was rocking, it was super exciting. That's the time frame pre–music video, when you'd only see an artist maybe on a television show, maybe on Soul Train, maybe twice a year. So to go see somebody live that you really like, it was a real special experience. I'm sure it is now, but it was more so then. Now we're inundated with whatever artist is popular, but back then you only saw them move on one or two TV shows a year, if you were lucky. I went by myself. Saved up to get the tickets. I cashed in soda bottles to get extra money."
Chris O'Dowd
"While I was in the belly, my mother went to see Chuck Berry in Ireland. She was six months pregnant with me. Out of the womb, on my own, was Oasis in 1994."
Kiernan Shipka
"I went to Haim. That was so fun. It was awesome. I was 14. It was in Pomona."
Stephen Merchant
"The first show I ever saw was the stage production of Barnum in London. My parents took me. There was a guy who walked a tightrope across the stage, and I must've been about 8, and I was dazzled. I'd never seen anything like that. I probably saw some local band in my hometown of Bristol. I got into music quite late, so I would've been in my late teens. The first concert I saw that really blew me away was Oasis before they exploded. I saw them at a tiny little venue in Coventry."
Mary Lambert
"It was the Strokes. I went with my my older brother because the only way I could go was if I took my older brother. It was when I saved up all my babysitting money to go. I loved it. I had the best time. I said, 'There are people smoking weed!' I was 13 or 14. My ears were ringing and I thought, Is this a thing that people go through?"
Paul Scheer
"My first, second, and third concert experiences were all Billy Joel concerts with my dad. I was in sixth, seventh, and eighth grade. Every time he came around, I'd go see him at the Hartford Civic Center, where the Hartford Whalers played. My dad took me where he wanted to go, then I took him to the Def Jam comedy show and Martin Lawrence You So Crazy tour. I still have my Martin Lawrence Playbill. I remember me and my dad sitting in the center of that audience. We were the only white people there."

Victoria Justice
"My first concert was 'N Sync, in Florida. I was probably 9 years old — something like that — and I went with my mom. My mom's very protective of her kids' hearing, so I remember she made us roll up paper towels and stick them in our ears because the music was too loud. It was so funny."
Jess Glynne
"The very first live show I went to was the Spice Girls at Wembley Stadium. I was insanely excited, running up and down. It was one of the most amazing moments as a kid. I loved Scary Spice. And obviously Ginger Spice. Whenever me and my friends pretended to be Spice Girls, I pretended to be Ginger."
Teddy Sears
"Michael Jackson, Victory Tour, 1984, RFK Stadium in D.C. My parents took my older sister and younger brother — the youngest stayed at home with a babysitter. I was 7. My dad swung floor seats somehow, but everyone decided to stand on their chairs as soon as Michael came onstage, and I remember my dad took turns hoisting us on his shoulders. He'd just rotate us every few minutes. I was terrified that he was going to play 'Thriller' because that video was the scariest thing I'd ever seen. Much to my relief, he didn't play 'Thriller.' But now that I look back on it, how could you not fucking play 'Thriller'? You're Michael Jackson – it's 1984 — you're at the height of your shit, and you're not going to play 'Thriller'? In retrospect, I was robbed, but on the day, I was relieved."
AJ McLean
"First concert I ever went to was the Victory Tour of Jackson 5. I was 5 or 6. It was at Joe Robbie Stadium in Miami, and it was a pretty interesting night. My mom's entire office went. They rented a Greyhound bus, and a woman in her group got stuck in the bathroom and they had to shove me through a window on the bus to unlock the door. So it was a pretty eventful evening. I fell asleep halfway through the concert."