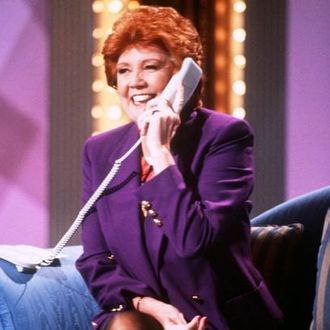 At the top of her game in the U.K., Cilla Black, who died today at the age of 72, was the highest-paid woman on television. During her 50-year career, Black, born Priscilla White, had 11 songs in the U.K. top 10, two consecutive No. 1 hits ("Anyone Who Had a Heart" and "You're My World," both 1964), and 19 consecutive hits in the U.K. top 40. She was appointed to the Order of the British Empire (OBE) and honored with a special BAFTA last year for her lifelong dedication to the arts and entertainment.
Black infamously worked as a hat-check girl in Liverpool's famous Cavern Club and as a coffee server in the Zodiac, earning five shillings and a lunch comprising a bread roll and Heinz tomato soup "laced with the smell of disinfectant." In 1963, John Lennon introduced her to producer Brian Epstein. She first auditioned for Epstein, and the Beatles, at the Majestic Ballroom:
I did a Sam Cook version of 'Summertime', the Porgy and Bess thing, but I did it in thur key, not mine. Brian wasn't impressed. I was signed nearly a year later. I was singing jazz in the Blue Angel and I didn't know Brian was in. He liked me, singing in my own key.
She came to prominence during the Merseybeat era, named for the beat music played by bands in the River Mersey area, and in 1968 began a career on television, hosting the variety show Cilla. She went on to host the shows Surprise, Surprise and Blind Date. The latter, which she helmed for 18 years, had 17 million viewers in its prime. The show was so popular, and Black's clout so mighty, that when she rebooted Blind Date in 2001, she made ITV producers push back Über-popular soccer (football) highlights to make room for the show. Imagine a dating show hosted by a 60-year-old woman in American usurping SportsCenter. It would never happen. There won't be another Cilla Black.