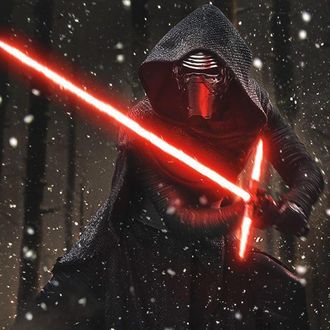 What do you do for an encore after you've directed the third-biggest movie of all time? For Jurassic World helmer Colin Trevorrow, you jet off to a galaxy far, far away to work on a franchise that's even bigger: Star Wars. Confirming weeks of rumors, Disney executives announced today at their D23 convention that Trevorrow has signed on to direct Star Wars: Episode IX, out in 2019. You'll get plenty of Star Wars before then, though: In addition to some spinoffs like the Han Solo origin story and Star Wars: Rogue One, the J.J. Abrams–helmed Star Wars: The Force Awakens is out this December, while Rian Johnson is prepping Episode VIII for 2017.
Here's what Trevorrow had to say about the new gig in a statement:
This is not a job or an assignment. It is a seat at a campfire, surrounded by an extraordinary group of storytellers, filmmakers, artists and craftspeople. We've been charged with telling new stories for a younger generation because they deserve what we all had — a mythology to call their own. We will do this by channeling something George Lucas instilled in all of us: boundless creativity, pure invention and hope.
Pleased with the choice?