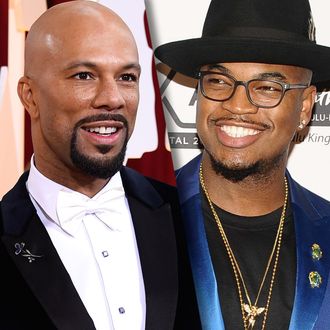 Welcome to Oz!
Photo: Getty Images
The Wiz Live! finally has an idea of what its full cast will look like. Today, NBC added Common, Ne-Yo, and The Butler's Elijah Kelley to the musical. Newcomer Kelley will take on the role of the Scarecrow, previously played by Michael Jackson in the 1978 movie. Ne-Yo, who'll have a hand in the music on Empire's second season, has been cast as the Tin Man. Common is the Bouncer, Oz's gatekeeper, which won't be a singing role.
So here's the how the cast currently looks:
Dorothy: Shanice Williams
Scarecrow: Elijah Kelley
Tin Man: Ne-Yo
The Lion: David Alan Grier
The Wicked Witch of the West: Mary J. Blige
Glinda: Uzo Aduba
The Wiz: Queen Latifah
The Bouncer: Common
Addaperle: Amber Riley
Aunt Em: Stephanie Mills
The Wiz Live! will bow December 3.