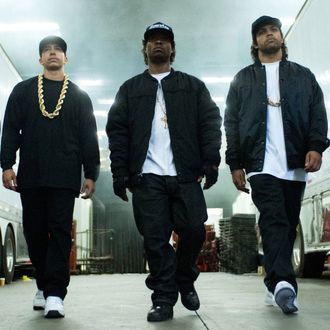 Photo: Universal Pictures
N.W.A biopic Straight Outta Compton held on to the top spot at the domestic box office, making $26.7 million in its second week. This is the 13th time Universal Studios has won the weekend box office in 2015. Compton has made $111.4 million in two weeks. Meanwhile, remaining in second place for the second straight week is Mission: Impossible — Rogue Nation, making $11.7 million for a total of $157.7 million. Tom Cruise has proven that he's deft at holding on to stuff — planes, trains, automobiles, rocks — so it should be no surprise that he's managed to cling to the top two for four straight weeks.
The rest of the domestic box office was all-around disappointing. Sinister 2, the sequel to the Ethan Hawke–starring original (which made more than $77 million on a $3 million budget), came in below expectations with a mediocre $10.6 million. That's less than any of its single-word, low-budget-horror ilk, including Insidious 1, 2, 3, and the original Sinister. The Conjuring made more than $300 million during its theatrical run, but it also had a $25 million budget. Hitman: Agent 47 made $8.2, just meeting meager expectations, while Guy Ritchie's Man From U.N.C.L.E. made $7.4 million, bringing its lackluster two-week total to $26.6 million. American Ultra, starring the bankable Jesse Eisenberg and Kristen Stewart, floundered with $5.6 million, presumably killing plans to start a franchise. Noah Baumbach's uproarious Mistress America had a fine second weekend, however, making $237,000.
The surprising highlight of the weekend was Terminator Genisys, which belly flopped hard Stateside with a $27 million opening weekend and a paltry $89 million total before disappearing. But in China, where Arnold Schwarzenegger is still a huge draw, the film made $27.4 million on its first day, more than its three-day opening in America. That's the fourth biggest debut for a U.S. movie ever in China, behind Transformers 2 ($30 million), Avengers 2 ($33.9 million), and Furious 7 ($63 million). Terminator Genisys has now made more than $353 million worldwide.