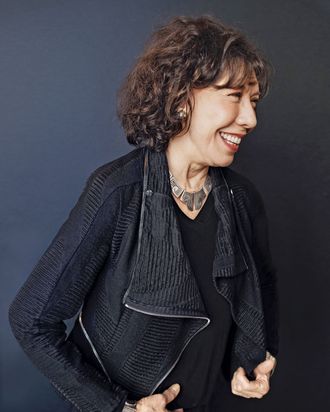 "She's got her own puppet in the house. I try to sell her on that all the time."
Photo: Henny Garfunkel/Redux
"These are llamas," says Lily Tomlin, holding up two furry toy replicas for inspection. "Or they might be alpacas. I can't tell the difference." It's a hot August morning, and Tomlin is giving me a tour of her office — a cozy, cluttered, ground-level apartment on a sleepy street in Studio City. "I don't put much stock in memorabilia," she warns. Not even the oversize rocking chair, official domain of Edith Ann, Tomlin's famous, philosophizing 5-year-old from Rowan & Martin's Laugh-In? "Oh, that's at home," she assures me. Tomlin decides the little figurines are alpacas, most likely a keepsake from her desk on The West Wing, where her character, a former alpaca farmer, served as executive assistant to Martin Sheen's President Bartlet for four and a half seasons.
We're in the ad hoc conference room, the same one where Tomlin and the director Paul Weitz sat to discuss her title role in this month's Grandma, which premiered to enthusiastic reviews at Sundance in January. "I've never really been the star of a movie," says Tomlin. She's accustomed to sharing the lead in films like I ♥ Huckabees and a slew of '80s movies that involved au courant plots of the era: mistaken identity (Big Business), body swapping (All of Me), shrinking (The Incredible Shrinking Woman). "I don't think I was ever offered anything like this before, but I felt like I understood the character."
No doubt because Weitz wrote the part of Elle, a semi-retired gay professor and poet, with Tomlin in mind after working with her in 2013's Admission. It's not uncommon for Tomlin, 75, to field offers that are contoured especially for her. Lately, this means she'll be a feminist who smokes pot and wears a loose-fitting garment like a caftan, a composite that has a history: In 1980's 9 to 5, Tomlin gets high, takes revenge against a misogynist boss, and stalks around the office in some type of lovely silk business kimono (it's not here, either).
Recently, the Netflix series Grace and Frankie reunited Tomlin with her pal and 9 to 5 co-star Jane Fonda for their first big project in 35 years. They play frenemies who move in together after their newly out husbands (Sam Waterston and Martin Sheen) announce plans to marry. The free-spirited Frankie is classic Tomlin: Limber and wacky, she may as well be blowing Edith Ann's trademark raspberries at Fonda's uptight Grace. But the actress insists art is not imitating life. "I don't really smoke pot," she says. "I had some great pot in Boston once, and I walked around the Common and laughed and laughed, but I can never be sure I'm going to get the same kind again."
In January, Fonda blogged about the two of them rolling around Park City, Utah, like a modern-day Lucy and Ethel, and in one post mentioned that Tomlin was prone to forgetting things in her hotel room — which does sound a little like Frankie. "Why, that woman!" Tomlin says. "Well, Fonda's very organized. She has that in common with Grace. I'm spontaneous. Or maybe just lazy." Why didn't they create more projects together after 9 to 5, I wonder, especially in the years when great roles weren't always being offered? "We like being together. Maybe if we'd been more alike in terms of our styles, like Amy [Poehler] and Tina [Fey]. But times are different."
Grandma once again finds Tomlin's character partaking, but otherwise Elle is a nuanced character, a pensive woman who deploys humor as often as she does anger while driving around Los Angeles, trying to scrounge up money for her granddaughter's abortion. "That's my car!" says Tomlin proudly of the film's vehicle of choice: a '55 Dodge Royal Lancer, currently parked outside. "I named her Dora after Dora Bannister, the lush in Wicked Woman. I love bad-women movies."
When Tomlin falls under the spell of something, she chooses a curious phrasing — or at least she used to. She used to say not that she was obsessed with Breakfast at Tiffany's but that she had "Audrey Hepburn damage." I bring this up and she bursts out laughing. "It just means being completely influenced," she says. "Going too far in one direction." She considers digging up a photo of herself in which she posed like Brigitte Bardot in … And God Created Woman, sprawled across the hood of a car, but the file cabinets prove too intimidating. "Of course, she was probably on an Aston Martin," recalls the Detroit native, "and I threw myself across a '52 Chrysler."
Perhaps now, several decades on, there's such a thing as Lily Tomlin damage? Lorne Michaels once compared Kristen Wiig and her oeuvre of oddball characters to Tomlin. "No," she replies immediately. "I love Kristen very much, but people get imprinted by people with a more romantic image than mine."
Tomlin consistently deflects intimations of her relevance, and she outright dismisses the idea of herself as an icon. "I don't take it to heart, because I know these things too shall pass," she says. "Whatever admiration people are operating under, it will drift away." We look to the corner of the room where, among Tomlin's multiple Ms.-magazine covers, hangs a framed copy of the 1977 issue of Time that called her the "new queen of comedy." Tomlin had actually been offered the cover two years prior — on the condition that she come out of the closet for it. She declined. "I was very active in gay issues and most people knew I was gay, but they didn't make a big deal out of it," she says.
By that point, Tomlin had made no secret of living with her collaborator and partner (and, since 2013, wife), Jane Wagner, who wrote Tomlin's memorable one-woman show The Search for Signs of Intelligent Life in the Universe, as well as "Juke and Opal," the controversial sketch she did in 1973 with Richard Pryor, which President Obama singled out for praise at the 2014 Kennedy Center Honors reception. "I don't know how [that Time cover] would have changed what I did," says Tomlin. "I might have been a heroine to a small group, but then I would have to slog through the rejection and everything to get back to where I left off."
She roams around the table to a shelf containing a makeshift "Lily" award. It features a rocking chair with a film reel that, according to Tomlin, was created by a group of gay women in a Florida trailer park who make amateur films. Tomlin has even participated, sometimes dropping by to share a fresh bit from Ernestine, the snortling bureaucrat telephone-operator character Tomlin made famous in the 1970s. ("She works for a health-insurance company now," Tomlin explains.) We notice that the Grammy she won for her 1971 Ernestine album This Is a Recording is broken, its horn resting bell-side down. "I'll have to get that fixed," she says, sounding not terribly fussed. She examines a large novelty plaque. "What's this a key to? Oh, Provincetown."
Tomlin is just as interested in what isn't here. She wonders about a script that Wagner wrote, an adaptation of Cynthia Buchanan's 1972 novel Maiden: The author had sent her novel directly to them, but they couldn't get the project off the ground at Columbia. "I feel so badly for somebody to get involved with me and I don't get their project done," she says, frowning.
She picks up a photo of herself with her former Laugh-In colleagues. "He's dead," she says, pointing to Henry Gibson, then to Alan Sues: "He's dead. That's Gary Owens — he just died a couple of months ago." She sighs: "Oh, God." Suddenly I worry that it was insensitive to ask Tomlin to comb through the past first thing on a Monday.
She brightens when the subject returns to Wagner. "I want her to write me another show," she says. "It doesn't even have to be for me. But she's got her own puppet in the house. I try to sell her on that all the time." The two appear inseparable — they even have joint Twitter and Facebook accounts. When the Supreme Court ruled on gay marriage, they shared one collective thought, without any rainbow filters. "In some ways I yearn for suppression, because the taboo made things more exciting," says Tomlin. She smiles and quickly adds, "I mean that facetiously. I'm grateful for progress."
*This article appears in the August 10, 2015 issue of New York Magazine.