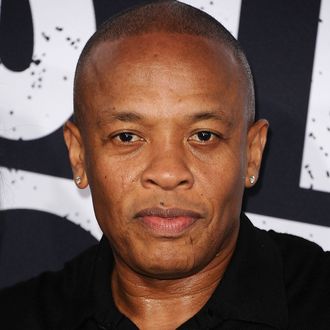 Dr. Dre.
Photo: Jason LaVeris/Getty Images
Following Dr. Dre's first public apology to "the women [he's] hurt," both Dee Barnes and his ex-girlfriend Michel'le have issued their own separate responses. On Monday, Barnes published another essay on Gawker, in which she receives Dre's apology with a mix of applause and skepticism. "Brave, Andre. Humility is true self-knowledge," her essay begins. She continues: "I hope he meant it. I hope he represents these words in his life. I hope that after all these years, he really is a changed man." She later questions the timing of the apology, but notes that his motivations shouldn't trivialize what was said:
I understand people's apprehension. The stakes are high now and money talks, loud. Is this a PR move by Universal, which released Straight Outta Compton? After all, the film just crossed the $100 million mark its second weekend in theaters. Is it damage control by Apple, which can no longer ignore that if you take the "Beats by Dre" logo and remove the "S," you get a double entendre describing several woman he just apologized to? Is Dre himself really remorseful or just saving face? To me, the answers to these questions matter less than the fact that Dre stepped up and performed his social responsibility by finally taking accountability for his actions. Who cares why he apologized? The point is that he did.
She also calls an early draft of Straight Outta Compton's script that insinuated Barnes threw a drink at Dr. Dre prior to the attack "a fabrication intended to excuse his actions."
Michel'le, speaking to BBC Radio 5, says she found Dre's apology insincere. "I didn't ask for a public apology, and I think if he is going to apologize, he should do it individually," she says. "To just group us like we are nothing and nobody — I just don't think it's sincere. Treat us like we have names." Like Barnes, Michel'le also pointed out the convenient timing of Dre's apology: "He's selling a movie. I just think it's good PR at the moment."