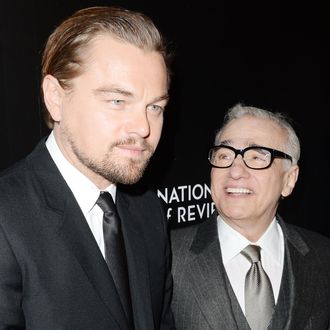 DiCaprio, Scorsese.
Photo: Andrew H. Walker/Getty Images
Leonardo DiCaprio's longtime desire to play the storied 19th-century slaughterer Dr. H.H. Holmes will finally be realized, and Deadline reports that he'll do so with Martin Scorsese behind the camera. The project, titled Devil in the White City, is based on Erik Larson's similarly titled nonfiction book that focused on Holmes's harrowing exploits, in the context of the 1893 Chicago World's Fair. The movie adaptation has been in development for years; it's being rescued by Paramount, which nabbed the property in a bidding war after salivating over big-screen writer Billy Ray's script ideas. DiCaprio's turn as Holmes will reportedly be complemented by the World's Fair's producer-architect, who employs and unknowingly enables DiCaprio's character in his descent into depravity.
Holmes has historically been dubbed America's first serial killer because he built a death trap of a hotel, known notoriously as the "Murder Castle" (with windowless rooms, dead-end hallways, and gas jets, among other oddities), for unsuspecting World's Fair visitors. "'I was born with the devil in me,' [Holmes] wrote. 'I could not help the fact that I was a murderer, no more than the poet can help the inspiration to sing,'" according to Larson's book. When Holmes was later caught, he admitted to killing 27 people, but the real number is suspected to be much larger. The DiCaprio-Scorsese project will be the sixth collaboration between the big-time leading man and the helmer; two of their prior films (Wolf of Wall Street and The Aviator) resulted in Oscar acting nominations for DiCaprio. The chance to play — without it being overly hokey — a wicked villain with a penchant for lies and skeletons sounds like a promising deviation that should at least put the Oscar-less DiCaprio back in Oscar-nomination purgatory (he's also appearing in Alejandro González Iñárritu's December-bound Revenant). Other logistics and personnel info for Devil are still under wraps.