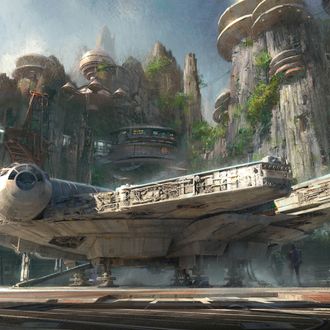 Photo: Handout/Disney Enterprises, Inc./Lucasfilm Ltd
Have you ever wanted to visit the world of Star Wars? As in actually physically go to Mos Eisley and have aliens serve you drinks, and get behind the steering apparatus of the Millennium Falcon? If so, Disney is opening two Star Wars–themed lands, one in Disneyland and one in Disney World.
Speaking at the D23 expo in Anaheim, Walt Disney Company chairman and CEO Bob Iger told a crowd of 8,000 fans:
I am thrilled to announce the next chapter in the long and exciting history between Disney Parks and Star Wars. We are creating a jaw-dropping new world that represents our largest single themed land expansion ever.  These new lands at Disneyland and Walt Disney World will transport guests to a whole new Star Wars planet, including an epic Star Wars adventure that puts you in the middle of a climactic battle between the First Order and the Resistance.
At 14 acres each, these will be Disney's largest single-themed land expansions. Vulture's own Kyle Buchanan reports from D23 that "one ride at Star Wars land will let you 'take the controls' of the Millennium Falcon, the other is set during Force Awakens' climax." (Let's hope the doors of the Falcon will be safer than the ones on the Force Awakens set, which crushed Harrison Ford's ankle last summer.)
You can see early concept art for the theme parks below.