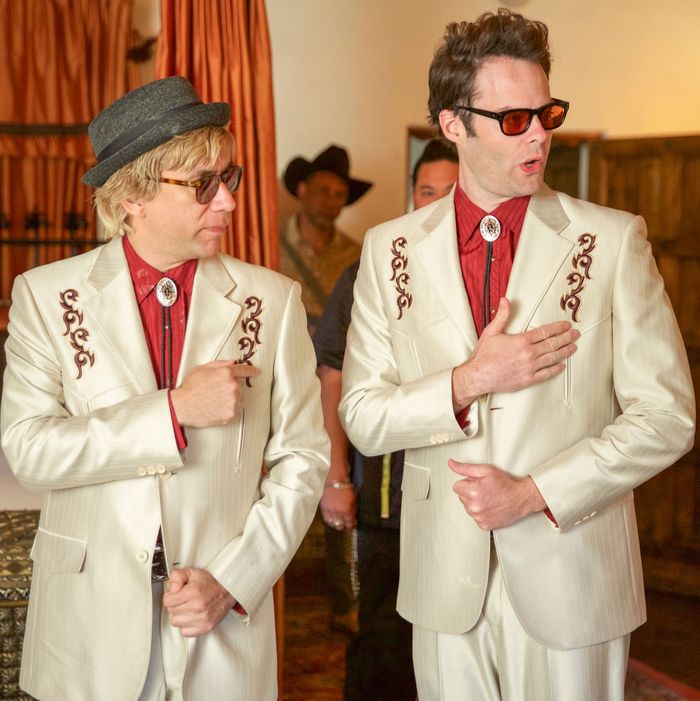 Fred Armisen (left) and Bill Hader in Documentary Now.
Photo: Tyler Golden/IFC
Bill Hader can't stop giggling.
It's early April, and though there's plenty of sun outside, the warehouse where Documentary Now is filming in downtown Los Angeles is dim and chilly. The space has been transformed into a makeshift prison, all the better for filming a mockumentary-style episode of television modeled after The Thin Blue Line. It's nothing specifically in the script, written by John Mulaney, that has Hader breaking (which alone is a thing to witness). It's Fred Armisen's banana. Armisen enters a room carrying it and, when asked about it, explains that it's from that morning. Later, Hader would remark on the moment, trying to explain the humor. "He said it's from this morning instead of breakfast. If you're in comedy, that's a thing that would make you laugh. If I went to a comedian and I said, 'Fred said it's from this morning,' a comedian would laugh, but if I said it to my sister, she'd say, "… Okay?"
Documentary Now, a six-episode IFC series from Seth Meyers, Hader, and Armisen, which premieres tonight, showcases a wide variety of documentary styles, including an homage to Grey Gardens alongside a parody of The Thin Blue Line. Hader and Armisen act; Helen Mirren hosts. Each episode, while mocking the source material, is also a meticulous re-creation of it, a striking feat in light of how busy the three main players are. Meyers, of course, is occupied primarily with writing and hosting Late Night With Seth Meyers, while Hader's time is consumed with his film career, including this summer's Trainwreck and the 2016 adaptation of Roald Dahl's The BFG. But it may be Armisen whose work life is most hectic: His other IFC show, Portlandia, has been green-lit for seasons six and seven, while his day job has him leading Late Night's house band, The 8G Band.
"Sandy Passage," the Grey Gardens parody written by Seth Meyers.
But it's that idea of creating comedy for comedians that defines the series more than anything. "People will say, 'Oh, this is a show for people who've seen the documentaries,' and I'm always like, 'It's a show for me and Fred and Seth [Meyers] and Rhys [Thomas].' It really is," Hader opines. "This solely is a show just for us." While parody may be a sound business strategy when aping known quantities like the work of Errol Morris, it remains to be seen whether that same strategy will work with the more obscure fare Documentary Now takes on, like the 1922 silent documentary Nanook of the North. Not that the powerful trio needs to be concerned with such matters — this week, IFC signaled their confidence in the series by renewing it for two additional seasons, the first time the network has done so before a show's debut.
Regardless, Armisen isn't hugely concerned with making sense to a general public. "For me, I have an idea, and I always wish for it to be enough. I can never think of an ending, ever," he says. "I always wish for it to be enough, but then everyone tells me it's not enough. I'm like, 'I don't know. Isn't this fine? The little story that happens?'" He shrugs it off. "My whole career has been [people saying], 'I don't get it.' I'm not saying people don't get me, but confusion works pretty well for me."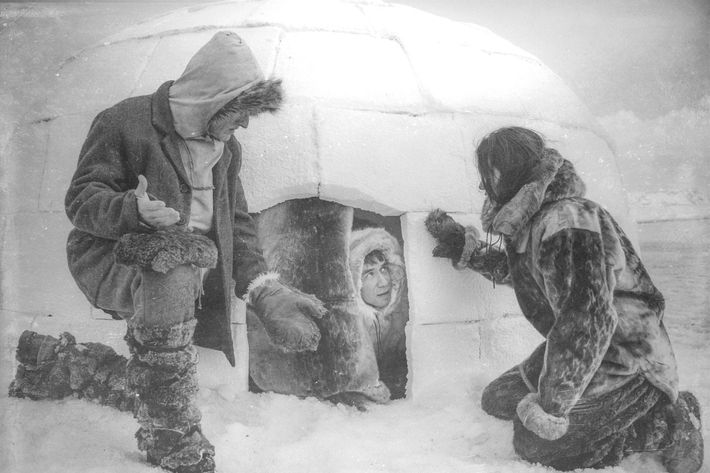 And even if Armisen's audiences don't always get his work, his collaborators do. "Fred can perform incredibly, but he also writes easily as well. When I was at Saturday Night Live with these guys, I was envious because I can't sit down and do that," Hader says. His praise for co-creator Meyers goes further. "Seth is such an amazing writer," Hader says, describing "Sandy Passage," the Grey Gardens homage and the first episode of the series. "There's no improv in that; it's word-perfect, his script." Meyers, despite not acting in the series, is a key contributor to the show. "I think he's up there with the great comedy writers," Hader says. Armisen deadpans, "He's not sitting here with us, which is why we can say these things."
Meyers shows up a few beats later. "We had such a good opportunity to talk about ISIS or the Taliban or something," Armisen shifts gears, as he sees him approaching. Hader jumps in exaggeratedly: "I think the three of us agree that ISIS" … "Has some good points," Armisen concludes. Soon the three men dissolve into their own genial cross-talk about college film classes and puffy winter coats and moms who reference Nanook. It's inside chatter, but entertaining inside chatter from the outside. As far as Documentary Now is concerned for them, that's enough.