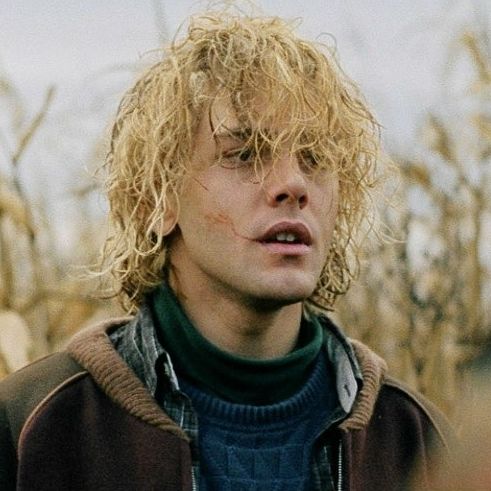 The enfant terrible of Quebecois cinema Xavier Dolan has made a name for himself among critics and festival audiences with such stylized, emotionally extravagant films as the epic trans romance Laurence Anyways and the in-your-face family drama Mommy. But it turns out he can direct a mean thriller as well. Well, sort of. Tom at the Farm, adapted by Dolan and Michel Marc Bouchard from Bouchard's own play, has the outward trappings of a genre piece. And as such, it's fairly suspenseful. But at heart, it's still very much an Xavier Dolan film — ragged, explosive, and often moving.
The story concerns Tom (Dolan, looking like he stole Meg Ryan's hair from City of Angels), who arrives at the rural family home of his deceased boyfriend Guillaume to attend a memorial service. But he learns that Guillaume's mom, Agathe (Lise Roy), doesn't know that her son was gay; she thinks he had a girlfriend and that Tom was just a close pal. Her other son, Francis (Pierre-Yves Cardinal), a strapping brute and a homophobe, knows the truth and doesn't want his mom to find out. In the film's most touching couple of scenes, Tom, who had been invited to eulogize Guillaume, keeps quiet during the service, after having realized he couldn't say what he came to say; later, he tries to utter some version of his intended words in private, pretending that they're what Guillaume's girlfriend might have said were she there. All throughout these scenes, Francis keeps a close eye on Tom, but there's more than a hint of latent attraction here as well: Francis's threats are always uttered in close quarters, with an uneasy mix of intimacy and aggression.
That uncertainty is where Tom at the Farm draws much of its suspense. There's no mystery here, no family secrets to unearth or startling climax to build toward; a revelation of sorts at the end is more a confirmation than a twist. Instead, what fascinates us is whether Tom will survive his days in the country without revealing to Agathe the true nature of her son's sexuality, and before Francis gives in to his base urges — and whether those base urges are fundamentally sexual, or violent, or some combination of both. That Tom keeps finding himself unable to leave, despite the fact that his presence there is causing him physical harm, hints at a dark attraction within him as well.
But oddly enough, Tom at the Farm avoids the typical narrative games of self-preservation. Dolan often keeps the camera fixed on himself (nobody shoots Xavier Dolan like Xavier Dolan), as Tom drives around, the push-pull of attraction and repulsion, fear and desire, playing on his face. His conflict is palpable, as he keeps both his emotions and the truth at bay. That makes for a surprisingly gripping film: an anti-thriller thriller about preserving secrets rather than unearthing them, about repressing desires rather than revealing them.