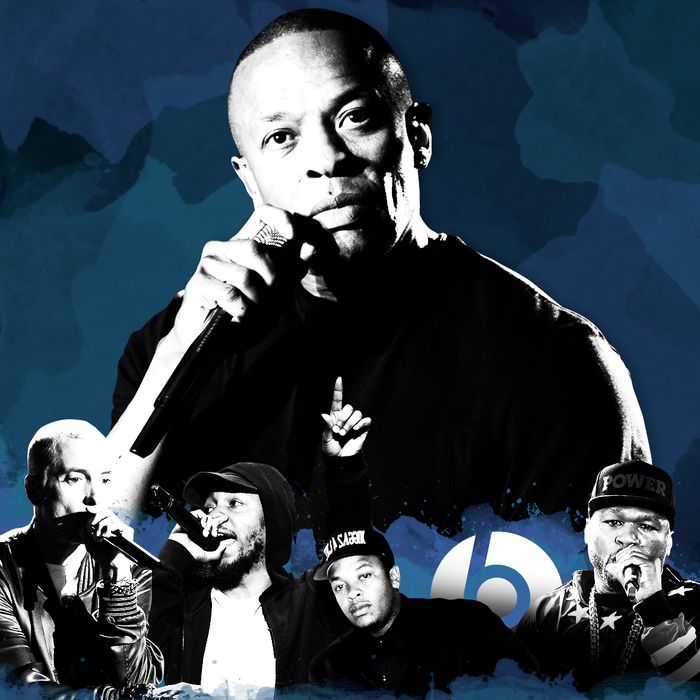 Photo: Illustration: Maya Robinson
That Compton: A Soundtrack, Dr. Dre's third solo album in 23 years and first after a 16-year dry spell, marks a departure from his prior work should come as no surprise. But what took fans and critics aback when he dropped the record last week was the nature of that departure. In the place of the bronzed hip-hop legend's tried-and-true blueprints are busy, eclectic tracks and improbably precise vocals, edited for the era and formatted to fit your screen. Dre shirked off the blurred-out Nikes and inexplicable White Sox hats, stepping squarely into the present day with an arsenal of flows that would put upstarts half his age to shame. The Chronic and 2001 are packed with funk, menace, and decade-defining singles, but Compton isn't a linear continuation. As evidenced on the album's heartbreaking centerpiece, "Animals," Dre is bringing his catalogue full circle. You are now about to witness the strength of street knowledge.
All of which is great — but why did it take so long? Dre's protégés promised a famously unreleased LP, Detox, in 2004, 2005, and nearly every year since, only for it to be scrapped altogether. It isn't hard to imagine that those who worked on the album came to see it as a sort of fool's errand. At his best — "Fuck Wit Dre Day" or 2001 highlight "The Watcher," for example — Andre Young has been a gripping emcee, but not a particularly nimble one. His production steadily evolved and adapted, but "Forgot About Dre" and "The Recipe," released 13 years apart, find the Doc doing passable impressions of those songs' leads, Eminem and Kendrick Lamar respectively. The rappers who appear alongside Dre and those who help to write his verses (those groups sometimes intersect) are tasked with upholding one of rap's great legacies, but it's hard to tell from the auxiliary studio what will and won't stick.
It's a testament to Dre's vision that Compton is not only remarkably good, but prescient. The bloated list of contributors is, for once, a badge of honor instead of an asterisk. You'll find plenty of radio call-ins, Twitter tirades, undergraduate essays, and, yes, songs about how authenticity is everything in hip-hop. But Dre has always known when to peek in from behind the fourth wall. After all, the lines "We started this gangsta shit" and "I ain't a thug, how much Tupac in you you got?" are taken from the same song. Through sea shifts in hip-hop and fundamental changes in how music gets to the market, the mastermind behind N.W.A and Eminem has persevered. Fans have embraced him continually as an innovator behind the boards and a curator in the booth.
And so, to help explain why he's so essential to rap history, we've put together a ranking of Dr. Dre's greatest contributions to the genre — 16, to be exact, to mark the years we had to wait for a new album. The fact that many entries here are the works of others, during crucial points in their careers, speaks volumes about the legacy Dre has been angling to have since splitting off from N.W.A.
16. As If I Was a Mayor: "Keep Their Heads Ringin'"
For his third top-ten single in as many years, Dre decided to put an exclamation point on G-funk. The year was 1995, and the spotlight he had wrestled from New York was slipping back. Lo-fi, skeletal beats were back en vogue, but Dre's contribution to the Friday soundtrack carries his signature style to its natural end point, regrettable "ass-tronaut" line and all. Is Friday the only thing more durable than Dre himself? 
15. Hit One Switch: The Game's "How We Do"
The Game is not a bad rapper. In fact, he's been brilliant, dipping into regret-tinged hyperrealism and quietly racking up one of the better singles catalogues of the 2000s. But a savior he is not. So when he briefly filled that role in the mid-2000s, it was through sheer force of will — and a grip of untouchable beats. He planned to call his Aftermath debut N.W.A, Vol. 1, but Eazy-E's widow balked at the idea. Though fellow Dre protégé 50 Cent would later claim that the early sessions for his sophomore album, The Massacre, were cribbed for Game's debut, the focus was once again squarely on Compton. Remember when you wanted Lamborghini doors on your Ford Focus? 
14. Coming Up Like a Fat Rat: "Deep Cover" (a.k.a. "187")
How much police code do you know? "Deep Cover" is the first piece of recorded work Dre dropped after leaving N.W.A. Prior to the popularization of "187" as a coded threat, the guest credited as Snoop Doggy Dogg had never appeared on wax. But despite coming so early in Dre's solo career, "Deep Cover" has all the hallmarks of his best '90s material, backbreaking bass line and sneering piano keys included. No one could have reasonably predicted what would come next, but you'd have to be a sucker to look away.
13. Let 'Em Hate and Watch the Money Pile Up: 50 Cent's "In Da Club"
If it were written into a film, you would't believe it: Aspiring rapper is shot nine times outside of his grandmother's house, gets dropped from his record label, has to flee to Canada. He records a slew of mixtape material and, aided in part by the slur the bullets shaped, catches the ear of the industry's biggest stars, and drops a record-shattering debut. 50 Cent's Get Rich or Die Trying is anchored by the Dre-produced "In Da Club," a pulsing, undeniable monster of a song that cemented 50 as the world's foremost expert in hook science. Now, when he's not catching lawsuits over leaked sex tapes, 50's following in Dre's footsteps as an audio-equipment mogul.
12. Took Me Mighty Long to Get Here: Kendrick Lamar's "Look Out for Detox"
As a point of disclosure, Dr. Dre had no hand in the final version of this song. In one of the weirder historical footnotes, this leaked promotional track was actually produced by the actor Donald Glover under his hip-hop alias Childish Gambino. Still, it came together under the Detox banner, one that was so powerful it could catapult people to stardom just by association. "Look Out for Detox" is a gripping bit of technical rapping, one that would be instrumental in building Kendrick's buzz back when his name was relatively unknown outside of certain crevices of the internet and the writers' rooms for Detox and other high-profile rap albums. It was with Dre's co-sign that the younger Compton native took the torch for the left coast. Dre executive-produced Kendrick's universally acclaimed good kid, m.A.A.d. city and its instant-classic follow-up To Pimp a Butterfly, and while he didn't craft any of the beats on those LPs, he rapped on good kid's Just Blaze–produced victory lap and dropped wisdom on fame via voice mail on Butterfly opener "Wesley's Theory."
11. Murder Material, Serial Scratched Out: Nas's "Nas Is Coming"
"People were talking about this East Coast–West Coast shit but Dre called me and was like, 'I got this record for you.' He played the sample over the phone for me and I went crazy. We just wanted to show that a New York rapper could rap on a Dr. Dre beat and it's all love. That was our position on that one." —Nas
"Nas Is Coming," from Nas's critically divisive 1996 sophomore album It Was Written, marked the first time Dre had worked with a premier New York artist for their own album. Though Dre's later work with Nas — particularly the doomed Firm album — wouldn't hold up, the meeting of East and West on "Nas Is Coming" opened a lane that would yield classic songs with Jay Z, Busta Rhymes, and a litany of others.
10. The Next Episode: 2001
It seems quaint now, but the seven-year wait for Dr. Dre's sophomore album was an eternity at the time. Instead of holing up in Hollywood with Snoop, Warren G, and a stack of records, he employed some of the best-known people in hip-hop. Jay Z famously wrote "Still D.R.E.," which is to say nothing of the beef that kept "The Way I Be Pimpin'" (Royce da 5'9") on the cutting-room floor, though the beat would end up being used on "Xxplosive." Dre capitalized on the Eminem fervor, having him rap on "What's the Difference" and lead single "Forgot About Dre" and using his pen on "The Watcher," "Let's Get High," and "Bang Bang." Compared to The Chronic, 2001 was somehow more minimal, yet broader in scope and more cinematic. As the maxim goes, sometimes less is more: See the unassuming but undeniable "Some L.A. N*ggaz."
9. It's in My Nature, I Gotta Curse: Eazy-E's Eazy-Duz-It
If you've made even passing contact with the Rap Internet the last few weeks, you've seen the debate raging over Drake and his authorial input (or lack thereof) into his music. Eazy-E sparked no such debates. The Ruthless Records founder rapped openly about his ghostwriters, but he did it in one of rap's most distinctive voices, and maintained one of the all-time great aesthetics. Eazy-Duz-It is a master class in rap as performance; Dre's beats here are the very best of his pre-Chronic work.
8. To All You Artists Out There: Death Row Records
As successful as N.W.A was once Straight Outta Compton hit, some of the group's principals quickly realized they weren't getting their fair share. Ice Cube was the first to jump ship, heading east to drop two instant-classic albums and a similarly regarded EP. Though the group initially shunned him (and pressed forth with Efil4zaggin), Dre followed shortly thereafter. But instead of moving to New York, he teamed up with his former bodyguard, Marion "Suge" Knight, to co-found Death Row Records. From its inception until Dre's departure in 1996, the label would issue The Chronic, Snoop Dogg's Doggystyle, Tha Dogg Pound's Dogg Food, Tupac's All Eyez on Me, and the soundtracks for Murder Was the Case and Above the Rim.
7. This the Motherfucking Thanks I Get?: Leaving Death Row and Founding Aftermath
"I started to see that Death Row wasn't for me. Because when you put all our lives in jeopardy like that, you don't care about the business. And that's exactly what happened. All our lives were in jeopardy." —Snoop Dogg on Suge Knight's infamous "Come to Death Row" speech at the 1995 Source Awards
Though it was wildly successful for a time, Death Row soon proved itself an uncontrolled substance. Mostly, Suge Knight was a volatile, unpredictable madman who would dangle you off a hotel balcony for your publishing rights. Dre's 1996 departure from Death Row could be seen as the first signal that gangsta rap's commercial dominance was ending. But instead of receding into the background, he immediately founded a new label under Interscope, Aftermath Entertainment, and set about plotting his next move.
6. And We Gave Him the Rolling Stone Cover?: Eminem's "Kill You"
The trouble with Aftermath, though, was that it wasn't quite the runaway success Death Row had been. But by the turn of the century, a white battle rapper from Detroit had turned the imprint into one of the world's most recognizable. Eminem's The Slim Shady LP was a runaway hit with critics and fans (parents and guidance counselors, not so much), and Mr. Mathers had absconded to Amsterdam to work on the follow-up. When Dre played the beat that would become "Kill You" over the phone, Em started writing immediately and came up with what would be the opening salvo on his diamond-selling sophomore set, The Marshall Mathers LP. The negative space was crammed full of cartoon violence and biting social commentary, setting the stage for Eminem to become the biggest pop star in the world.
5. You Should Listen to This Beat Through My Headphones: Beats and Apple
You've seen the headphones on every bus, in every gym locker room. Your friends tried to convert you to Beats Music's streaming app when you were still plodding along with Spotify. Now, with the launch of Apple's draconian (but admittedly pretty excellent) Apple Music platform, you've been forced to come face-to-face with reality: Dr. Dre is corporate. You can try to knock the hustle, but cracking the billion-dollar barrier is nothing to scoff at. And for every stilted TV spot and every AARP magazine cover, consider the fact that the man has the audacity to make you think Dre whenever you hear the word beats.
4. Fresh Out of Jail, California Dreaming: Tupac's "California Love"
No one knows what our record collections would look like if Dre and Tupac got along better. Pac got involved with Death Row just as Dre was leaving, when Suge Knight bailed him out of jail in exchange for his signature on a less-than-desirable record contract. Only two Dre beats made it onto Pac's wildly successful, double-disc Death Row debut, All Eyez on Me. One was the irrepressibly knocking "Can't C Me," and the other was a remix of their single "California Love." The single version was apparently nixed because Dre had wanted to use that beat for his second solo record, and was mad that it had been used for Pac's promotional campaign. In any event, it's one of history's most iconic hip-hop songs, err, "rap tunes."
3. I Don't Give a Fuck About Radio Play: N.W.A's Straight Outta Compton
"The world's most dangerous group" is a hell of a claim, but you'd be hard-pressed to find someone who would disagree — much less to Cube, Dre, or Eazy-E's face. Together with MC Ren and DJ Yella, the West Coast wunderkinds formed N.W.A, the AK-toting, FBI-taunting quintet that turned on a light in one of America's darkest places. Their 1988 debut and its singles (notably the title track and "Fuck Tha Police") made them the first L.A. rap group to be played consistently on MTV. Much has been made about the white, suburban voyeurism that vaulted hip-hop to the top of the pop charts in the early '90s. But Straight Outta Compton is dutiful in its reportage, even if the guys on the cover don't look like role models.
2. Slipping on My Khaki Suit (Which One?): Snoop Dogg's Doggystyle
For a couple of months, Snoop Dogg was the best rapper on the face of the earth. The precocious, camera-shy kid from "Nuthin' But a G Thang" grew up into a master of the form. Doggystyle is full of flows that Snoop perfected, inverted, or altogether invented; sometimes, as on "Gin and Juice," he takes what would otherwise be highly technical cadences and bends them into carefully woven narratives. "Lodi Dodi" is a cover of a song from 1985 that would still sound ahead of its time three years from now. The depth ("Murder Was the Case"), the arrogance ("Gz and Hustlaz"), and the singles ("Who Am I?") are still unmatched.
1. They Found That They Couldn't Handle Us: The Chronic
The Chronic is everything a rap album is supposed to be: mean, funny, soulful, political, hard for your mom to listen to. Just five years earlier, Dre rapped (on his Straight Outta Compton solo cut "Express Yourself"). "I don't smoke weed or cess / 'Cause it's known to give a brother brain damage." But when he broke off from Eazy-E and Jerry Heller, it was as a mustache-twirling villain, always blunted, always on the way from the beach to the block party. You might remember The Chronic for its singles — "Nuthin' But a G Thang" was inescapable, as were "Let Me Ride" and the swaggering Eazy diss "Fuck Wit Dre Day." But there were also clips from news reports on the L.A. riots. More than anything else, Dre's debut married early gangsta rap's commercial sheen with the grit of the neighborhoods from which the genre came. It's thought-provoking, it's reverent, it's carefully constructed. Though it was followed by more than two decades (and counting) of creative and commercial dominance, the starting block is still the masterpiece.