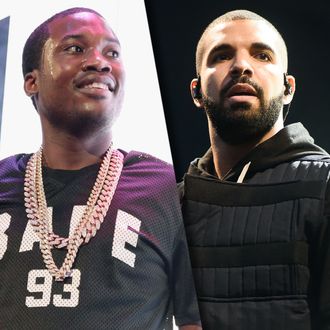 Here we go again.
Photo: Joseph Okpako/Getty and Jerritt Clark/Getty
Because one can only write so many dis tracks, Drake has taken his meaty beef with Meek Mill to the next level by incorporating memes into his live act. Not content to merely perform "Back to Back Freestyle" at OVO Fest in Toronto, Drizzy staged his set to a PowerPoint featuring some of social media's sickest burns. Follow along:
Whataburger was thrilled about the publicity:
The 6 God was even kind enough to bestow on Meek a "Participation Award":
Drake was spotted laughing it off with his homies later:
Earlier in the day, he was caught rehearsing in a shirt bearing the message "Free Meek Mill":
Oh, and Kanye, Pharrell, Future, and Skepta showed up.
"Meek gotta go hard or go home first Class," offered wise entrepreneur 50 Cent. Nicki Minaj's ex will surely respond in kind as soon as he is finished cleaning his teeth.