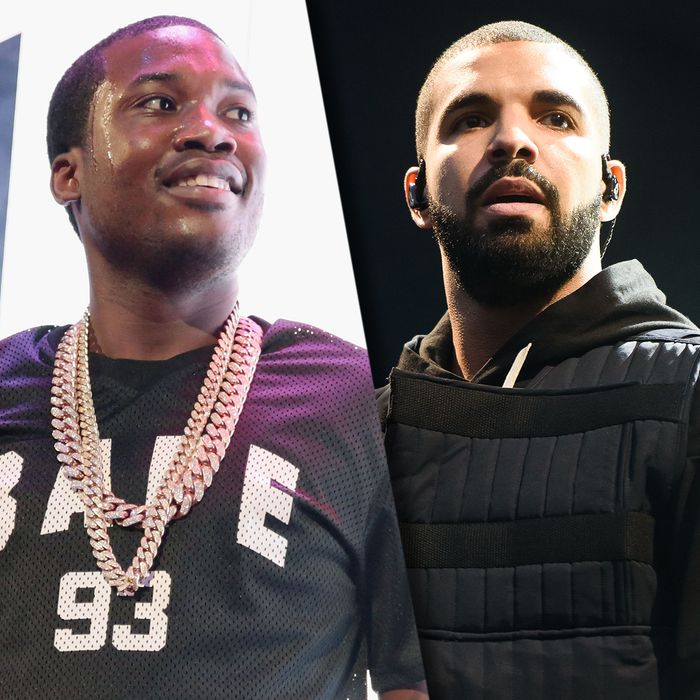 Photo: Joseph Okpako/Getty and Jerritt Clark/Getty
The Drake–Meek Mill beef started out casually enough on Twitter, and then quickly escalated into the unruly mess we have before us. As so often happens in these situations, the fracas has involved more than just the two principal actors: Supporters, innocent bystanders, and assorted digital goods have all become embroiled. Not everybody or everything had the opportunity to choose sides — Nicki Minaj and the battery emoji didn't ask for this, you guys!!! — but they all played a role. Now that this petty circus seems to be winding down, it's a good time to declare victors and assign Ls.
Drake, the Troll: WINNER
Drake has reinvented the rap beef, and he did it by trolling. During OVO Fest, he wore a "Free Meek Mill" shirt. He opened his set with his two new dis tracks, "Charged Up" and "Back to Back," as well as a snippet of an untitled third. Projected behind him were a series of hilarious memes featuring Meek Mill in a wedding dress, Meek Mill checking out of a hotel in a coffin, Meek Mill being insulted by a fast-food chain. Congratulations, Drake, for knowing how the internet works.
More important, every move he's made has distracted us from Meek's original point: Is Drake an authentic rapper, and if not, does he still deserve the praise we've bestowed upon him? Drake knows that authenticity rarely matters on the internet, and used that to his advantage. His OVO set was petty as hell and had nothing to do with Meek's original charges, but it was effective, and everyone talked about it. In 2015, that's all that matters.
Meek Mill, the Instigator: LOSER
By most accounts, Meek Mill looks very bad right now. So why hasn't he thrown the towel in yet? Because you can't start something without finishing it — and as Shea Serrano points out over at Grantland, Meek still has a few cards to play. He can fire off a few hilarious memes of his own. He can clap back with another dis track that's better than the ones we've already heard. (Or, considering "Wanna Know," one that's actually good.)
Most crucial, he can abandon the ghostwriter angle. Ghostwriters are the worst-kept secret in rap, with a few diehard fans holding on to the glory days of cyphers and freestyles. Times have changed. Rap has changed. Songwriting is a collaborative process. Welcome to 2015. Meek needs to move on and pick Drake apart in other ways. He also needs to stop with this.
Quentin Miller, the "Secret" Ghostwriter: LOSER
Meek Mill got mad at Drake for not promoting his new album, Dreams Worth More Than Money, on Twitter. To get back at Drake, he accused him of using Quentin Miller as a ghostwriter on his mixtape IYRTITL. Miller then attempted to clear the air in a humble Tumblr post: "[I'm] not and never will be a 'ghostwriter' for Drake." Instead of taking ownership of his work, he downplayed his talent and contributions. That's not how you get ahead in this world, fam. That's how you get left behind.
Funkmaster Flex, the Old Rap Head: LOSER
The legendary New York DJ has been solidly in Meek Mill's corner from the jump. "If Drake does write everything, everyone owes him an apology," he said on his Hot 97 radio show. "If he doesn't, I go on the record as [saying] he's a fraud." He then aired the Quentin Miller reference track that Drake used for "10 Bandz," one of the best songs on IYRTITL. But is Flex's indignity a genuine response to Drake's perceived lack of talent, or simply an indication that Flex himself is old and out of touch? (It doesn't help that he got caught with egg on his face after he announced the premiere of Meek Mill's dis track and then played a bunch of Future songs. Twitter ate him alive. No rap beefs for old men.)
The Battery Emoji, Weapon No. 1: LOSER
Not very long ago, Drake asked to be paid royalties for our use of #YOLO. Now he has co-opted the battery emoji, the chosen artwork behind his first dis track, "Charged Up," and the scourge of Meek Mill's mentions. The #YOLO thing was bad enough.
Crying Loudly Emoji, Weapon No. 2: LOSER
It is perhaps the most overused emoji on Twitter, and Meek has been leaning on it a lot lately. Translation: I don't know what to say, so I'm just going to put a bunch of these here and hope everyone interprets it as a sign of confidence. No one cries and laughs that hard unless they're hiding something: panic.
Nicki Minaj, the Innocent Bystander: WINNER
Nicki Minaj is Drake's Young Money labelmate and collaborator on cuts like "Only" and "Truffle Butter." But Meek Mill is her boyfriend and an opening act on her Pinkprint tour. By default she's on #TeamMeek, which has some of her fans calling for her to dump him before any of this foolishness rubs off on her spotless reputation as rap's ultimate bad bitch. However, unlike Taylor Swift — who likes to insert herself into conversations in which she really doesn't belong — Minaj has kept quiet because none of this has anything to do with her. Classy.
UV Light for Teeth Whitening, the Hygienic Tool: WINNER
Did you know that it's best to clean your teeth before you talk dirty? Well, Meek Mill does. Even though there is literally no explanation for this photo other than Meek Mill has lost his mind (and FASTSHIPPING!!!), it's always a good idea to keep those pearly whites clean and healthy.
Noah '40' Shebib, the Sidekick: LOSER
The OVO producer came to Drake's defense. "No one is as talented as Drake" he tweeted, as if he were a casual, unbiased observer. Sit down, 40, this isn't your battle.
PowerPoint: WINNER
Drake resurrected the most boring app in the Microsoft Office suite to ether Meek Mill at a concert. A solid PowerPoint presentation is hard to come by, and this one was very effective. Microsoft could certainly use the good press — but shouldn't Drake, who is affiliated with Apple, be a Keynote guy?