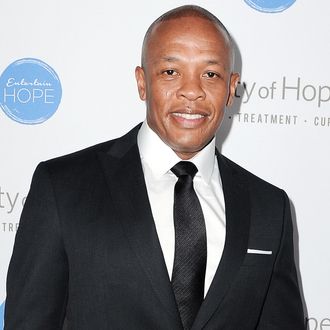 Dr. Dre.
Photo: Angela Weiss/Getty Images
Dr. Dre is in a giving mood. His new album Compton, out tomorrow, is a companion piece inspired by the upcoming N.W.A biopic Straight Outta Compton and a love letter to his hometown, but Dre didn't stop there. Today on Zane Lowe's Beats 1 Radio show, Dre called in to confirm that he and Compton mayor Aja Brown are working on building a community performing-arts center for kids in his hometown funded by royalties he earns from the new album.
"I've been working on something to make this album really special," he told Lowe. "What I've done is reached out to the Compton mayor's office, got in touch with Mayor Aja Brown, and I've decided to donate all of my artist royalties from the sale of this album to help fund a new performing-arts and entertainment facility for the kids in Compton." Mayor Brown was already in the process of working on the center when Dre called. "And I said, 'Boom. This is what we're going to do.'" Listen to the full interview below. Compton debuts on Beats 1 tonight at 9 p.m. EST.