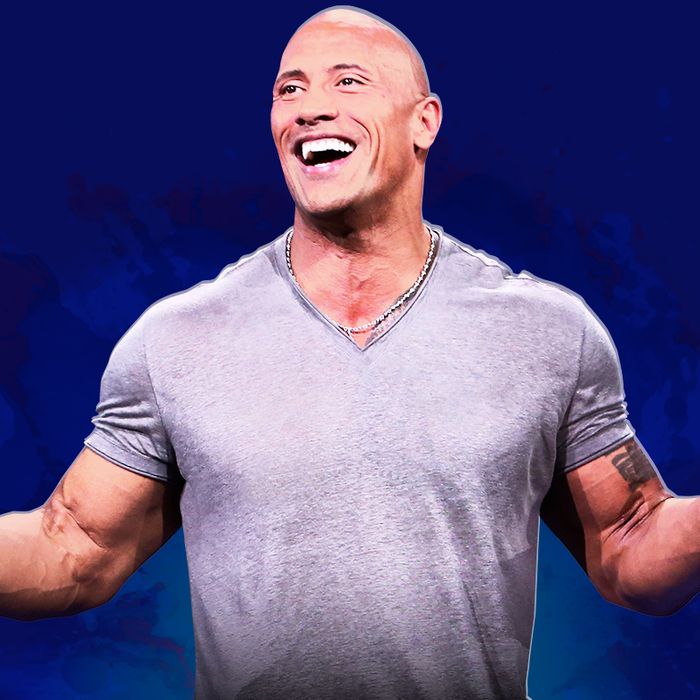 Photo: Illustration by Maya Robinson and Photo by Jesse Grant/Getty Images
Over the past few years, Dwayne Johnson's schedule has been stacked so heavily — from family franchises to action thrillers — that by now, he's earned the title of "Hardest-Working Man in Show Business." Late last week, Disney announced his newest project, a live-action adaptation of the Disneyland ride Jungle Cruise. Between this, his starring role on HBO's Ballers, and several other announced projects already in the works, it seems like a great time to look at the next 30 years of the actor-producer-wrestler's career as it reaches new, unheard-of heights.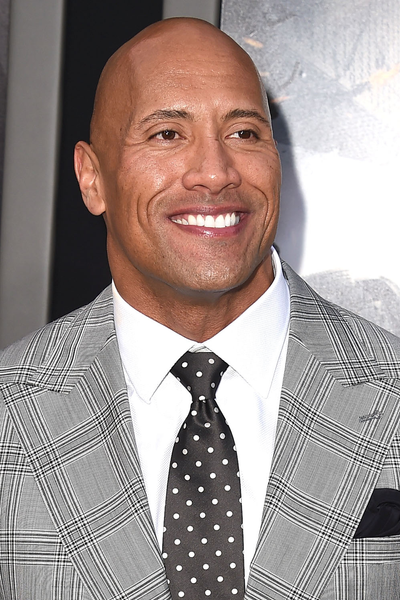 Dwayne Johnson
(I)
Actor | Producer | Director | Soundtrack
With a decade-long career of professional wrestling and action-movie cameos, who would have guessed that Dwayne Douglas Johnson, also known as the Rock, would become one of the richest actors in Hollywood and the governor of California? Born on May 2, 1972, in Hayward, California, to Ata Johnson (née Maivia) and Canadian-born professional wrestler Rocky Johnson, Dwayne Johnson found the spotlight through athletic prowess, first as a sought-after college football player, and, after 1996 (following a serious injury), in the family business: professional wrestling, as the now-legendary WWE champion the Rock. His talent for catchphrase-heavy smack talk ("Lay a smackdown on your candy ass"; "Do you smell what the Rock is cooking?"; etc.) soon led him to Hollywood, where he conquered his initial (admittedly corny) roles in action movies before becoming one of the genre's leading men. In an effort to squeeze comedic mileage out of "The People's Eyebrow," he briefly tried his hand at family films before settling into the kind of dramatic roles that — even to the surprise of the Rock himself — won him Academy recognition. Having conquered rings and screens of varying sizes, Johnson took his career to the next logical place by 2025: politics. He won two terms (on two opposite platforms, no less) as California's governor, and personally saved millions when apocalyptic disaster struck the Golden State. Following his heroic act, Johnson declined a presidential run, stating, "I remain America's emotional Rock in these catastrophic times, but my soul belongs to the stage." At the conclusion of his second term, in 2033, Johnson returned to Hollywood, where he's spent the rest of his days intermittently lighting up the back half of the Fast and the Furious franchise.
Born: Dwayne Douglas Johnson
May 2, 1972 in Hayward, California, USA
19 wins & 45 nominations.
Filmography
Actor | Producer | Soundtrack | Stunts | Miscellaneous Crew | Thanks | Self | Archive footage
Actor (142 credits)
The Golden Boys

(TV Series)

announced

Buddy (rumored)

Johnson signed on to this controversial reboot of The Golden Girls earlier this year in the role of Buddy, the Blanche counterpart in an ensemble cast of older bachelors living together just to hang out and have a good time (and maybe an adventure or two!) before sweet death comes for each of them.

2047

Smackdown: The Dwayne Johnson Story

filming

Great-Grandpa Dwayne (Himself)

After years of humble refusals to allow an official biopic to be made about his life, Johnson finally cedes to J.J. Abrams' incessant begging on one condition: He gets to play himself, telling his own life story in flashbacks.

2046

The Sports Entertainer

Greg "the Heat" Walker

This moving tale about a retired and bitter pro-wrestler who reluctantly trains an up-and-comer in the art of smack talk and fake pile-drives garnered Johnson his fifth Golden Globe and fourth Oscar.

2044

WWE Retirement Smackdown!

(TV Special)

The Rock

Johnson returned to the ring, bringing updated catchphrases ("Can you smell what the Rock's in-home nurse is cooking?") and a rocking chair to smash over his now-geriatric rivals' heads.

2041

Definitely the Fastest & the Ultimate Most Furiousest (Fast & Furious 18)

Luke Hobbs

Returning to the franchise after a nine-film hiatus due to terms in public office and generally just being too busy winning Oscars, Johnson finally becomes the first actor billionaire by reprising the role of Hobbs, now in the throes of personal crisis on his ride towards retirement, for a whopping $85 million.

2040

Toyota Prius

Clint Eastwood

Johnson plays the curiously named protagonist, a former men's-rights activist who forms an unlikely friendship with the women's-studies major next door after catching her trying to stick a #BANMEN sticker on his beloved classic car.

2039

Star Wars Episode XX: Before the Force

Boulder-Body Alien (cameo)

Dude just really wanted to play a Rock again, and frankly, Disney still owed him for Jungle Cruise.

2038

Space Jam 2

Dwayne "the Rock" Johnson (himself)

In this long-awaited sequel, a many-times-retired wrestler helps the Looney Tunes square off against new space invaders, who are all inexplicably obsessed with WWE. John Cena co-stars.

2036

Star Trek: The Final Frontier

Q

Johnson was cast as the infamous omnipotent space being following a gubernatorial interview with New York Magazine, in which he remarked that his favorite role ever had been that of the Champion in an obscure season-six episode of Star Trek: Voyager.

2034

Governor of California

(Not exactly a role)

Elected in a landslide, thanks largely to his overwhelmingly popular smack-talk tactics in gubernatorial debates ("Dwayne Johnson will take you down Know Your Role Boulevard, which is on the corner of Jabroni Drive, and check you directly into the Smackdown Hotel"). Despite initial left-wing concerns of a Schwarzenegger redux, the much-predicted 2027 San Andreas quake hit the year after he entered office, and Governor Johnson saved the state from total destruction with his own two hands, thanks to his ample on-set training in many, many disaster movies — including, helpfully, San Andreas. (Subsequently, sales of the 2015 film went through the roof.) Soon thereafter, as a result, his experience led him to change parties mid-term and advocate for universal health care and student-loan forgiveness. He won a second term in 2030 by an even larger landslide.

2026-2033

Masters of the Universe

(TV Series)

He-Man

The Power (2025)
Greyskull (2025)
Skeletor's Good-bye (2025)
The Musical Episode (2025)
Woman-Hater's Club (2025)
Show all 78 episodes

This casting came about thanks to a MoveOn.org petition insisting that Johnson be cast despite his age. Forever devoted to his fans, he agreed to play the iconic warrior after more than 100,000 fans signed the document. Johnson made $1 million per episode.

2020-2025

The Merchant of Venice Beach

Anthony, a start-up CEO

A Silicon Beach tech venture-capitalist adaptation of The Merchant of Venice, this film earned Johnson two Golden Globes, one for Best Actor in a Drama and one for Best Director, as well as an Oscar for Best Original Score (he acted as composer alongside Trent Reznor and Atticus Ross).

2025

Really, the Fastest 9

Luke Hobbs

Having grown weary of the franchise (and not wanting to totally spoil its fun), Johnson asked screenwriters to write him an ambiguous death scene. Hobbs drives a Formula One car off a cliff in a bid to save his team members from the bomb planted in its engine. When he returns for Ultimate Most Furiousest, it's revealed he'd had an eject button and a parachute the whole time, but no one bothered to check because the cast was too busy sobbing as he valiantly lept to his (supposed) death.

2023

Aladdin

(live-action)

The Genie

After two years of getting back in shape following Over the Rainbow (his affinity for gourmet doughnuts during filming proved a tough habit to kick), Johnson wins Best Supporting Actor at the 2023 Oscars for his role in bringing Robin Williams' Disney Genie to life.

2023

Over the Rainbow

Israel Kamakawiwo'ole

Not only did Johnson knock this inspiring biopic about the Hawaiian music legend out of the park, gaining over 100 pounds for the role, he also completed all his musical performances live, including and especially "Somewhere Over the Rainbow/What a Wonderful World," which earned him a Grammy as well as an Oscar.

2021

The Class-Action Suit

(John Grisham adaptation)

Frank Thompson, Esq.

Despite such lowbrow digs (Grisham? In 2020?), Johnson is nominated for his first Oscar (Best Actor) at the 2021 Academy Awards, for his unflinching portrayal of a litigation attorney dealing with personal crises of his own.

2020

Law Man

Luke Hobbs

At long last, fans finally got the Hobbs spinoff they wanted from the Fast and the Furious franchise. Turns out they wanted it so bad, the film — a prequel origin story in which Luke Hobbs retires from the Marines to join the DSS, where he finds his mysterious, troubled past has come back to haunt him — banked $250 million in its first weekend, more than any other F&F movie to date.

2020

Ballers

(TV Series)

Spencer Strasmore

End Zone (2021)
Final Sale (2021)
Retirement (2021)
Harbors (2021)
Radicalized (2021)
Show all 70 episodes

Johnson wins an Emmy in 2017 for his portrayal of Spencer Strasmore, a retired NFL player turned financial agent. The winning scene: Strasmore gets drunk and tweets a rant about how the patriarchy hurts his clients as much as it does their model girlfriends, causing a full-scale overhaul of pro-sports industries.

2015-2021

Jungle Cruise

Terry the Tour Guide

Jungle Cruise marked the last film of Johnson's career (so far!) to receive less than 60 percent fresh on Rotten Tomatoes. It received 18 percent, through no fault of Johnson's — he did what he could with what he had.

2019

Shazam!

Black Adam

We hear Johnson initially turned this role down, mistaking it for a Kazaam remake, but changed his mind when he discovered it was actually a superhero movie. (Yes, this is happening.) (Also, it's 2045, why hasn't anyone remade Kazaam yet?)

2019

Magic Mike Magnum

Magic Mark

In the third installment of the hit franchise, Johnson plays a new rival for Mike, who coincidentally has a similar nickname but whose routines are all set to Sade songs.

2019

Furious 8

Luke Hobbs

Following Furious 7, in which Hobbs had but a "limited" role, Furious 8 was almost all Hobbs, and featured a cliff-hanger that dovetailed nicely into the much-anticipated Hobbs spinoff fans had been clamoring for since Fast Five.

2017

Rampage

Ralph (giant werewolf)

(Okay, this is only half-real.)

2017

Big Trouble in Little China

Jack Burton

(No, seriously, this is real.)

2017