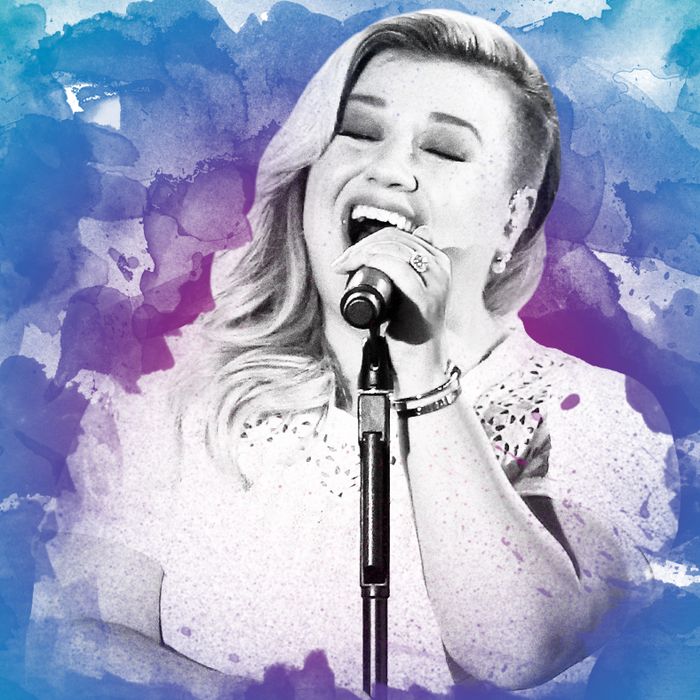 Photo: Illustration: Maya Robinson and Photo by Michael Tran/Getty
Kelly Clarkson started her career performing songs based on what her American Idol fans wanted to hear, and it's a tradition she's made a point to keep alive in her own way as she's progressed. For more than a decade, Clarkson has peppered her shows with fan requests for covers, these days submitted in advance via Twitter. She's reimagined songs based on her deep well of musical knowledge across decades, ranging from the blues, country, jazz, rock, soul, musical theater, and just about any hybrid you can think of.  It's risky business, and she doesn't always nail it, but somehow, when she starts a song off-key or fails to reach a high note, we end up appreciating her just for trying.
Clarkson's live cover-song stride peaked in 2012, during her Stronger and Summer tours, but during her current American run, which culminates later this month, Kelly has tackled some of her finest and most ambitious revisions to date. With that in mind, Vulture thought it was time to rank not just Clarkson's covers from this year's tour, but all of them — every live cover of hers that we could find on YouTube (though there's bound to be more lurking in the shadows; surely, dear reader, you will point those out in the comments). We came up with 96 songs, though we'll be updating this ranking as Clarkson inevitably covers more songs so don't get too married to it. (And it could have been even more: We didn't include her Idol performances because those weren't songs she necessarily chose to cover, and we didn't include the covers that comprise her two Smoakstack Sessions EPs unless they were performed live, as studio and live covers are different beasts altogether.)
96. "Radioactive," Imagine Dragons (2015)
She improves the song, but it was already kind of annoying anyway, so let's call this cover a wash.
95. "Cry Me a River," Justin Timberlake (2012)
The arrangement here isn't her band's best, but Kelly's intro is pretty solid.
94. "Oh! Darling," the Beatles (2012)
It must be mortifying to begin a song in the wrong key, and even after starting over, never to fully recover.

93. "Ain't No Way," Aretha Franklin (2012)
This Aretha number really stretches Clarkson's upper register when she's singing. She doesn't quite make it, but it's about the journey, not the destination, right?
92. "Sunday Morning," Maroon 5 (2015)
When Kelly does yacht-rock.

91. "That I Would Be Good," Alanis Morissette / "Use Somebody," Kings of Leon (2009)
Kelly says this a lot: "These are two of my favorite songs that I wish I had either recorded or written myself." Despite the high praise, this emotional back-to-back cover action is not as strong as many of Clarkson's individual covers in later years.
90. "Killing Me Softly," the Fugees (2015)
A cover of a cover. Neither are as good as the original.

89. "Stay," Lisa Loeb (2012)
A very random request that leaves us scratching our heads, but also kind of enjoying it — a little bit.
88. "Iris," Goo Goo Dolls (2012)
A melodramatic hit from the '90s and Kelly Clarkson is not a winning combo, but she does her best.
87. "If," Janet Jackson (2009)
She sounds off-key, but you've got to give her credit for reminding everyone in the audience that janet. is an incredible album.
86. "We Are Young," fun. (2012)

It's such a diva cliché to take an upbeat pop song, give it the full-on acoustic filter, and load it with riffs and runs. But in this case, it wouldn't have been so corny. Playing it straight turned out to be too stale.
85. "Take a Bow," Madonna (2015)
The band and Kelly don't seem to be on the same page with this one; the timing is off, and it feels rushed. This is especially sad because this is one of the last covers on her 2015 tour, and also one of her favorite Madonna songs.
84. "Walkin' After Midnight," Patsy Cline (2009)
She kills this song on a recorded studio version, but here it sounds like it's still being tinkered with.

83. "Valerie," Amy Winehouse (2015)
It's a slower arrangement, which has us hankering for the full-throated version that Amy Winehouse sang.
82. "Beautiful," Christina Aguilera (2012)
They are very different singers, okay? This isn't a competition.
81. "Fade Into You," Mazzy Star (2012)
Here, Kelly takes an understated song and blows it out, exposing undiscovered potential.
80. "Nothing Compares 2 You," Sinead O'Connor (2012)
Just when you think she's going to oversing, she pulls back and leaves you wanting a little more.
79. "Skyscraper," Demi Lovato (2012)

Have you ever heard a Demi Lovato song and thought you were listening to Kelly Clarkson? Same. Their voices are nearly identical, save for Kelly's range (and "Cool for the Summer," on which Demi does her best Katy Perry impression — more on that song later). One day, these two will duet and our heads will explode.

78. "The Writer," Ellie Goulding (2012)
Sleepy-time music.
77. "Heaven," Bryan Adams (2015)
ALL THE TEARS.
76. "Stand by Your Man," Tammy Wynette (2012)
An album of just Tammy Wynette cover songs? Yes, please.

75. "Jealous," Nick Jonas (2015)
She doesn't quite hit those falsetto notes the way she should, but that smooth, silky style suits her well.

74. "Heavy in Your Arms," Florence and the Machine (2012)
When Kelly brings the drama, she brings it. She really gets into the Florence Welch character on this cover, and never breaks until the song's over.

73. "Love Me Like You Do," Ellie Golding (2015)
You don't really get the feeling that this is one of Kelly Clarkson's favorites — and she has so many! It's a good, straightforward rendition of the song.
72."When It Don't Come Easy," Patty Griffin (2012)
There's something about Patty Griffin's spare, almost mournful original that doesn't play as well to Clarkson's full-bodied voice. The harmonies are a nice touch, though.
71. "Always Be My Baby," Mariah Carey (2012)
There aren't many people we'd recommend try early '90s Mariah, but, hey, points for throwing in that overexcited finger-wag Mariah sometimes does.
70. "Love Takes Time," Mariah Carey (2003)
She doesn't hit every note, but she goes for them ruthlessly. She's fearless no matter what the material, one of her greatest strengths.

69. "Total Eclipse of the Heart," Bonnie Tyler (2012)
There is no cheesier song to cover than "Total Eclipse of the Heart," a fact Kelly jokes about in the song's intro. But Kelly's never had any shame; she was on American Idol, after all. This actually looks like some of the most fun she's ever had doing fan requests. Sometimes you've just gotta give the people want they want — and the people want to scream, "I need you more than ever!"
68. "We Found Love," Rihanna (2012)
Kelly often returns to Rihanna as her cover muse — she has three and a half Rihanna covers on this list — and here, she turns RiRi's Calvin Harris–produced EDM-pop crossover into an arena-rock stomper, as only she can.
67. "You and I," Lady Gaga (2012)
Lady Gaga and Kelly Clarkson have two of modern pop's best voices. And there's just something about Kelly's twangy interpretation (she was in her home state of Texas, after all) of Gaga that hits the right notes.
66. "What About Love," Heart (2012)
Can you believe Kelly and Ann Wilson haven't sang together? Not even American Idol thought to arrange that, the fools! (Though there's always the show's series finale, right?) Kelly was pretty much put on this planet to cover Heart songs.
65. "With a Little Help From My Friends," the Beatles (2015)
That's a well-deserved high-five there at the end.
64. "I Never Loved a Man," Aretha Franklin (2013)
Category is: Cruise headliner realness.
63. "Nobody Love," Tori Kelly (2015)
Ain't nobody cover like you do, Kelly.
62. "I Will Wait," Mumford and Sons (2013)
What if we replaced all of Mumford's sons with just one Clarkson? (Is that an option?)

61. "The Heart Wants What It Wants," Selena Gomez (2015)
With Selena's "Good for You" rising on the charts, you might've expected Kelly to cover that song first. But instead, she went for another one of Selena's newer slow-burns, "The Heart Wants What It Wants." It's a pretty faithful cover — like so many of Kelly's fan requests — but as usual, she sells the emotion better than the original singer does.
60. "No One Else on Earth," Wynonna Judd (2015)
Clarkson's known this song since she was 10, and she sings it that way; her childhood self would be (mostly) proud.

59. "Ain't Going Down," feat. Trisha Yearwood an Garth Brooks (2013)
Beware of singing next to Kelly Clarkson if you don't have a voice that cuts through the air like a steamboat.
58. "Walk Away," Kelly Clarkson / "Uptown Funk," Mark Ronson feat. Bruno Mars (2015)
Extra points for doing a mash-up as a way to jazz up an original she's been singing for more than a decade.
57. "Bye Bye Bye," *N Sync (2015)
'90s-throwback time!
56. "Habits," Tove Lo (2015)
Here's Kelly Clarkson keeping Tove Lo "family" — hence, "sexy" clubs instead of "sex clubs." She knows her brand!
55. "Stay With Me," Sam Smith (2014)
Damn, girl! Don't hemorrhage your vocal cords, Kelly.
54. "Off to the Races," Lana Del Rey (2015)
There is less moaning and swaying in this. It works.

53. "Someone Like You," Adele (2012)
On her 2012 Stronger Tour, it seems every fan wanted Kelly to sing Adele's then-huge hit, "Someone Like You." Clarkson avoided it because she knew that song was so inimitably tied to Adele's voice, the comparisons would be rough. But she relents in Brisbane. It's a good as you expect any Kelly Clarkson cover to be, which is pretty damn good.
52. "Cryin'," Aerosmith (2006)
Diva mode, everybody.
51. "Can't Help Falling in Love," Elvis Presley (2015)
Kelly really commits to this tender Elvis torch song and, in the immortal words of many a reality-show judge, "makes it her own."
50. "Cold Desert," Kings of Leon (2012)
Kelly mashed up KOL's "Use Somebody" with Alanis Morissette, but here she tackles one of the band's non-singles. And, big surprise, she does Caleb Followill's aching words justice.
49. "Somebody That I Used to Know," Gotye (2012)
"Somebody That I Used to Know" is one of those quintessential karaoke jams that begs to be covered, but a lot of people sound tragic doing it. Not Kelly. Never Kelly.

48. "My Country, Tis of Thee," Samuel Francis Smith (2013)
Clarkson is always going to be a dependable choice for "big moments" (Also, duh: Jennifer Hudson), and President Obama's second inauguration was one of them. You can't make it "about you," but you can also kind of actually make it about you, because this is a big deal.
47. "Hit Me With Your Best Shot," Pat Benatar (2012)
You have to wonder how old Kelly's fans are. Given that she found fame in 2002 on a show aimed at teens, most of whom are now in their mid-to-late 20s, it's funny how many of these fan requests skew a generation (or two) older than you'd think. Then again, Pat Benatar is a timeless treasure, so maybe her fans aren't just remembering their happy-hour karaoke machine when they submit these requests. Whatever the case, you can't go wrong with "Hit Me With Your Best Shot," and Kelly certainly doesn't.

46. "You're Still the One," Shania Twain (2012)
When you're in Canada, and one of your guitarists, Cory Churko, used to play for Shania Twain, then you sing a Shania song. Those are the rules. Kelly probably couldn't have picked a better Shania song to cover; there was just no way this could go wrong.
45. "Hell on Heels," Pistol Annies (2012)

Why, yes, Kelly Clarkson does have enough voice to cover three women at the same damn time.

44. "Call Me Maybe," Carly Rae Jepsen (2012)
"Call Me Maybe" ran the summer of 2012, so of course Kelly had to cover it then. She prefaced it with unsolicited (but very solid) advice: "Boy, you better call me or leave it alone, I don't get the maybe part." She then launched into the mother of all acoustic sing-alongs. Fan service really can be fun.
43. "I Hope You Dance," Lee Ann Womack (2012)
Doesn't "I Hope You Dance" feel like a song that could've been written for Kelly? She's a country-pop hybrid at heart, even if the music she makes doesn't always reflect that side of her sound, and her rendition here proves her chops in this style.

42. "Seven Nation Army," the White Stripes (2009)
There's no fun in covering the songs everyone expects you to cover. Kelly has the larger-than-life ballads down, the high-energy pop songs, the songbook numbers. Occasionally, she pulls herself (and her fans) out of her comfort zone, like she did here. More often than not, she nails it.
41. "Blown Away," Carrie Underwood (2012)
As you might expect, Kelly gets a lot of requests for the same song, but she waited before tackling this one. She wanted to get the production right. It was worth the wait.
40. "Wonderwall," Oasis (2012)
Clarkson takes a more tender approach to Britpop's ultimate barroom sing-along, "Wonderwall." She infuses it with a breathy feeling, as opposed to Noel Gallagher's husky overarticulation.
39. "Wrecking Ball," Miley Cyrus (2015)
This cover really demonstrates the limits of an audience sing-along. Sorry, guys! This is not the recording you jammed out to at home. There is creative license taken.
38. "Tennessee Waltz," Patti Page / "(You Make Me Feel Like) a Natural Woman," Aretha Franklin (2013)
Kelly Clarkson can run the gamut from country to soul, and she does just that for the 2013 Grammys, starting with a Patti Page number and bringing it home with Aretha Franklin's "Natural Woman." Because you always close with Aretha. We apologize in advance for the video quality.
37. "Jolene," Dolly Parton (2015)
Dozens have made their mark on Dolly's classic "Jolene," the best coming from Miley Cyrus, who's covered it a few times over the years. Kelly offers a slower, more dramatic reading of Dolly's heartbreaking words on the piano, and it sounds as flawless as Miley's in a totally different way. Kelly somehow makes performing in front of tens of thousands feel intimate, as if she's knocked on your door in the middle of the night for one final plea to spare her the emotional pain of losing a lover. You have to imagine every person in that crowd felt a little bit of Jolene's guilt that night.
36. "Misery," Pink (2015)
Kelly Clarkson has so many favorite songs! She picks one of Pink's quieter songs from Missundaztood, which features Steven Tyler. Here, she brings out Eric Hutchinson for a slow, smoky jam.

35. "Up to the Mountain," Patty Griffin (2010)
A beautiful interpretation of this powerful folk song written in memory of Martin Luther King Jr.
34. "Cool for the Summer," Demi Lovato (2015)
A scorching-hot version of Demi's current ode to girl-on-girl action.

33. "It Will Rain," Bruno Mars (2012)
Ever since Kelly discovered Miguel, she might've forgotten all about wanting to duet with Bruno Mars (as she says in the song's intro). How great would a version of "When I Was Your Man" lyrically tweaked to include a part for Kelly have sounded? Probably as good as this cover.
32. "Lose Yourself," Eminem (2012)
Let's just forget that Kelly's a white girl from Texas whose rap cred probably begins and ends with watching 8 Mile, and forgive her for thinking she had to throw on a hoodie to get into rap mode. This is good! Sure, her flow isn't perfect and she's a little off-beat, but it's impressive enough that she made it through all of Em's bars.

31. "Girl Crush," Little Big Town (2014)
Okay, we've reached top 30, where each cover is pretty much essential Kelly listening. Here she shows off her ability to take simple songs and fill them out, giving them body and warmth and a touch of sadness. Turns out Clarkson's a little mad that she didn't get to record this song, and frankly, we are, too.
30. "Blank Space," Taylor Swift (2015)
The great thing about covering pop songs relevant to the Zeitgeist right now is that they're familiar enough to the crowd to allow a singer to really shape them how she pleases. The risks Kelly takes in this cover of "Blank Space" make the song bluesier and ultimately more daring than Taylor's original. It's truly delightful.
29. "Shake It Out," Florence and the Machine (2012)
Part of what makes voices like Kelly and Florence Welch's so captivating is the force with which they project. And so, try as her band might to drown her out, Kelly (with the help of her background singers) can't be overshadowed.
28. "Home," Michael Bublé (2012)
We love it when Kelly shows off her love of musical theater by covering an artist who is as devoted to it as she is.

27. "Not Over You," Gavin DeGraw (2012)
If we were Gavin, we'd be thankful every day that Kelly didn't release this cover as a single — she'd have had her billionth hit. Ryan Tedder should write for her more often.
26. "Don't Speak," No Doubt (2012)
Every now and then, Kelly gets a little shouty when the emotions in a song run high. But this song teeters between mourning and maddening anger, so it's actually very appropriate when her voice comes unhinged.
25. "Everytime," Britney Spears (2012)
No one ever gives Britney her due credit for hitting that note, but leave it to Kelly to make sure you'll never forget it. The last minute of this cover is what makes people fall in love with Kelly.
24. "Crazy for You," Madonna (2012)


Remember when Madonna did power ballads? Remember when Madonna sang? Of course Kelly does, but it's almost more fun to fantasize about what her "Bitch I'm Madonna" cover would sound like.
23. "At Last," Etta James (2015)
Singing such a canonical song is a challenge. Not only do you have the original song sung by Etta James to contend with, but you have a fleet of other divas — from Cyndi Lauper to Celine Dion to Beyoncé — famously putting their stamps on it. Clarkson does what she does best, which is to start off in a straightforward manner before breaking into a thrilling falsetto that catches you off-guard. The results are terrific.

22. "No Scrubs," TLC (2012)
Kelly keeps dropping hints about going in an R&B direction for her next album, and why the hell not? She looks like a natural fronting a girl group of her backup singers (and one dude pulling interpretative dance moves) while taking on one of TLC's biggest hits.
21. "Why," Annie Lennox (2009)
Kelly makes an audience full of teenagers go absolutely silent simply by channeling the genius that is Annie Lennox.

20. "Breathe Me," Sia (2012)
This song is a spiritual song, Kelly says, before delivering her especially moving version. It sounds like she's at the altar, baring her entire soul, totally natural in her own vulnerability.
19. "Shake It Off," Taylor Swift (2014)
Here we have an extended, I'm-fanning-myself-in-a-southern-church intro — which adds the necessary personality to sustain one's millionth listen to "Shake It Off" — before we get to a more straightforward rendition.

18. "Creep," Radiohead (2012)
She's at her best when she steps out of her comfort zone, testing her sonic boundaries with unexpectedly excellent results. Thom's probably a fan, or at least he should be after this.

17. "Gravity," Sara Bareilles (2012)
There were a couple crushing songs on Kelly's sophomore album, Breakaway, but none quite compare to "Gravity." That song will puncture your heart and leave you for dead, no matter who's singing — but it helps that Kelly absolutely owns that high note.
16. "'Til the World Ends," Britney Spears (2012)
If Kesha wrote for Kelly Clarkson, they'd make hits on hits on hits; this cover proves that. We should all be a little offended Kelly wasn't asked to jump on this remix with Britney, Nicki, and Kesha.
15. "Hopelessly Devoted to You," Grease (2012)
Someday Kelly will have the Broadway debut she's yearned for, and when she does, she will Shut. It. Down. And she'll probably do it barefoot, too. Just wait!
14. "Stay," Rihanna (2015)
Our second favorite RiRi cover Kelly has done, which is really saying something, given her penchant for Rihanna covers.

13. "Lies," Black Keys (2009)
Kelly, taking the congregation to church.

12. "Wide Awake," Katy Perry (2012)

It's always fun to hear how a song could've sounded had a better vocalist recorded it.
11. "Princess of China," Coldplay feat. Rihanna (2012)
We all know BBC Radio 1's Live Lounge routinely produces the best covers, hands down. So it's no surprise Kelly delivered when she showed up to do an acoustic version of Coldplay and Rihanna's random-but-great collaboration. You know the part where Rihanna repeats, "You really hurt me"? The pain actually stings when Kelly sings it.
10. "Go Rest High on That Mountain," Vince Gill (2012)
While she has dabbled in country by guesting on Reba McEntire and Jason Aldean songs, Kelly Clarkson has yet to go whole hog. She has been leaning more country as time goes on, releasing "Don't Rush" with Vince Gill as a bonus track on her Greatest Hits compilation and suggesting that her next album would be a country one, and it wouldn't be a moment too soon. Here she covers Gill's elegiac song in honor of her bandmate's deceased uncle. God bless.
9. "Purple Rain," Prince (2015)
The tricky thing about covering a Prince classic is the trap to mimic him. Clarkson is faithful to the original, but still finds little pockets to weave her style in. We could totally jam out to an extended version of this with Kelly wearing a long purple trench coat and a ruffled cravat to match.
8. "Jesus, Oh, What a Wonderful Child," feat. Fantasia (2006)
Now imagine a world where Justin Guarini won American Idol …
7. "Home," Marc Broussard (2007)
Kelly brings the fire to this back-porch southern stomper in the best way possible. At around the 2:30 mark, it sounds like her heart is going to come out of her throat, fall on the stage, and keep beating its way all the way down to the bayou. To boot, one of the reasons she is so committed to cover songs is because it gives her a chance to shine a light on unsung artists who deserve more attention. This is a perfect example of what makes a Kelly Clarkson cover so special.
6. "The Only Exception," Paramore (2012)
Kelly's band really takes center stage on this cover: She's joined by a violinist, who adds a stirring arrangement that suits the richness in her voice. It's one of the few times Kelly looks emotionally affected while singing a cover. The fan footage cuts away toward the end, but as she takes a deep breath, you can make out that she's wiping away a tear after the final note.
5. "Bitch Better Have My Money," Rihanna (2015)
Of course, our favorite RiRi cover had to make the top five. Kelly has us from the beginning with the way she extends "enough" and the notes curl in on themselves. It's masterfully seductive, and adds a sultry dimension to a powerful banger of an anthem. The question posed still remains, of course: Why is no one paying these women?!

4. "Perfect," Pink (2012)
There's a line in this song that goes, "Underestimated, look, I am still around," which I imagine had to have stuck out for Kelly. Think about it: She's been in this business for more than a decade, still puts out commercially successful albums, and yet never really gets treated like she has the makings of a legacy artist. Kelly doesn't ruffle many feathers, and maybe that's why she flies under the radar, but just imagine if she borrowed Pink's no-fucks-given attitude for an album.
3. "Breathe (2 a.m.)," Anna Nalick (2012)
What's so great about Kelly's fan-request series is that she usually handpicks the night's song herself. It feels intimate, like she's in control of the aux cord for a few minutes and only has one song to impress you with her song taste. Except the only person she's worried about impressing is the artist whom she's covering. She's generally attracted to great pieces of songwriting by women, many of whom are her peers, like this one — and she demonstrates such intense love and admiration for all of them in her interpretations. On covers like "Breathe," even when she hasn't written a single word of what she's singing, she still finds a way to make every emotion feel like it came from the depths of her heart. Why aren't there more pop stars like Kelly?
2. "Walkaway Joe," Trisha Yearwood (2012)
Even if Kelly hadn't of gushed about Trisha Yearwood being her favorite singer ("her voice is straight from God; mine was bypassed by like seven others," she jokes), you'd know it from the way she sings this song. Her voice tells the countless times she's likely rehearsed this song in the shower, in the car, while she's cooking, probably in her sleep, even. She grew up with it, and she sings it like a dream. I'm not sure any song Kelly picks next will ever top this one, even if she's arguably sung other covers better, because this one's personal.
1. "Give Me One Reason," Tracy Chapman (2015)
The minute this cover hit the internet earlier this year, it became an instant classic. Its magic is centered on how well the song plays to Kelly's strengths: It's simple, warm, and understated, giving her a big enough canvas to paint on so she can demonstrate her range, her control, and her ability to channel a deep well of emotions. With that being said, she doesn't overcomplicate it but adds her familiar soulful signature. Ultimately, it's her restraint that makes this cover so incredible, because it reminds us of how much Kelly's voice is capable of without ever having to flex.