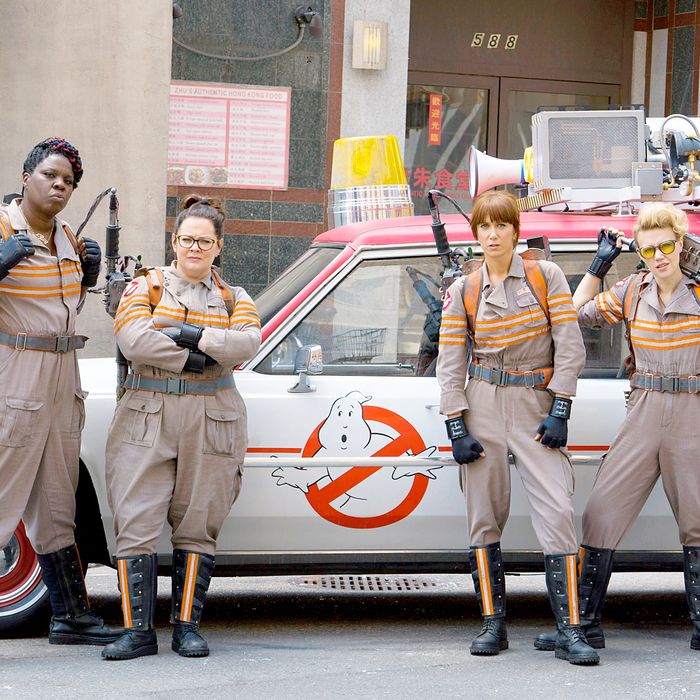 A potential third Ghostbusters film has been in the works practically since the second one wrapped. Despite its interminably long trip to the silver screen, the third movie is finally happening, featuring an all-new cast, and under the guidance of Paul Feig. Here's everything we know.
THE PRODUCTION
1989–2010: Ghostbusters languishes in development hell, delayed by script issues and Bill Murray's reluctance to return to the franchise.
January 13, 2010: Ivan Reitman, who directed the first two films, joins as director and producer.
March 18, 2014: Reitman steps down as director.
August 2, 2014: Paul Feig (Freaks and Geeks, Bridesmaids) will be directing the film. Rumors of his involvement, and the switch to an all-female ensemble, first started floating around in the summer of 2014. He had previously turned down a direct follow-up to Ghosbusters 2 on multiple occasions.
October 8, 2014: It's announced that Katie Dippold is co-writing the film with Feig. She previously wrote The Heat, which Feig directed, and was a writer on Parks and Recreation and MADtv.
TL;DR: Paul Feig is making the next Ghostbusters. Dan Aykroyd will almost certainly never make another Ghostbusters.
THE CAST
January 27, 2015: According to HitFix (and preserved by Firstshowing.net after HitFix pulled their cast info following studio pressure), Kristen Wiig's character, Erin Gilbert, is "an academic on the tenure track at Columbia." Melissa McCarthy will play Abby Yates, Erin's former colleague and book co-author, who is now "more on the pop parapsychology side of things, and pursues ghosts for a living." According to the Boston Herald, "Wiig and McCarthy play a pair of unheralded authors who write a book positing that ghosts are real. Flash forward a few years and Wiig lands a prestigious teaching position at Columbia U. … Which is pretty sweet, until her book resurfaces and she is laughed out of academia."
Kate McKinnon will play Jillian Holtzmann, Abby's ghost-hunting partner, and Leslie Jones will play Patty Tolan, "an MTA employee who comes across the main ghost."
June 10, 2015: Chris Hemsworth will play a supporting role as the group's receptionist.
July 6, 2015: Andy Garcia will play the mayor of New York, Michael K. Williams will play Hawkins, and Matt Walsh will play Rourke. Cecily Strong has an unspecified role, rumored to be "an authority figure who liaises with our heroines, privately backing their activities and acknowledging their legitimacy, but publicly denouncing the group to the media in order to avoid panic amongst the wider populous." And Pat Kiernan will play Pat Kiernan, his toughest role yet.
July 7, 2015: Neil Casey will play the film's villain, Rowan, presumably a ghost, or someone ghost-adjacent. Rowan, is described as a "creepy mechanical genius."
July 14, 2015: Dan Aykroyd has a cameo as a cabbie. It's unclear if he is reprising his original role as Ray, now a cabbie, or is playing a totally new character. A character reportedly named Martin Heiss is a debunker of the supernatural, "akin to William Atherton's character Walter Peck from the EPA in the original."
August 9, 2015: After years of rebuffing involvement in another Ghostbusters film, Bill Murray has agreed to cameo as well, though not as Peter Venkman. Instead, he's rumored to play, fittingly, someone out to debunk the new Ghostbusters crew. Speaking to Vulture last month, he explained his change of heart: "I really respect those girls. And then I started to feel like if I didn't do this movie, maybe somebody would write a bad review or something, thinking there was some sort of disapproval [on my part]."
September 21, 2015: As filming wraps up, news breaks that Ernie Hudson and Annie Potts have shot cameos in the film.
September 25, 2015: National treasure Sigourney Weaver, who was at one point offered the role of Slimer, is confirmed for a cameo in the film.

Some other people who explored possible involvement:
December 2014: Jennifer Lawrence and Rebel Wilson said they had spoken with Feig.
January 2015: At one point, Peter Dinklage was reportedly being pursued to play the film's villain.
June 17, 2014: Emma Stone confirmed that she turned down a role in the film, as she was wary of franchise commitments.
TL;DR: Four very funny women are the new Ghostbusters. Some men — of varying attractiveness — appear in less-important roles. As is law for any film set in New York City, Pat Kiernan makes an appearance.
THE STORY
December 30, 2014: Feig wants the film to be scary. Speaking to Empire (via Slashfilm), he said that he and Dippold were "so focused on wanting to do scary comedy. We don't want to hold back." But the film will need a PG-13 rating. "The Ghostbusters world doesn't need that level of swearing," Feig said.We'll have to be PG-13 with this one. I would like to make it R-Rated, but I won't. You want the biggest number of people to watch it and not be put off by it."
February 23, 2015: Feig is partially inspired by The Walking Dead: "What I love is how they play with the danger, they play with the scariness, but also the idea that it's always about gauntlet run. And that's something, an element I want to bring to this Ghostbusters reboot is having to get through these various obstacles that are supernatural and all that."
July 14, 2014: There will be meta humor. Aykroyd reportedly delivers the classic line, "I ain't afraid of no ghosts!" which Wiig responds to by pointing out that the phrase is a double negative.
July 29, 2014: GQ reports that Feig is as focused on the horror as he is on the comedy. "Feig is going for actually-eerie, pants-shitting ghosts as the anchor of the film and plans to use as little CGI as possible," they write. "And second, the movie itself will avoid screwball goofs, going instead for a realistic workplace-comedy vibe."
TL;DR: A horror-comedy that wants to satisfy both parts of the genre equally, with a focus on practical effects and a workplace-comedy tone. You might laugh at someone pooping their pants and poop your own pants.
THE GEAR

June 17, 2015: There will be slime. Feig has apparently spent a lot of time testing various slime combinations. According to GQ, "One day in R&D, Feig spent seven hours sampling colors with Popsicle sticks and hollering orders to a crew of slime day-laborers who firehosed batches out of custom nozzles, sprayers, and pumps."
June 29, 2015: The Ghostbusters will wear jumpsuits:
July 5, 2015: The Proton Pack is getting redesigned and updated for the 21st century:
July 7, 2015: The Ghostbusters will drive an Ecto-1:
And it comes in black:
July 8, 2015: There is an Ecto-2:
TL;DR: All of your favorite Ghostbusters vehicles and gadgets are back. Plus, there's a motorcycle, so that's a new thing.
THE PRODUCTION
June–July 2015: The film is currently being shot in and around Boston, despite being set in New York. Seen here, the film invents a new subway stop:
June 17, 2015: The film is being produced under the code name Flapjack.
June 18, 2015: Everett High School has been repurposed as the fictional Bronx Kuyper Middle School, and was draped with banners reading "Higgins Science Institute."
July 16, 2015: According to one casting call, a scene takes place at a heavy-metal concert.
September 12, 2015: Ecto-1 was spotted on the west side of Manhattan during shooting.
TL;DR: Ghostbusters — like many others — is dreaming of New York but settling mostly for Boston.
THE FRANCHISE
December 2014: Last year's Sony hack revealed preliminary talks for other Ghostbusters projects. That includes Channing Tatum's pitch for a film featuring himself and Chris Pratt. It is a perfect film pitch: "Let us show the world The DarkSide and let us fight it with all the glory and epicness of a HUGE BATMAN BEGINS MOVIE. I know we can make this a huge franchise. Fun adventure craziness. COME OONNNN!!!" The hack also revealed that Sony executives were mulling legal action over Bill Murray's continual reluctance to be involved in a sequel.
July 29, 2015: Screenwriter Drew Pearce claims to have finished a rough draft of the other Ghostbusters movie. He told MTV: "Obviously it's top secret, but there's a gigantic bold idea that I came up with, and the Russo brothers — who did Captain America: The Winter Soldier and are doing Civil War at the moment — and Ivan Reitman, who did the original movie, are going to take that and run with it. Obviously I cannot tell you what it is, but hopefully in one year's time you'll know!"
February 18, 2015: Dan Aykroyd is still clinging to hope that he can get his own third Ghostbusters made. "Let's get this one made and that will reinvigorate the franchise and then we'll go on to maybe doing a more conventional third sequel as we were planning," he said in February.
March 9, 2015: In March, preliminary plans were announced for a larger Ghostbusters cinematic universe, with Channing Tatum and the Russo Brothers working on a separate film; the plan would be that the two casts later team up. Feig told reporters he didn't know much: "I'd heard some rumblings about it … All I know is my ladies are going to kick ass and I would not want to go into battle without them."
June 25, 2015: The plans for a Tatum-starring Ghostbusters are currently on hold, according to his creative partner Reid Carolin. "I think it's too complicated," he said. "There's a lot of things going on with that brand and I just feel like it's over-saturated."
July 30, 2015: Ivan Reitman rebuffs Pearce's comments, saying in a written statement: "There has been a lot of excitement recently about what is happening with the Ghostbusters franchise. As the producer of the new Ghostbusters film, I feel the need to clarify. There is only one new Ghostbusters movie and that is the Paul Feig directed version coming next July, presently filming and going fantastically. The rest is just noise."
TL;DR: A lot of talented people, including Channing Tatum, have concocted an unusually bad idea that also undercuts the film currently in production.
October 2, 2015: Not content to stop at just one hypothetical spin-off, Sony is said to be also developing an animated Ghostbusters film. It is unclear how this movie would relate to Feig's film.
ETC.
Hey, what does Ernie Hudson think about all of this?
October 2014: "If it has nothing to do with the other two movies, and it's all female, then why are you calling it Ghostbusters? I love females. I hope that if they go that way at least they'll be funny, and if they're not funny at least hopefully it'll be sexy."
January 2015: "Four fiercely funny, foxy, females busting ghosts … phenomenal!"