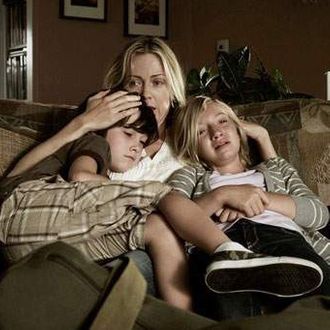 AMC's Fear the Walking Dead is one of the year's most anticipated new shows, and its showrunners and cast hit the stage at the Summer TV Press Tour to field questions following their first Comic-Con fan frenzy last month. The cast already loves the attention that comes from being related to "the mothership" — as The Walking Dead was repeatedly referred to — and not surprisingly, the cast members are all Andrew Lincoln fanboys and girls. Here's what we found out.
New City, New Characters
Fear the Walking Dead, or, as the producers refer to it, Fear, is set in East Los Angeles, because as executive producer Dave Erickson explained, "We wanted an urban backdrop and a direct counterpoint to the original show." But don't worry — it's not filled with hipsters like the L.A. of New York Times trend pieces. Instead, the prequel focuses on the Clark family: schoolteachers Madison (Kim Dickens) and her fiancé Travis Manawa (Cliff Curtis), daughter Alicia (Alycia Debnam-Carey), and son Nick (Frank Dillane, who looks like a cross between James Franco and Johnny Depp). As Dickens remarked about Madison, "If you can wrangle teenagers, you can wrangle zombies, I guess."
Her son, Nick (Dillane), is a drug addict who has seen his fair share of life- and death-related ugliness, but in the pilot he witnesses something even worse to get the show off and running, and we can expect constant tension as the impending disaster quickly envelops the city.
More Comic-Book Elements
Dave Erickson said Robert Kirkman wants to incorporate more elements from the comics that haven't been used in The Walking Dead. No specifics given on that front, but he did reveal that we won't find out what caused the zombie apocalypse in the first season's six episodes, which spans three to four weeks for the show's characters. In addition, there's a change in language from the original series as the term walker isn't used; the zombies are called "the infected" instead.
Shit Gets Real 
We'll get to see how the first responders deal with the apocalypse, and there will subsequently be an active military presence in the show as well. Executive producer Dave Erickson promises, "By the end of season one, we know it's the end of the world as we know it, but not the same place Rick woke up in in Georgia." Not to worry, though — AMC confirmed that the show will get a second season of 15 episodes, and while Fear's producers don't yet know if or when they'll catch up to The Walking Dead's timeline, time jumps are possible.
Fear the Walking Dead premieres August 23 on AMC.