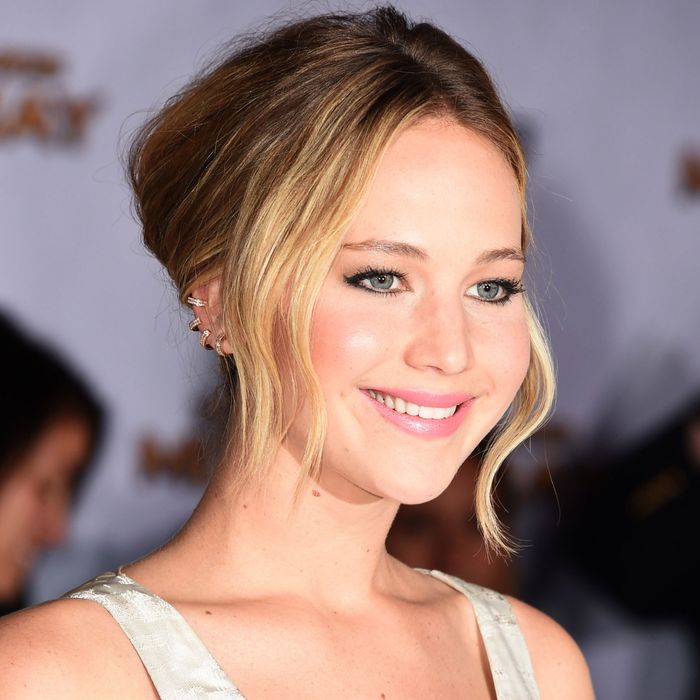 Photo: Steve Granitz/Getty Images
Jennifer Lawrence announced today that she and Amy Schumer are writing a movie together, and there are plenty of reasons to be excited. The Oscar winner and the ascendant Trainwreck star are two of our sharpest actresses, so any sort of collaboration between the two of them is more than welcome; at the same time, it's encouraging that Lawrence wants to develop her own material, especially since Hollywood often has very narrow-minded ideas of what to do with her. But to me, the biggest upside of this announcement is a very simple one: Jennifer Lawrence is going to do a comedy, and it's about damn time.
Has there ever been a bigger disconnect between a star's real-life personality and the blockbuster movies she makes? As a celebrity, Lawrence is one of our funniest, most quotable actresses, and an essential part of her inherent BFF-ability is the sense of humor that's evident every time she tells self-deprecating jokes on a talk show or mugs like a loon on the red carpet. What a cruel trick, then, that her movies tend to mine so little of that mirth. Her biggest franchises, the Hunger Games and X-Men series, rarely allow her to crack so much as a smile; she'll next shoot the sci-fi drama Passengers, where the only funny business between Lawrence and her co-lead Chris Pratt will come once they embark on a press tour to promote it.

The closest Lawrence has ever come to a flat-out comedy is her Oscar-winning work in Silver Linings Playbook, but director David O. Russell would likely rather die than admit to the film's rom-com plotting; indeed, when the film premiered at the Toronto Film Festival in 2012, it was positioned as an "acerbic comedy-drama," gussying up its true genre with all sorts of awards-worthy, serious-minded qualifiers. Russell has been dragging Lawrence toward drama ever since: While she started American Hustle with a promisingly comic scene, Lawrence was steered toward pathos in every moment after, and her upcoming Russell movie Joy has seemingly been scrubbed of all the comic levity implied by the film's title and logline. Who knew that the story of a home-shopping pioneer who invented the Miracle Mop would look so grim?

In other eras where top actresses reigned, comedies tended to be their bread and butter: Think of the megawatt smiles that Julia, Reese, and Cameron would flash at their peaks, and all the comic vehicles they starred in that gave them room to grin. Over the past few years, though, there's been a decline in the romantic comedies that used to be an A-list actress's stock-in-trade, and a concurrent rise in pouty dramas and action films. Two of the highest-paid actresses the last decade were Angelina Jolie and Kristen Stewart. That kinda sums this whole thing up, doesn't it?

Fortunately, there's evidence that the trendline may be changing, and it's in part due to Lawrence's new collaborator. Women like Amy Schumer and Melissa McCarthy are proving that comediennes are big business at the box office, and the fun they're having seems to be infectious. I've been hearing that two of our most serious young actresses, Jessica Chastain and Anne Hathaway, are desperate to star in a comedy; Chastain is said to be circling a comic vehicle that would pair her with Saturday Night Live star Cecily Strong, while Hathaway may make The Shower, an apocalyptic baby-shower comedy that would play like the distaff version of This Is the End. Even Kristen Wiig, who seemed so determined to dive into dramas in the wake of Bridesmaids, is now back with a comic vengeance: She's starring alongside McCarthy in the currently filming Ghostbusters, which will likely mint two more big-screen comic stars in Kate McKinnon and Leslie Jones.
So what better time to let Lawrence be Lawrence? I keep thinking back to her Comic-Con panel this past summer, where she was a goddamn riot, cracking jokes about Josh Hutcherson and using the tablecloth on the dais to wipe her nose in front of thousands of people. She then introduced the somber trailer for The Hunger Games: Mockingjay — Part 2, which traded its leading actress's sense of humor for stern stoicism. Jennifer Lawrence has never taken herself too seriously. It's time for her movies to follow suit.