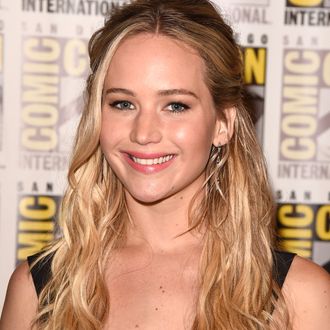 J.Law.
Photo: Jason Merritt/Getty Images
Forbes has released its list of best-paid actresses and, as will come as no surprise at all, 25-year-old J.Law is crushing it at the very top. Lawrence raked in $52 million pre-tax during Forbes' 12-month time frame — nearly $20 million more than in 2014. She stole the top spot from Sandra Bullock (who went from $51 million to $8 million). Not so close on J.Law's heels are Scarlett Johansson and Melissa McCarthy, who bagged $35.5 million and $23 million, respectively, for the second and third spots. Forbes notes this is its first "global" index — though only one non-American, Chinese star Bingbing Fan, made the cut. The numbers reportedly come from box-office data and reflect the earnings before management fees and taxes; they also include endorsement deals.
Forbes also points out that although the figures at the top might look large, the findings underscore that Hollywood's gender pay-gap is still a veritable chasm. The magazine published its leading-men list earlier this month, which included 34 people earning a total of $941 million. The cutoff to make the women's list was $6 million, while the men's was $13 million. Four women notched more than $20 million; 21 men did the same. The move toward wage equality is proceeding glacially.
Here are your leading women:
1. Jennifer Lawrence: $52 million
2. Scarlett Johansson: $35.5 million
3. Melissa McCarthy: $23 million
4. Bingbing Fan: $21 million
5. Jennifer Aniston: $16.5 million
6. Julia Roberts: $16 million
7. Angelina Jolie: $15 million
8. Reese Witherspoon: $15 million
9. Anne Hathaway: $12 million
10. Kristen Stewart: $12 million
11. Cameron Diaz: $11 million
12. Gwyneth Paltrow: $9 million
13. Meryl Streep: $8 million
14. Amanda Seyfried: $8 million
15. Sandra Bullock: $8 million
16. Emma Stone: $6.5 million
17. Mila Kunis: $6.5 million
18. Natalie Portman: $6 million
You can read Forbes' explanation of its measurements and findings here.