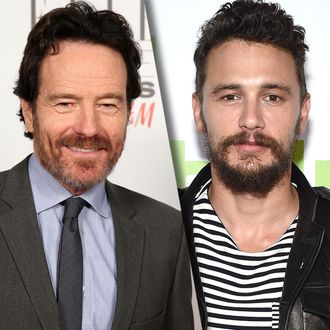 Photo: Mike Marsland/Getty Images and Larry Busacca/Getty Images
The One Who Knocks and the One Who Plays Britney Spears on Piano are about to face off onscreen: Brian Cranston and James Franco will star in John Hamburg's comedy Why Him? "The comedy is set over the holidays, when a Midwestern dad travels with his family to visit his daughter at college, and soon finds himself in a battle for her affections with her brash new tech billionaire boyfriend." It sounds like Meet the Parents, but with the cantankerous ex-CIA father replaced by Bryan Cranston (we're assuming Cranston will play the father and Franco the brash boyfriend, though how great would it be if they reversed it?).
Cranston also has a smaller role in Franco's upcoming adaptation of John Steinbeck's 1936 novel In Dubious Battle, which depicts a worker who organizers a major strike by fruit pickers. The film wrapped up production earlier this year. A release date has not been set, but Franco might as well wait for Why Him? to come out, so the two actors can carpool to premieres and press events.