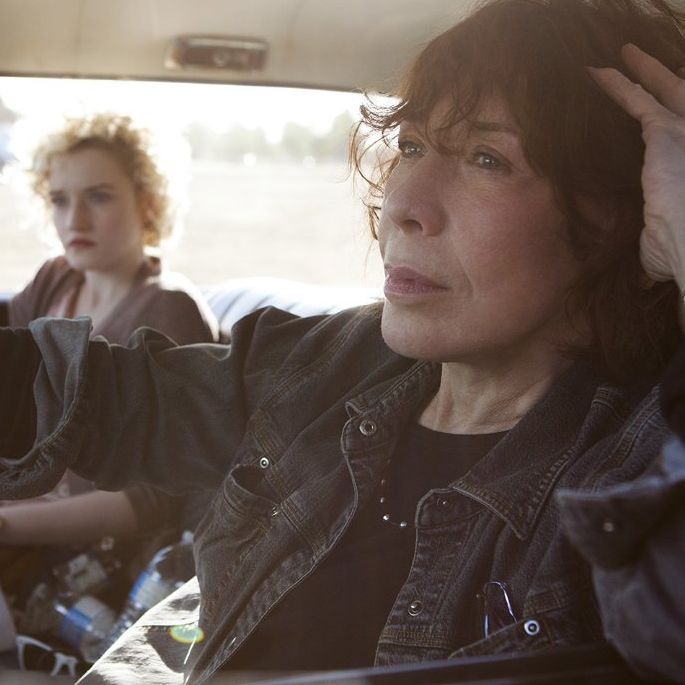 Not your average grandma.
Photo: Sony Pictures Classics
Grandma, written and directed by Paul Weitz, is both a pedestal to Lily Tomlin — who finally gets to play a gay woman — and an elegy for figures of the feminist and gay-rights eras who still don't quite fit in, even in places like California. Its protagonist, Elle Reid (Tomlin), is a sour, abrasive, and deeply unhappy woman, a poet whom no one reads anymore, and who has little contact with her daughter or other old friends. In part, that's because she's still in mourning for her partner of more than three decades (the nice one of the pair, apparently). But it's also because she makes colorful scenes wherever she goes.
In the opening, she purges herself of Olivia (Judy Greer), her lover of four months, hissing that the young woman was nothing but a "footnote." (Olivia: "That's a horrible thing to say." Elle: "Well, I'm a horrible person.") Elle is pulling away from the world. When her teenage granddaughter Sage (Julia Garner) shows up at her door needing money for an abortion, Elle explains that she has just paid off all her debts and turned her credit cards ("they infantilize you") into mobiles. But Sage's appointment is late that afternoon, and so Grandma takes it upon herself to drive around and find the cash.
Though it's loaded with laugh lines, Grandma is saturated in melancholy and an irreversible sense of loss. It's as if Weitz — director of American Pie and Little Fockers, among other slapstick comedies — has finally decided to let his bleak flag fly. The film has a modest, unfussed-over feel, and a sense of place that's at once familiar and alienating: Even a homey lesbian café-bookstore can turn suddenly cold. Elle has lived her life her way, not only marching to her own tune but helping to write it. And now she's a near-tragic figure.
Tomlin has certainly earned Weitz's pedestal, and it's fun to watch her charge into places she's not welcome and rattle off insults in her distinctive croak — her timing is killer. But a lot of the part is one-note, and her face is a bit of a mask. Tomlin's genius has always been for mixing tones — anxious, exuberant, hopeful, dashed — in ways that you could never predict. But even Elle's moments of vulnerability are predictable. It's a very schematic movie.
Schematic but heartfelt — and full of wonderful moments. There's a crowd-pleasing scene in which Tomlin incinerates the feckless punk (Nat Wolff) who knocked Sage up. ("Your face looks like an armpit.") The delightful Judy Greer at last gets a decent movie part, though it's little but tremulousness and tears. (A scene in which Elle meets Olivia's parents is deliciously awkward.) Weitz's tone is just right for the late scenes in the clinic: sad but resolute. Grandma's dramatic high point is a scene that features Sam Elliott as Karl, who lives on a ranch amid the mountains and once featured prominently in Elle's life. Elliott rarely gets a chance to show something underneath the movies' most charismatic basso drawl, and his final notes of grief are something to behold. He still has surprises in him.
The studio that's releasing Grandma is sponsoring the NPR morning program on my local station this week, and it was odd to hear its description of the film. I didn't get it down word for word, but the gist is that Tomlin — the announcer says — plays a woman who drives around seeing old friends and dredging up secrets from her past while trying to raise $600 for her granddaughter. What was left out was every single hot-button element—that she plays a widowed lesbian who drives around seeing old friends — among them the three-decades-younger female lover she just dumped — while trying to raise $600 for her pregnant, underage granddaughter to have an abortion.
The NPR timorousness (born of fears of incurring the wrath of people who don't actually listen to NPR but love denouncing it to their elected officials) is in splendid contrast to the matter-of-fact treatment of the movie itself. All those hot buttons are touched lightly, the way they are in the world that exists beyond the Duggars, the Republican primary, and in pockets of the country where four-times-married county officials refuse to marry gays because their lifestyle runs counter to the Christian Bible. Whatever else, Grandma marks a new era in gay cinema — one's that confident and mature enough to acknowledge regret.