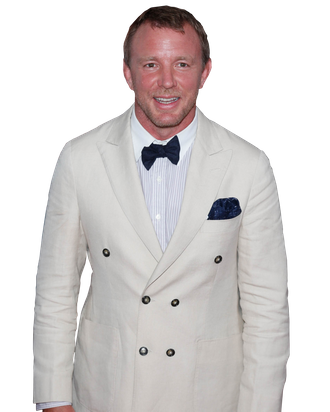 Photo: Rob Kim/Getty Images
Even beyond its awfully good-looking leads, Guy Ritchie's The Man From U.N.C.L.E. is an aesthetic pleasure. Based on the 1960s TV show (and adapted by Ritchie and co-writer Lionel Wigram), U.N.C.L.E. pairs charming CIA agent Napoleon Solo (Henry Cavill) and tightly wound KGB operative Illya Kuryakin (Armie Hammer) on a mission that zigzags through the most beautiful places on the planet as the two tussle over an enigmatic German (Alicia Vikander) and try to foil the evil, glamorous Victoria (Elizabeth Debicki). After months of serviceably shot summer movies, U.N.C.L.E.'s beautiful clothes and zippy action scenes are a relief, and Ritchie called up Vulture this week to talk about how he arrived at those visual pleasures.
The costumes in this film are gorgeous. Has your own relationship to fashion changed with age?
As I've got older, I've become more interested in women's clothing. I don't know exactly why that is, but I find myself sometimes aimlessly wandering around designer stores, looking at women's dresses. I used to be into sporting, and now at the age of 45, I've discovered women's clothing — one day, I'll get into classical music, too!

One of the best scenes in the movie is when Henry and Armie have an argument over what dress Alicia should wear. That's not the sort of moment you'd find in most macho action movies.
You know, there's a character I met in New York many years ago whilst I was making one of the Sherlocks, and he had a very interesting job. He was a real man's man, but one of his jobs was to get pretty girls to show up to parties. He had this enormous cavalcade of hot young chicks, and he was so bored by the hotness of these ladies! And he found himself becoming an expert in women's fashion, although it would not have come naturally to him. He knew much more about fashion than any of his girls did, but it was a professional approach, and gradually that professional approach took on a sort of personal interest. This man could beat the shit out of four guys and simultaneously tell you what year and what store a woman's shoe was bought at. I was very taken by him, and I realized there could be much more to men than just being a man.

Since I loved Elizabeth Debicki in The Great Gatsby, I was thrilled to see her as the villain in this film. I've watched so many summer movies with generic bad guys and thought, Why not give this part to an actress?
Originally, the main villain was a man, and her character was the First Lady. As Lionel and myself developed the character, it became more obvious that she should be the key villain and she took on what was traditionally the male role, while the husband was relegated to what was traditionally the female role. Elizabeth is a fabulous actress, by the way. I loved her in Great Gatsby, too, and that's why we went for her. She sort of gave us a Shakespearean performance, and in no small way, she took that character and just owned it.

Between her and Alicia, it's refreshing to get a movie like this with two meaty roles for women.
The funny thing was that I don't think there was a gender-specific conversation about who should be doing what. It sort of organically came out, and I don't think Lionel and I realized that they were strong female characters until we finished the film. We just saw them as characters, and the fact that they were female was sort of secondary to us. The film plays slightly stronger to women than it does to men, which we never anticipated.

I was sort of surprised by Henry Cavill in this movie. I don't think most of his other roles have let him show this much personality.
I think the character gave him an opportunity to be someone. Maybe some of the other roles he'd played before just don't have enough tapestry for him to paint a colorful picture? This character allowed him to have some fun and gave him a certain amount of charm, I hope. What it comes down to is, would I like this guy?

Henry is currently starring as Superman in a whole series of films meant to provide one coherent DC Comics universe. A few years ago, you had been pursued by Warner Bros. to make some DC films. Does the notion of playing in a shared cinematic universe interest you?
I'm not sure if I have a clear answer for that one. I have a very collaborative relationship with Warner Bros. where they throw different ideas at me, and it takes nearly two years to make a movie, so you have to be relatively judicious about what projects you're going to choose. You just choose what you feel is challenging and worthwhile for you to do, so with the comic-book world, it just depends on if you get inspired. Like, I loved Guardians of the Galaxy and I thought it was a real breath of fresh air. And a lot of what you're after is freshness, isn't it?

When you're weighing whether to sign on to a movie like Man From U.N.C.L.E., are you also thinking about whether you'd like to make the second and third one, should the first become a hit?
Yes. It's obviously too early to predict whether this film can be successful enough to make a second one, but I'd love to make it. I had so much fun making this one that I'd love to go on. Also, the thing about making movies is that every time you make one, it is a bit like inventing the wheel, so it's quite good if you can make a wheel that can repeat its revolution.

The fun you have making movies is evident. At Comic-Con, they showed a video of you on the set of your next film, King Arthur, and you looked like you were having the time of your life.
The curious thing about directors is that there aren't too many who go to other directors' film sets, but I hear horror stories about what goes on, and it mystifies me how that could happen. Anyone who has wanted to become a film director and becomes one and is paid to do it as a career, you'd think they'd be incredibly grateful about the position. Levity is a word that I try to hang onto, because the filmmaking business should be a fun business. There seems to be no good reason why everyone shouldn't be having a good time.