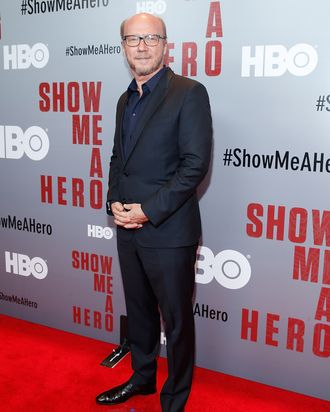 Show me a director.
Photo: John Lamparski/WireImages/Getty Images
HBO's six-part mini-series Show Me a Hero was written by The Wire's David Simon and directed by Paul Haggis. With the show debuting on August 16, Haggis spoke to Vulture about why he signed on."[Simon has] done The Wire, the best series of all time, so I wanted to do this and learn from him," he said at the premiere of the series Tuesday night. "This is the first time I directed something I didn't write. If I was going to do that, I was going to do that with his words. I wanted to be respectful of that." Just how respectful of Simon's words was Haggis? "I did this project because of him without ever reading a script."
Still, once he did read the script, the Crash director admits to having some disagreements. "Whenever I'd have notes, he'd say, 'Oh, yes, that's a good idea,' or we'd argue it out," said Haggis. "Sometimes on set he'd say, 'How about this?' and I'd say, 'Can we improvise a little bit around this light?' … Or he would say, "I think you're going too far." It was a lovely collaboration. There were no knockdown, drag-down fights." So, in car metaphors, they did not crash.