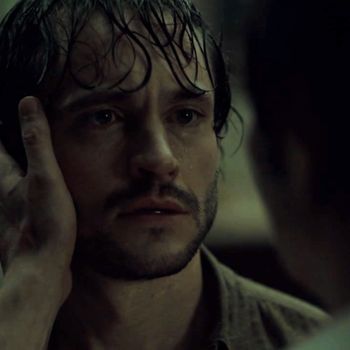 This is all we ever wanted.
No, it wasn't just your fantastic ability to read gay subtext into anything. Hannibal, which closed out its run on NBC on Saturday, made itself perfectly clear: This is a love story. It's macabre, brooding, and deeply sensual — a show that brings death close to sex, and pleasure close to suffering. In no small way, it is simply about what it means to be seen by someone else, and what a fantastic, energizing feeling that can be. In Maggie Nelson's The Argonauts, she writes of the need to find someone with "compatible perversities." It's an idea at the very core of Will and Hannibal's relationship. To honor the show and its legions of Hannigram fans on Tumblr, here is a gay-cap of Hannibal, the series, set to the lyrics of "Beauty and the Beast."
Tale as old as time.
True as it can be.
Barely even friends.
Then somebody bends.
Unexpectedly.
Just a little change.
Small to say the least.
Both a little scared.
Neither one prepared.
Beauty and the beast.
Ever just the same!
Ever a surprise!
Ever as before.
Ever just as sure.
As the sun will rise!
Tale as old as time.
Tune as old as song.
Bittersweet and strange, finding you can change.
Learning you were wrong.
Certain as the sun, rising in the east.
Tale as old as time, song as old as rhyme.
Beauty and the beast.
—Mrs. Potts, "Beauty and the Beast"